Students crowd Artist Exchange info session at Portfolio Center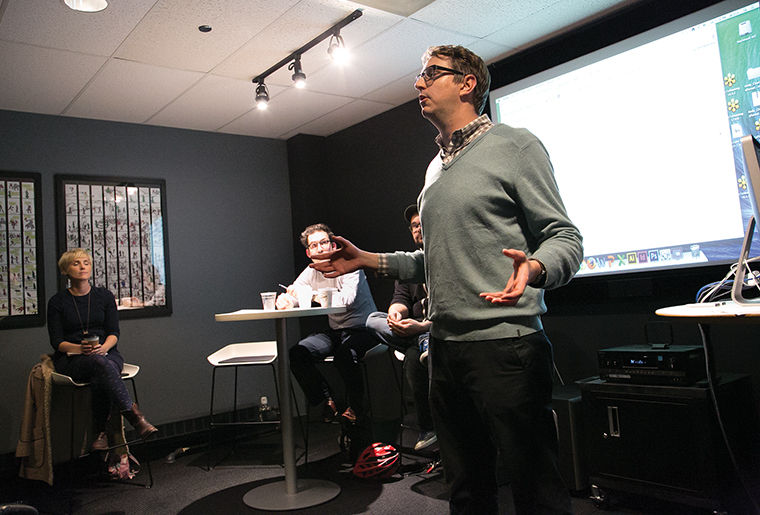 Homeroom, a Chicago-based nonprofit resource that aids artists in developing, producing and showcasing original art, is partnering with the Portfolio Center to recruit students for the Emerging and Established Artists Exchange.
Homeroom created the program with the help of the college's Portfolio Center, pairing students with professional Chicago artists to develop original work and promote it to professionals within their industries. Homeroom will be accepting applications from student artists through Oct. 20.
Rob Funderburk, the creative industry liaison for the Portfolio Center, said events like these are ideal for Columbia students and his department because it allows students to gain an early foothold in the industries they wish to pursue.
The Portfolio Center, located on the third floor of the 623 S. Wabash Ave. Building, functions as a career development resource for students to organize resumes, create business cards, begin marketing and promotion plans and develop their own personal branding, according to Funderburk.
"Recognizing an opportunity also requires getting prepared," Funderburk said. "If you see an opportunity, understanding how to engage, what to bring and how to professionally prepare your work, takes some exposure."
Students can always better prepare professionally to present themselves as artists for potential jobs, Funderburk said.
"The Portfolio Center works closely with all faculty and departments to provide valuable supplements to what's happening in the classroom," Funderburk said.
Seth Vanek, program director and co-founder of Homeroom, said the partnership with Columbia has allowed Homeroom to tap into the type of artists with established works that are in a prime position to seek and receive serious career development.
"Something I've always admired about Columbia is how seriously they take the mission of getting students involved in the professional world," Vanek said.
Vanek and co-founder Aaron Rodgers created Homeroom in 2008, and Vanek said the program flourished since they began partnering with the college in 2011. Columbia students have been the only participants in the program because of the resources and atmosphere the college provides its students, he said, adding that the partnership allows both the Portfolio Center and Homeroom an opportunity to further each other's mission with students.
Griffin Kenna, a sophomore music major, said he attended the event because he was looking to take the next step as a musician to get exposure for the music he has written and produced. He also said he thought the event could help him tap directly into the network.
Kenna was one of more than 20 students and applicants who attended the event looking to get a foot in the door with the help of a working professional. Selected students will be eligible to work with a featured professional on a six-month timeline and artist development process in which marketing, promotional, recording and performance amenities will be allotted along with a $200 budget for each student's project, according to Homeroom founders Rodgers and Vanek.
"With this [event], you're not only in Chicago, a great city with opportunities, but [Columbia] is bringing the opportunities closer and making them a school event where you can really get insight into the industry," Kenna said.