Happy, healthy snacking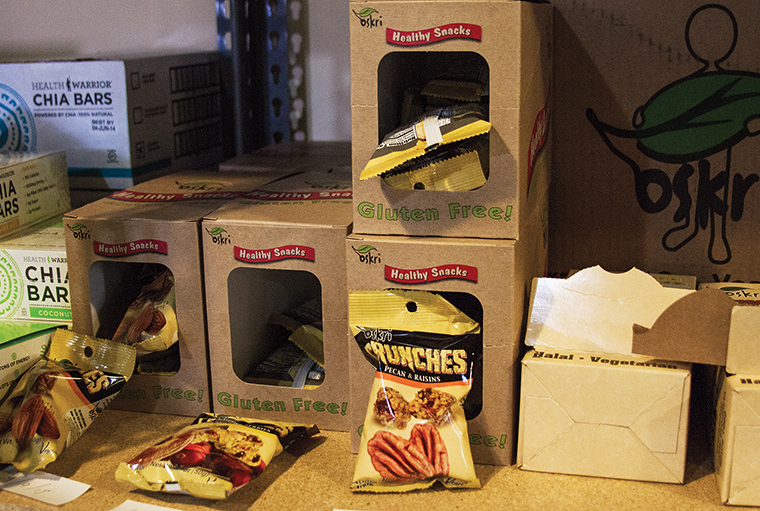 By Assistant Arts & Culture Editor
February 16, 2014
Todd Barancik is on a mission to bring healthy snacks to busy Chicagoans. Competing against big snack delivery companies like NatureBox which ships pre-packaged mixes of healthy snacks from anonymous vendors, Barancik's company, SnackItToMe!, is filling boxes with surprise individual snacks by uniquely teaming up with small local manufacturers to customize corporate snack plans and hand-deliver boxes to customers.
The idea for the company stemmed from Barancik's struggle to find healthy, tasty snacks that were easy to eat on the go. After researching products already on the market, Barancik devised a business plan for his locally focused healthy snack delivery company.
The company launched in October 2013, offering subscriptions at $21.99 per week with one box per week, and other options for biweekly and one-time delivery. Most boxes are hand-delivered by Barancik himself or by one of the company's couriers, but Barancik is the only full-time employee.
Although the convenience of a box of healthy snacks hand-delivered to one's office may be very appealing, Barancik said the surprise assortment is hard to find a market for.
"It's not for everyone because you can't be a super picky eater," Barancik said. "You have to be willing to try something new."
Barancik personally taste tests every snack he chooses for the company and constantly asks for customer feedback on his Facebook page, he said.
John Roche, a weekly SnackItToMe! subscriber, said he enjoys the variety, convenience and taste of SnackItToMe!'s assortments. While some snacks seemed strange to him at first, Roche said he has never had a snack from the company he did not like.
"I know I have a terrible sweet tooth," Roche said. "So [without SnackItToMe!] I would be like, 'I'm hungry, I'll go get a Snickers bar and a bag of M&M's', which is not going to be good for me."
Lou Centeno, owner of Fit Results, 645 S. Clark St., said he agrees that healthy snacking is important, but he stated that it should be paired with exercise.
"Healthy eating alone will not maintain lean muscle, which your whole skeletal structure needs … especially for women," Centeno said.
With rising popularity, SnackItToMe! has expanded its small delivery range between Roosevelt Road, North Avenue, Ashland Avenue and Lake Shore Drive to include nationwide shipping for larger orders. The company has recently been marketing to businesses to stock breakroom shelves. However, Barancik said his most important mission is to team up with small manufacturers to give them a voice and introduce people to new options, unlike competitors.
"NatureBox's model is mixes and their vendors are anonymous," Barancik said. "They source huge amounts of these mixes, pre-package them and label them—you have no idea what it is or where it's coming from, so I thought [SnackItToMe! should] partner up with small manufacturers."
One such local manufacturer is Jolly Oak. Owned by two busy moms who are passionate about healthy snacking, the company offers "good-for-you granola bars" that include flavors such as s'mores and nut-free dark chocolate coconut raisin. Their goals to inspire people to eat healthy closely align with Barancik's, making them natural collaborators.
"You can eat healthy and you don't have to be chopping up fruit and lugging it in Ziploc bags," said Mandy Fayne, co-owner of Jolly Oak. "We both came up with ways that make it easy and possible to eat healthy and it still tastes delicious."