GOP reacts to election losses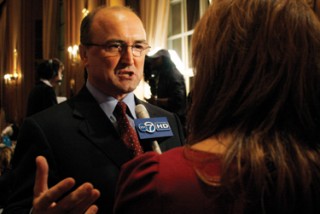 By Mandy Treccia
November 10, 2008
Chicago's Young Republicans hosted an election night party with Cook County Commissioner Tony Peraica at the Hilton Chicago, 720 S. Michigan Ave., to watch the results and give young conservatives a place to celebrate.
Cisco Cotto of local radio station WND-AM 560 emceed the event and several Republican candidates from across Illinois, including U.S. Senate candidate Steve Sauerberg, called in to thank the Young Republicans for their support.
Corrine Williams, a member of Young Republicans, said it was important for the organization to let people know they exist, and are there as a safe haven for people who disagree with the Democratic Party. The group hoped for 300-400 people to turn out for the event, but did not get as many people as they wanted in the heavily Democratic city.
"I'm from central Illinois, and I know there's more to this state than Chicago," Williams said. "It's been a rough decade for Republicans [in Illinois]. We're like a sports team in a rebuilding year."
Elissa Pancoe, a member of the Log Cabin Republicans, an organization that represents gay and lesbians in the Republican Party, agreed that it was important for young Republicans to have a stronger presence in the state to let people know they are out there.
"There are no good role models or good examples for Republicans, and I feel like people my age are lacking education," Pancoe said.
She said the Log Cabin Republicans try to attend different events around the city, like the Gay Pride Parade, to increase their presence, but at times, people have misunderstood the organization.
"People will stare at us like we're animals in a zoo," Pancoe said. "The gay community does not understand our politics."
Pancoe said the Young Republicans were not sure how many people would turn out for the election night event. She said she was disappointed that more young people did not show up. Many of the guests were older Republicans on hand to support Peraica.
Peraica arrived early with his wife and mingled with guests over cocktails and appetizers while he waited for the results of the Cook County State's Attorney's race where he ran against Democrat Anita Alvarez and Green Party candidate Thomas O'Brien.
Within a few hours, Peraica stood before the crowd and gave his concession speech after the vote went to Alvarez. Peraica thanked his supporters and said it has been a privilege to be a public servant for them.
"[President Abraham] Lincoln lost seven elections before he was elected president," Peraica said, two years after losing his bid for Cook County Board President. "I've still got a long way to go. I plan to continue on the County Board of Commissioners to fight for the tax payers of Cook County."
Peraica said Cook County residents need to wake up and realize there needs to be a two-party system in Chicago.
"We need to raise the Republican banner high for people who have no voice, and we need to change the system for the benefit of those people," Peraica said. "We're not giving up and we're not giving in."
Peraica congratulated Alvarez and said she ran a tough campaign. He also congratulated then Sen. Barack Obama on his likely win. After he left the stage, the presidential election was officially called for Obama.
Alex Kramgrczuk was extremely disappointed. The Young Republican member was momentarily at a loss for words as the news sank in that the campaign he had worked hard for and put a lot of time and energy into was over.
"This is a wake-up call. We can't keep going on the same path," Kramgrczuk said. "We need to refocus, and there's a lot of work to do."
Kramgrczuk said he thinks it's going to be a while before Republicans start winning again after all the losses they have suffered in this election cycle.
"The one silver lining is we learn from our losses, and we get an idea on how to move forward," Kramgrczuk said.