41 drag artists perform for Tennessee at Chicago Loves Drag!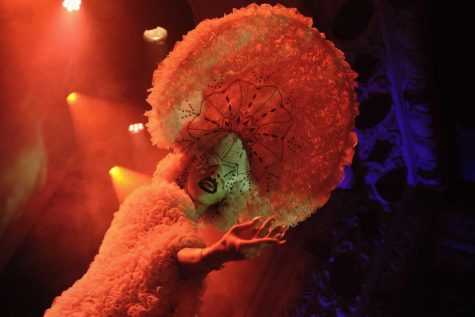 More than 40 drag artists graced the Metro stage Friday for the Chicago Loves Drag benefit, raising money for the trans and drag community in Tennessee and other places.
The program benefited the American Civil Liberties Union of Tennessee, Trans Formations Project, Tennessee Equality Project and Life is Work.
The sold-out show had the event floor packed, with audience members wearing sequins, hip-length wigs and platform heels.
With so many performers, each one went up right after another with only a 25- second break between each performance to pick up the dozens of dollars that decorated the floor.
Drag queens and kings gave sensual strip teases, physical comedy acts and acrobatic dance performances that kept the audience wooing and wagging their fingers all night.
Jey McCreight, an audience member, noted the wide array of acts being performed.
"The diversity of the different acts — there are just so many different types of drag," they said. "It really showcases the talent that we have here in Chicago."
The show was in response to the anti-drag and anti-trans bills making their way through America, highlighting recently passed anti-trans and anti-drag bills in Tennessee.
"There's a lot of bullshit going on in this world right now," said iconic Chicago drag queen and organizer of the show Lucy Stoole. "Not just in Tennessee, not just in fucking Florida, not just in fucking Missouri, everywhere you can think of."
McCreight, a trans-masculine person said "having Chicago turn out to just come support people like me is really important."
Drag queen Alexia Noelle Paris, a Nashville-based show headliner who did cartwheels and the splits across the stage, said the past few months have caused a mixture of emotions.
"I've got to experience some amazing opportunities, from tonight, to touring with artists like Orville Peck or performing with Maren Morris," she said "But then I always remember that this is kind of coming from something negative."
Paris said anti-drag protestors have come to clubs she has performed at in Nashville. Since the anti-drag bill was passed, the clubs have had to make their shows 18 and up.
"It seemed as if the protesters — or actually the Neo-Nazis — kind of stopped coming once we changed it to 18 and up, for the most part," she said.
Paris said it's been frightening being a drag queen in Tennessee.
"When you're masked and you have guns, it's intimidating. And that's what they want to do, and sometimes it works," she said.
Paris said drag queens in Tennessee will fight the legislation.
"I'm not concerned that in Nashville, drag will die," she said.
Stoole said the event was hoping to bring in $20,000.
Other events across the city have been created in response to anti-LGBTQ+ legislation.
Dougie DeVille, a fourth year cinema and television arts major, said they feel scared as a queer, gender non-conforming person who does drag.
"Some days, it's like a pit in my stomach," DeVille said.
DeVille said they put on monthly drag cabaret parties with Edgar "Cléo" Flores and Magdalena Pogue, fourth year theater directing majors. The show is called ArtHaus Vigil presents Diva Night and is done in response to the Club Q shooting and anti-LGBTQ+ legislation being proposed.
"With all the legislation and terrorism that's been happening, it's like 'okay, this is what we're about,'" she said.
Stoole took a moment to encourage action and mobilization.
"We are fucking powerful," she said. "And we're even more powerful when we mobilize and we work together as a community, and this is what we have done here tonight."