Packback offers inexpensive textbook alternative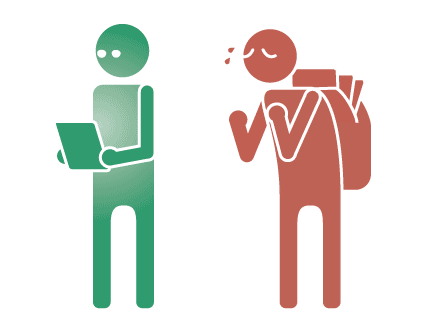 As Columbia's cost of attendance continues to rise, a new company may help decrease the financial burden that textbook costs place on students.
Packback, a digital textbook rental service, will give students the option to purchase 24-hour access to textbooks for a fee of $3 to $5. Packback will officially launch at Columbia by the end of the semester, said Kasey Gandham, Packback's co-founder and a 2013 marketing graduate of Illinois State University. Gandham said he came up with the idea after he became frustrated with the increasing textbooks costs when he was enrolled at ISU and decided he wanted to make textbooks more affordable for future students.
"Textbook prices are off the charts," Gandham said. "Students find themselves buying $300 to $500 [worth] of books per semester and maybe opening it [a few] times or sometimes never even at all."
Packback works with publishers to acquire textbooks' distribution and rights to digital copies and either rents or sells them directly to students, Gandham said. Students can also sell their textbooks back to Packback to receive more money than they would from their campus bookstore, he added.
"[Packback does] the same exact thing that Netflix and Spotify do," Gandham said. "We go to the content provider—which in our case is the publisher—and license as much of their content as possible."
Mary Nelson, a marketing intern at Packback and a sophomore marketing communication major, said students who choose to use the service will save money because most of the college's courses are scheduled to meet only once a week.
"What Packback is doing is revolutionary for students," Nelson said. "When students at Columbia have class every Monday and don't [need to] use the textbook every week, they can just rent it."
To use the service, students create an account to access books and their account will be automatically charged when books are purchased or rented, Nelson said. Books on Packback can be accessed on portable platforms, such as tablets and smart phones.
"I think it's a lot better than spending your money on Amazon or in the [campus] bookstore," Nelson said. "The bookstore seems to be pretty overpriced compared to different websites."
Zach Kornhauser, a sophomore music and audio arts & acoustics major, said the current textbook prices are unreasonable and he would consider using Packback in place of the college bookstore.
"Students can't even afford basic textbooks when they are already paying thousands of dollars and [going] in debt," Kornhauser said.
Kornhauser said there have been instances when he has bought a book and never used it during the semester, adding that it is the reason he does not always buy required texts.
"I can definitely see [Packback] as an advantage," Kornhauser said. "It would be a lot cheaper [than buying]."