Waste displaced, later embraced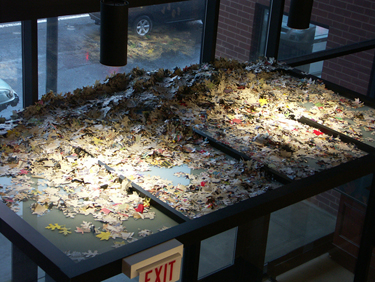 By Steven Schnarr
October 13, 2008
With all the trash people are producing, artists from Chicago and around the country are working on ways to reduce it by turning it into art.
The Faketure exhibit at the Beverly Art Center, 2407 W. 111th St., is a representation of how people control nature around them. The exhibit runs until Oct. 25 and closes with a film festival of 18 shorts. Curators Audrey Peiper and Gabriel Akagawa brought together various artists who, with their artwork, aim to inspire viewers to ask questions about the complex relationship between humans and nature.
The exhibit uses lots of artwork made from garbage or material that many would just throw out-anything from old furniture and construction material to newspapers and plastic bags.
From 1990 to 2005, the estimated average amount of waste produced by each person in the United States has been consistently around 4.5 pounds per day on average, according to numbers from the United States Census Bureau. Translated into garbage bags, that is about 80 bags, holding 20-pounds, produced each year in the United States, or about 24 billion bags of garbage per year.
To some artists, not all of the excessive amount of products people throw away is considered garbage.
Barbara Holmes is an artist-in-residence at San Francisco Recycling and Disposal.  Her yearly position rewards a stipend as well as studio space for her and another artist-in-residence to create art out of garbage. Some of her more prominent pieces are made from hollow-core doors to resemble structures like buildings and smokestacks. Even though she sometimes brings truckloads of materials from the dump, she said the real impact she would be making is with her art.
"As far as making an impact on the landfill, there is probably little-to-no impact," she said. "I think the impact is on the optimism of the possibilities that are out there with reuse and trying to do something that are more environmentally sound. Even though we're not depleting anything from the landfill or it's so tiny that it doesn't matter what we're pulling out, I think the impact of what we're communicating that is really important."
The installation piece Akagawa is working on for Faketure looks like honeycomb structures made out of drop ceiling tiles that otherwise would have been thrown away.  All the material is gathered from his house, which he and his wife are currently renovating.
"[It's a] process to deal with this material," he said. "You can't recycle it.  It's this waste material made out of fiberglass and mineral wool fiber. It's this really weird substance."
By making artwork out of trash,  Akagawa said, he hopes people can understand the scope of what consumers discard daily.
"Consumerist activities we do in our day-to-day lives negate this idea that this Earth is a fragile and a precious thing," he said.
One artist from the exhibit, Bianca McGraw, cut out plastic bags, newspapers and magazines into the shapes of leaves and put them in large piles.
"[The piece] is commentary on growing up in the South Side of Chicago and how litter and items that are considered garbage seem to litter the neighborhood," she said. "In another way, it is still decorating the landscape, and it becomes a part of nature."
The name of her piece is "This Community's Nature."
"It's something beautiful and at the same time tragic," McGraw said.
The most important part of making art of out trash is to educate people on ways to reduce trash, Akagawa said.
"There's a long history of artists using found objects and reclaimed material but I think the impetuous for doing so is different now," Holmes said. "I think people are more into using those objects because of the social impact and connotations that are there now."
For more information, visit Faketure.WikiSpaces.com.