New chairs prepare to lead departments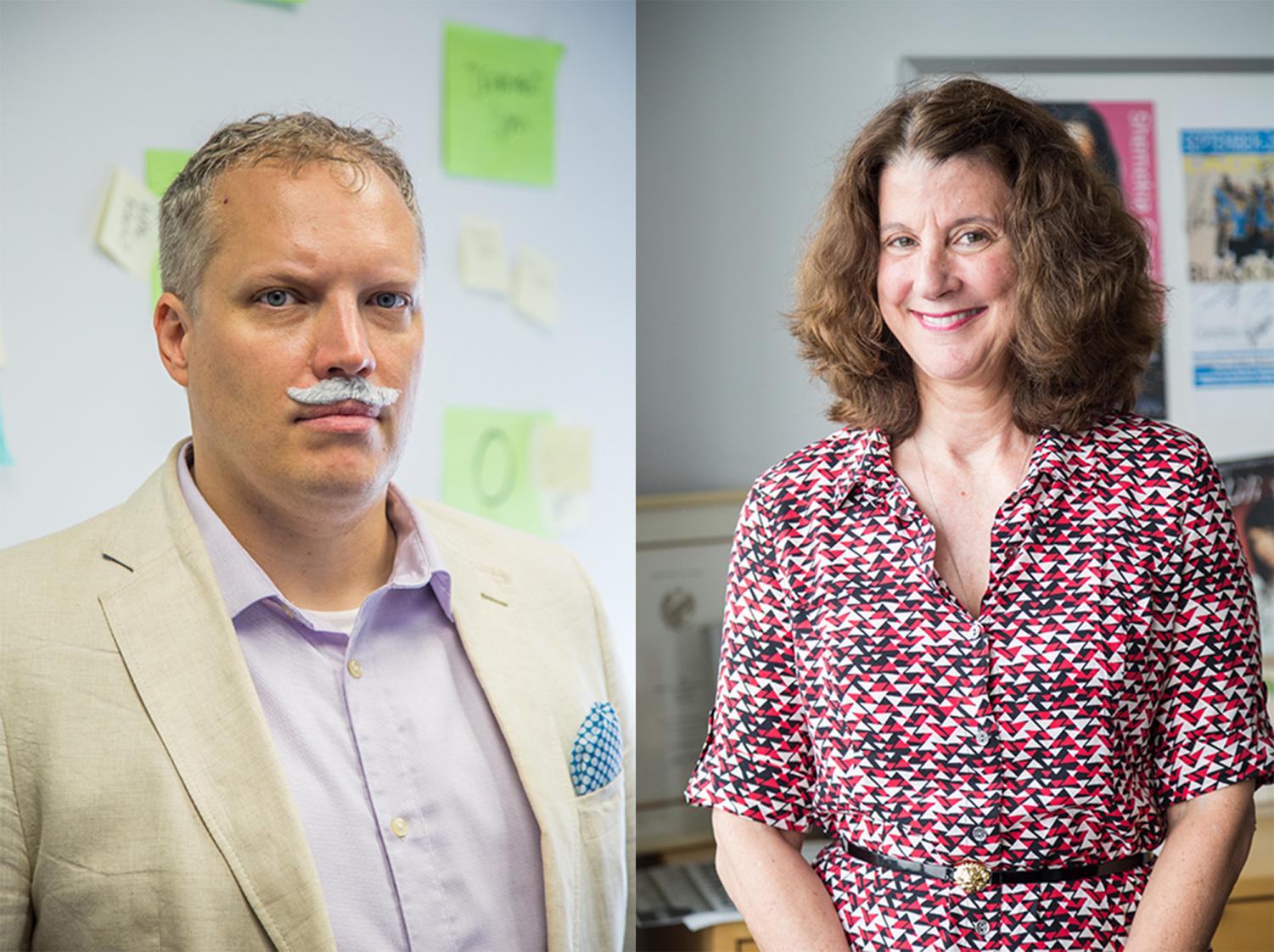 Duncan MacKenzie, new chair of the Art and Art History Department, and Mary Filice, new chair of the Business and Entrepreneurship Department, were appointed to their new leadership positions May 9, are spending the summer working on new initiatives within their departments.
Onye Ozuzu, dean of the School of Fine and Performing Arts and professor in the Dance Department, said she looks forward to working with both of the new appointees, who officially started June 1, noting their strong voices and persistence in promoting new ideas.
"New leadership at the chair level is really exciting for the entire campus," Ozuzu said. "Chairs play a role, not just in their departments, but across Columbia College. They play a really important role in the ongoing development of what Columbia is doing."
Before stepping into the chair position, MacKenzie was an associate professor at Columbia for eight years. During his time at Columbia he has been influential in the creation and implementation of the first year/foundations curriculum, according to a June 1 press release issued by the college.
MacKenzie said he was encouraged by several colleagues to apply when it was decided there would be an internal search for the position. He added that he thought he would be able to efficiently lead the department where he has worked in for years.
"There are so many things that we can access and tackle. I was excited about the idea of being useful in a way that I could galvanize a lot of that energy and really strengthen the department, just by reorganizing it and helping the faculty see that potential,"MacKenzie said.
MacKenzie said he hopes filling the chair position can create consistency within the Art and Art History Department after substantial changes, including its separation from the former Art and Design Department in 2015, its merge with what was then called the Interdisciplinary Arts Department—both in the same year, and the department's leadership under an interim chair for nearly two years.
Filice said she is also making plans to improve her department by increasing international and domestic opportunities for students using connections she has made in the industry.
Filice added that she is also working to bolster alumni relations within her department and is collaborating with the Career Center to develop online courses students take alongside internships.
Filice said she was familiar with administrative duties of the chair position through her time working as associate chair, acting chair and interim chair of the Business and Entrepreneurship Department.
With enrollment decreasing throughout the college, Filice said she is working to counter the decline by reevaluating her department's curriculum to reinforce its value to students.
Filice said she has confidence in her department and the college as a whole and added that she is excited to move forward as chair.
"I am so excited just to be here in this environment where we continue to celebrate and to educate our students on the values of the arts, to infuse that and make sure that our students are going off to the world to really make such a difference," Filice said.
Ozuzu said she hopes both of the new chairs continue to work with faculty members to provide an effective education for students entering industries that are constantly changing.
"Our students are our work, and we are trying to prepare them for what looks like a shifting target more and more," Ozuzu said. "I'm really looking for the chairs to be leaders in an exciting, visionary work in the departments toward seeing this situation as an opportunity for creatives to do what we do best, which is respond and engage in a dynamic environment like this."