Faculty Senate discuss faculty surveys, reaccreditation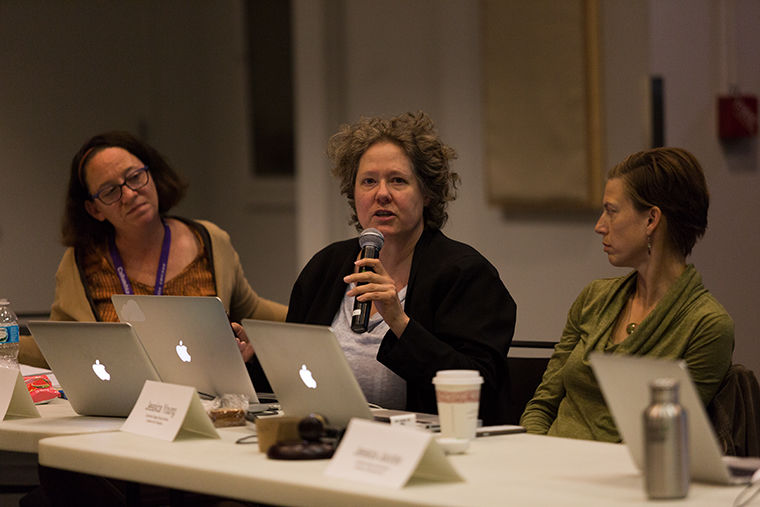 At its Sept. 8 session, Columbia's Faculty Senate discussed recent survey results showing 38 full-time faculty members expressing they were actively looking for academic positions elsewhere from the college.
During the meeting, held at Stage Two, 618 S. Michigan Ave., Associate Professor in the Art and Art History Department Joan Giroux presented results from a full-time faculty survey taken during the Spring 2017 Semester. Giroux said the survey is part of a pilot program that provides rough benchmarks for the college's climate and tells the "story of an average faculty member at Columbia at this moment."
According to Giroux, the survey covered six broad areas with a seven-point scale from "Strongly Agree" to "Strongly Disagree" as possible responses. Two-hundred and twenty-five of the college's 309 full-time faculty members responded to the survey. Questions explored faculty opinions on the college's operations, leadership effectiveness and policy development and implementation.
"In general, I am satisfied at Columbia College Chicago and am unlikely to leave," Giroux read from the survey results, summarizing the position of the majority of faculty at the college. "Still, depending on the circumstances, I might be looking for another job."
The survey's results will be given to college administration and the board of trustees, according to Giroux. However, the results are approximate because the survey is a pilot, and work will be done to craft more thorough questions to receive more accurate responses, she added.
In addition to the survey results, senate members also discussed college re-accreditation and updates on the college's transition from Moodle to Canvas.
Associate Provost for Accreditation and Assessment Neil Pagano presented details of the college's re-accreditation process, saying the Higher Learning Commission has allowed Columbia to use an Open Pathway approach, which gives educational institutions more opportunities to pursue enhancement projects that meet their needs and aspirations, according to The HLC website. The commission will be visiting the college in November 2018 to further consult on comprehensive accreditation.
"This gives us an opportunity to really take stock of where we are, what we do, how we function, where our challenges are. In an unhealthy institution, they don't have those conversations on an ongoing basis; we do," Pagano said.
A comprehensive evaluation, which happens every 10 years, ensures institutions meet accreditation criteria, pursue institutional improvements and follow U.S. Department of Education requirements. The criteria include Mission, Integrity: Ethical and Responsible Conduct; Teaching and Learning: Quality, Resources; Support, Teaching and Learning: Evaluation and Improvement; and Resources, Planning, and Institutional Effectiveness, Pagano said.
There are various checks and balances in the accreditation process, and Open Pathways provides beneficial opportunities to explore all the college's options, he said.
"[This] allows me to document and uncover all the good things we do here," Pagano said. "We are not an institution where as soon as we get the summary report from the visiting team we say, 'OK, bye, see you in eight years. Now we can do whatever we want to.' We are a responsible institution, we are governed and managed well, we have a Strategic Plan that really identifies the areas we need to focus on to be a healthier institution."
The Canvas rollout update was delivered by the college's newly developed Academic Technology Department including Director of Academic Technologies Dolores Marek, Senior Instructional Designer Jamie Ackley, Director of Visualization Lab David Morton and Technology Integration Specialist Evan West.
Columbia's transition to Canvas is scheduled to be complete by fall 2019. Since summer, the team has obtained a custom URL for the site, set up a mobile app, designed a student website and created a support portal with 24-hour phone and live chat features. From June 28 to Aug. 28, Columbia also held 35 training sessions for faculty and staff and established 500 courses on the online learning platform.
The transition's next phase will include department training sessions from October 2017 to May 2018, working with the Services for Students with Disabilities Office to make course content compliant with Americans with Disabilities Act and continuing to test advanced features for the site.
The Academic Technology Department also collaborated with Associate Provost for Faculty Research and Development Ames Hawkins, who said Columbia's Canvas transition could be accelerated.
"They showed you the plan that takes us all the way through to [2019], but it saves the college a lot of [money] to get done with this sooner and we should be able to," Hawkins said. "Many colleges do this within a year. We don't have 5,000 people to get through it, we have 1,000, so it should be realistic for us to look at sunsetting Moodle next Fall."
Update Sept. 14, 2017, 8:55 p.m.: A previous version of this story incorrectly referred to Joan Giroux as the chair of the Art & Art History Department. Giroux is an associate professor in that department. The Chronicle regrets this error.