FAFSA updates to ease verification process for students, families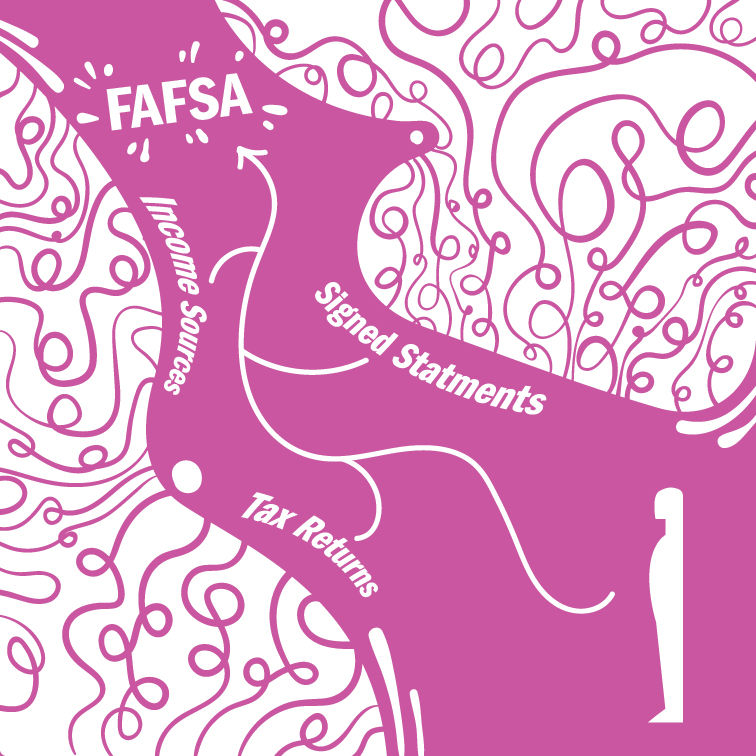 Changes to the FAFSA application process are helping to remove some of the burden associated with verifying documents for students and families.
Assistant Vice President of Student Financial Services Cynthia Grunden said some students are flagged by the Department of Education during the FAFSA application process and are asked to verify information before being granted financial aid.
Some of the information the federal government may ask students to verify include the number of people in the household, how many household members are in college and income amounts and sources. The college cannot offer financial aid to a student until information on the FAFSA is verified and updated.
The changes went into effect Jan. 9 and apply to both the 2018–2019 and 2019–2020 FAFSA processing and verification cycles. Grunden said families were previously required to obtain tax transcripts from the IRS to verify information instead of copies of their tax return forms; however, the new guidelines allow colleges to accept tax returns as part of the verification process. Additionally, families can submit written statements of non-filing instead of verification of non-filing forms that were previously required.
Grunden said about 3,000 FAFSA applications are selected for verification each year and that these changes expedite the process because it can be difficult for families to obtain the previously required documents, particularly for low-income students.
"Low-income students are more likely to receive a Pell Grant and subsidized student loans," Grunden said. "The intentions are good, [but] how a student or family experiences that is not always great. The [government wants] to make sure the tax dollars go to the right people, but from the perspective of the low-income family, it feels like, 'Why do I have to keep proving I have [a] low income?' It feels personal."
Sophomore public relations major Kayla Garcia said the FAFSA process has been difficult for her due to the documents required for the application. Garcia said her parents were divorced, and her mom would pay for her tuition, however, the process became a burden following the death of her mother last year.
"I took a year off, and then when I had to do it this year, I didn't have any of her papers. It was really frustrating, and I ended up not using it at all," Garcia said. "I just paid out of pocket for this semester because it was a huge pain, and they weren't really working with me to help me figure it out."
Garcia added that anything FAFSA could do to help clear things up during the application process would make things easier.
Megan Coval, vice president for policy and federal relations for the National Association of Student Financial Aid Administrators, said the organization has advocated for these changes for the past few years after hearing about challenges families were experiencing from school administrators.
"This has been a problem for quite some time because some students get lost during the verification process," Coval said. "They go about getting that documentation, and it takes too long, or they didn't have the right information and couldn't get it, and then they just sort of stop. We've pushed for a long time to try to simplify that process.
Grunden said the financial aid process is a naturally bureaucratic process, but the updated guidelines will help eliminate red tape.
"We have to ask some very specific legalistic questions and get very specific forms, and there are pieces of the tax law that are confusing," Grunden said."Sometimes for us, too, we have to research a lot of questions, so the fact that students do not have to go to the IRS anymore lifts a huge burden for everybody."