Columbia, Roosevelt basketball tournament brings heat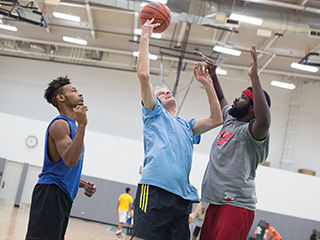 TWENTY-SEVEN TEAMS OF Columbia and Roosevelt students gathered at the Lillian and Larry Goodman Center, 50 E. Parkway, Nov. 13 for a 3-on-3 basketball tournament to compete for tickets to the Dec. 5 Chicago Bulls vs. Miami Heat game.
The tournament consisted of three-minute games with a running clock and a double-elimination format, with two teams playing on each half of the basketball court. Referees officiated games and tie-breakers, which were determined by free-throw shootouts.
A team named "The Most" was awarded the Bulls-Heat tickets after winning five games. Members of the second place team, "YOLO," each received a $50 Target gift card.
Basketball was chosen as the night's main activity because of its past success and popuarity, according to Toby Pechner, Renegades
secretary and sophomore marketing communication major.
"Basketball was the biggest turnout last year, so [we expected] a bigger turnout now that we have Roosevelt's gym," Pechner said. "From here on out, all of our events will be Roosevelt and Columbia, and that's partly because they're letting us use their space in the gym and we want to invite them to come and participate in our events."
Kyle Roche, junior journalism major, said it is especially fun to see Columbia and Roosevelt stu- dents playing together and against each other.
Mark Kelly, vice president of Student Affairs, also came to the Renegades event and participated with his team "A1." Kelly's trio made it deep into the tournament as he put up several points in the paint and knocked down a skyhook. How- ever, the team failed to reach the championship round.
Rahsaan Price, a sophomore computer science major at Roosevelt, helped his team "The Most," take first place by nailing long jumpers. He said the victory was a good opportunity to meet Columbia students.
"I walked into this 3-on-3 tournament with no intentions of playing," Price said. "This is my first semester here. I literally know nobody in this school. I didn't know anybody in the building. Five wins later, I'm standing here with a Bulls ticket in my hand."
Joseph Phillips, a 2007 Columbia alumnus and one of the referees, said the tournament was a chance to gain exposure for the Renegades' basketball community.
"I think we have [more than] 100 Oasis numbers signed up, which is going to lead to our next big event, which is tryouts for our college club basketball team," Phillips said. "We're looking to do big things at Columbia."
Phillips said the competition was intense but the students exhibited great sportsmanship.
"It was great matchups from the beginning to the end," he said. "I let the guys play a little physical. I was a little tedious when it came to the fundamentals like carrying, traveling. Nobody got cussed out, nobody got technical fouls. It's all love."