Alumni to reunite for weekend fun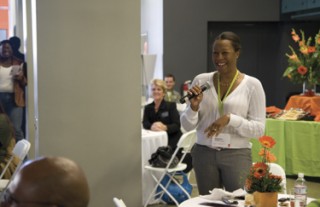 By Mandy Treccia
September 29, 2008
Alumni from all graduation years and majors are being invited back to Columbia for the second annual reunion weekend on Oct. 3 and 4.
This year's theme, Retro Forward, is a "tongue-in-cheek look back at Columbia's past," said Joshua Culley-Foster, national director of Alumni Relations.
The 2007 reunion was the first time in 10 years Columbia held a stand-alone reunion event, and about 80 people were in attendance, Culley-Foster said.  This year, 100 people have signed up as of press time, with a few days left to register.
"The event is an invigorating and fun weekend that exposes alumni to the college and allows them to explore how Columbia has grown," Culley-Foster said. "It's for them to reconnect with each other and do fun activities."
Cynthia Vargas, director of Alumni Planning and Chapter Development, said it is important for alumni to reconnect with their alma mater and see how much it has grown.
"People are excited to come back and they take pride in how the campus has grown," Vargas said. "Some people were here when there was only one building on campus. Coming back gives them a feeling of nostalgia and excites them."
The weekend activities include four different breakout workshop sessions alumni can choose to attend including, "Anchor Graphics," which is a printmaking workshop, a fiction writing workshop,  a tour of the Jack Kerouac "On the Road" scrolls exhibit and a discussion on the show "The Simpsons" as social commentary, Culley-Foster said.
Members of the Second City improv troupe will host an improv workshop, as they did last year.
Columbia president Warrick L. Carter and Eric Winston, vice president of Institutional Advancement,  will give a State of the College address at a luncheon on Oct.  4.
Current students are invited to volunteer as servers at the opening cocktail reception on Oct.  3. Vargas said students can also attend events at a special rate of $35.
"It's a great opportunity for students to meet alums in different fields and start networking early-on," Vargas said.
Michelle Passarelli, director of Alumni Operations, said there will be a Student Alumni Association meeting at 4 p.m. on Sept.  29 at the 1104 Center,  1104 S. Wabash Ave., on the 8th floor to discuss volunteering for the event.
"The reunion program is still in its infancy stage," Passarelli said. "Our first step is getting the alumni [to Columbia]."
Passarelli said the reunion program is being set up to slowly connect more current students in with the alumni at future annual reunions.
"Connections are very important," Passarelli said. "You can be given all the tools and all the know-how in college, but sometimes finding that first job has to do with  knowing somebody."