Professor helps plus-size brides find 'Perfect Fit'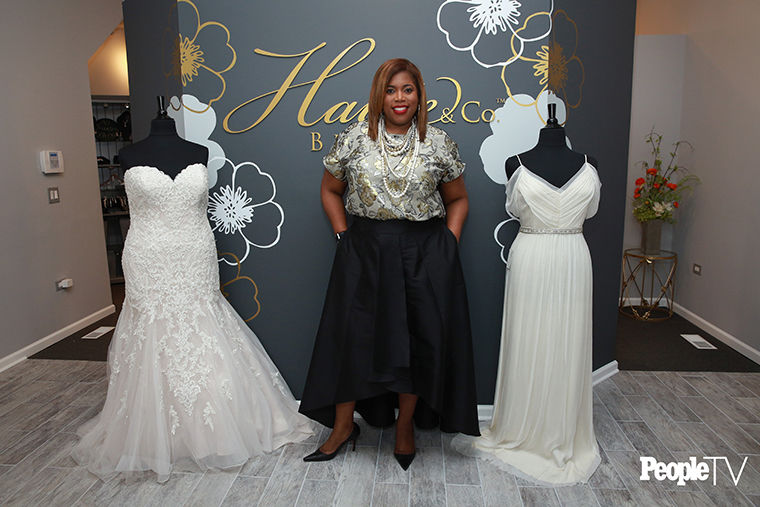 A Columbia professor lives a double life, helping students in the classroom and brides-to-be in the dressing-room.
Shannelle Armstrong-Fowler, an assistant professor of Instruction in the Communication Department, is also a bridal shop entrepreneur who stars in the People TV show "The Perfect Fit," which emphasizes body positivity.
Originally from Decatur, Georgia, Armstrong-Fowler opened her own bridal store in 2013, Haute & Co. Bridal Boutique, now located at 1760 N. Clybourn Ave., in Lincoln Park, as a way to give plus-size women more options to discover the gowns of their dreams.
Armstrong-Fowler spoke to The Chronicle about her experience on how she balances running her own bridal shop while also being a professor in Public Relations at Columbia.
THE CHRONICLE: What motivated you to open the boutique? 
SHANNELLE ARMSTRONG-FOWLER: The only reason why [the store] opened was to give women who were curvy and plus-size an opportunity to have an enchanting experience while looking for their wedding gown.
Is there a lack of representation for plus-size women in the clothing industry? 
It's a complex issue, so I always like to say that in the fashion industry, there are some rough edges and there are some downsides. One of the things that we have to do as an industry is recognize those rough edges and things we can smooth out. When you're looking at serving curvier people, always look at [it] in terms of anyone over a size 16. Your higher-end retailers or brands, like Versace, they're not going to come  in sizes over 12, and that's just a rough edge. But then we have more contemporary brands that have begun to design in sizes above 16, so we have two different segments.Each segment deserves their own representation in the marketplace. We have what we call curvy women, who are traditionally sizes 12, 14, 16 and sometimes 18. And those women are categorized as curvy. They don't consider themselves plus-size at all. So when you're over a size 20, you consider yourself as plus-size, meaning you're looking for brands that have imagery or content that says plus-size, so that's the moniker to say, "Hey, you're welcome here, come shop here."
How did you become involved with "The Perfect Fit"? 
I got a call from Authentic Entertainment about four years ago when I first opened. They were looking to develop a bridal boutique. They actually had been nurturing this concept, looking for the right network that would showcase the brides in a way of thoughtfulness and compassion and tell their stories pretty completely. It launched about two weeks ago on Jan. 9. On the launch, we had six episodes, but it's actually 12 brides and their stories.
Do you think "The Perfect Fit" will allow more opportunities to help plus-size women find their gowns? 
Absolutely, I get emails now from women in Sweden, Norway, all over the globe. The average size of a woman in America is a size 16. And bridal sizes are two sizes back, so if you are a 16 in ready-to-wear, you're probably a 20 or 22 in bridal. There are designers who don't go past a 16. There are designers that you won't be able to enjoy their designs because they may say, "We don't believe that our gowns translate over size 14." But there are a number of designers who really see the market for what it is—true opportunity—and are greeting women where they are, showing incredible designs and working with retailers like myself to deliver that.
What is your favorite part of the boutique? 
Working with the brides, because you're a part of someone's bigger journey. I started on [my] laptop, in my bedroom doing research and now here we are. We have a much bigger location in Lincoln Park, we have a national show, we have so much advertising around us and it's only in four years. So I'm really humbled by the success, but I'm also understanding that this is about to take off even more.
How does it feel when you help brides find their gowns?
Part of my mission in life is to be an advocate. I used to be in government relations [and] a spokesperson. I used to be head of communications for brands, so this is not unlike who I am at the core. Speaking for those who cannot [or] don't know how to speak for themselves.
How do you balance teaching at Columbia and owning your own store? 
I'm trying to figure out how to do that better. There are days I just feel so run down because I want to give my students everything, [and] I'm very serious in my classes so I don't ever short-change my classes on that.