Tinder swipes right on new feature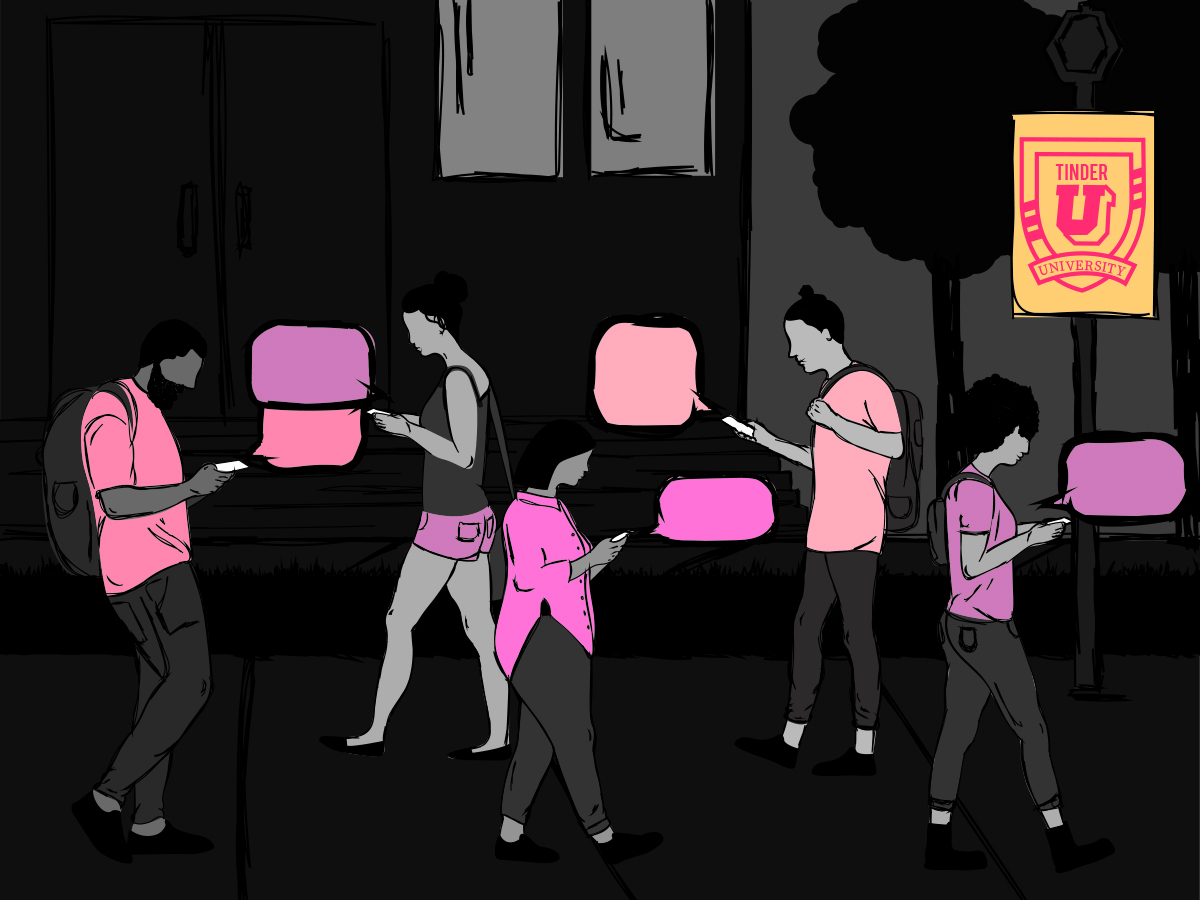 Dating app Tinder now lets college students find friends and study groups as well as the occasional date with a new feature launched Aug. 21.
Tinder U allows college students to connect easier, said Lauren Probyn, director of Global Marketing and Events at Tinder in a Sept. 5 email statement to The Chronicle.
"Tinder was born on a college campus, founded by University of Southern California students, and college students remain a core part of our user demographic," Probyn said. "More than 50 percent of Tinder users are 18-24 years old."
To access the feature, students must have an active college email address, Probyn added.
"Tinder U is a great way to make those connections with people on your campus who may be the person to help you get a job down the line, be your college sweetheart or even just a lifelong friend," Probyn said.
Anita Chlipala, a licensed marriage and family therapist at Relationship Reality 312, said she is skeptical about the effects of dating apps.
"People don't place as much emphasis on commitment," Chlipala said. "With my younger clients, if the relationship starts getting tough, they're like 'Well, I don't have to put up with this' and 'I'm just going to find someone else' instead of communicating their needs and working through their issues."
Chlipala said she tells clients who use dating apps to be sure both people have the same intentions, whether it is a casual relationship or a serious one, to avoid miscommunication.
Chlipala said some people keep "swiping and thinking the next swipe right they make is going to be the one."
Chlipala added that keeping track of how much time is spent on the app is important.
"[College is] a great experience for a lot of people," she said. "You don't want to be glued to your phone in your dorm room or your apartment and missing out on the full college experience of meeting new people on campus."
According to an Aug. 21 Tinder blog post, Tinder U can be used for finding a "study buddy" or to make friends.
Freshman marketing major Athina Darrus said she would  be interested in using the feature to find friends.
"The only thing that freshman use is the Facebook group page to get in touch with each other," Darrus said. "Facebook is so outdated, so if there was this new thing everyone was on, where everyone could connect, that could be really useful."
Sophomore creative writing major Skyler Daniels said she is open to the idea of Tinder U to meet new people.
"[Having] an option of casualness, or a study buddy, would be nice," Daniels said. "Even if there isn't an expectation of sex when you meet up, it would be nice. It would be less pressure."
Darrus added that she is doubtful the app will actually be used for friendships instead of causal relationships because of Tinder's reputation.
"The name Tinder can cause stigma because if I'm using this for friends, why is it called Tinder?" Darrus said. "When you think of Tinder, you think of hook-up culture and dating."