Students create 'SNL-style' comedy show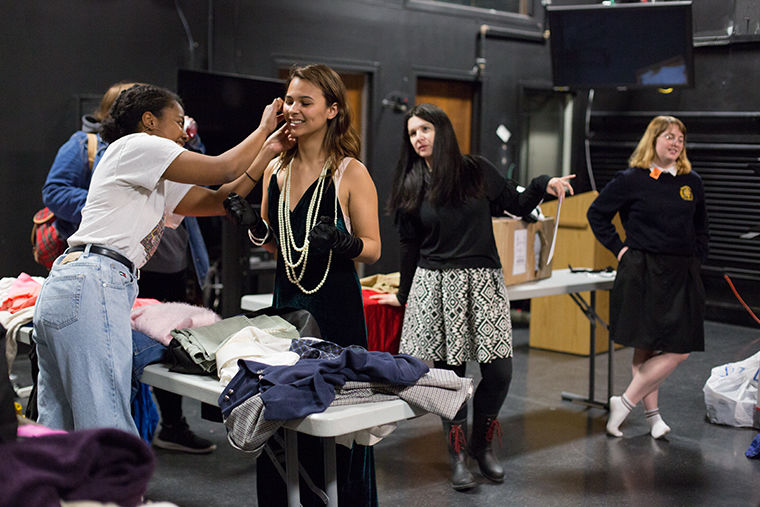 Students in eight classes worked together across the college during the semester to bring Columbia's annual sketch comedy show "Freq Out" to life.
In the style of "Saturday Night Live," everything from acting, producing, writing, make-up, costuming and directing is done by students from several departments, said line producer and senior cinema and television arts major Nick Shinners.
Students from different classes in makeup, prop design, producing, writing and directing classes participate in the show's development and 10 students outside of the classes auditioned, he added.
"The 'Freq Out' program is one of the most real-life professional experiences that you can have in this department and at this school," Shinners said. "It is extremely hands-on, and while it's through classes, we really run it truly as a production."
The show will air live on Columbia's Frequency TV April 28 at 6 p.m. and will also feature a full live studio audience of more then 200 people at the Media Production Center, 1600 S. State St.
Shinners said he learned a lot about all the hard work that being involved with a collaboration of this size entails and learning to work through challenges.
"We have around 100 students involved," Shinners said. "It just goes to show that in our real professional world how many people it takes to pull off a production of this size, and it's exciting to work with and lead a team that's this talented and large."
Colby Carlson, a senior theatre major and head writer, said "Freq Out" is now a half hour longer than in previous years, which is exciting but much more demanding then previously.
The production will also have larger and fancier sets because of the merging of the television and film departments, he added.
Jennifer Jeudy, a senior cinema and television arts major, is enrolled in the "Producing Sketch Comedy" course and said this is the most active she has ever been on a project during her time at Columbia.
Jeudy said she appreciates how the experience allows students to see what it is really like working on a real TV show because everything is done and created by students.
Shinners said he is excited to see the audience's reaction to the finished show after months of hard work when they perform it live on April 28.
"I hope audience members can walk away entertained," Shinners said. "I hope they can appreciate the talent it took to put on this big production and I hope for Columbia students in the future [will] want to get involved with the show in future semesters."