Duke talks 'Sex Drive'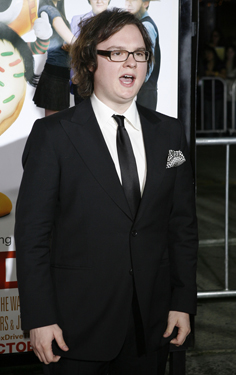 By David Orlikoff
October 20, 2008
Clark Duke hasn't had much time to enjoy the success of his odd couple web series, "Clark and Michael," where he plays the scheming,  abrasive counterpart to Michael Cera's pure insanity.
Since 2006, he has been headlining TV's "Greek" as Dale and making cameos in Comedy Central's "Robot Chicken." Duke is relieved that his latest role in the new film Sex Drive is more similar to his own personality.
The Chronicle sat down with Duke to talk about Sex Drive-released Oct. 17-his work on "Clark and Michael" and how he relates to George on "Seinfeld."
The Chronicle: What is your character in Sex Drive like?
Clark Duke: I play Lance, who is sort of the counter point to Ian, the more nervous, awkward character. My character is just really confident. He gets a lot of ladies and just has a really great time in life and in general.  That was the only thing I wanted to do was have him always have a great time, even when they are in jail.  Just viewing everything as a new experience you can have fun with. And he gets a lot of a-s.
Does that reflect in your personality at all?
Yeah, it does; I do all right. [Laughs]. I do OK, without getting down and dirty with the details.
Are you comfortable playing the supporting role, or do you have aspirations to be the leading man?
To me, it's all about if the character is someone I think I can do something fun with. The straight man's the harder part to play.  The guy that gets to bounce off him is usually the more fun role, so I don't know. It's kind of a case-by-case basis, I guess.
Is Lance similar to other characters you've played?
It's similar to me; it's not similar to characters I've played. That was what was so fun. [Nothing] else I've done [was] just totally casual and comfortable and just my own sense of humor. "Clark and Michael" was sort of us, but it's these weird characters that are total d—-e b-g versions of us. This is the most fun thing I've gotten to play.
Did you get to shape your character a lot for the movie?
Yeah, that was what was great. Everything from the wardrobe to improvising a lot of the dialogue-Sean Anders-the director, was really open throughout the whole process to let me kind of make it my own, which I thoroughly appreciated.
What went on behind the scenes of the movie?
There are a lot of funny stories from the [set]. I destroyed James Marsden's patio at the hotel.  He was next door to me, and he left for like four to five days. And I would just throw wet blankets and underwear and part of a guitar, broken beer bottles, food …  so when he came back, his patio was just like a party had been on it.
Are you moving more toward film acting?
I don't really have any interest at the moment in doing any more TV or anything online because I don't think online is there yet. We have kind of a cult success with ["Clark and Michael"] but there haven't been a whole lot of things that have been a real success online. Plus, making movies is pretty fun.
Are you happy with how 'Clark and Michael' turned out?
Yeah, I'm pretty proud of it. Because we were writing and directing and editing it, it was very much our baby. [We are] just very much more attached to it than anything else.
What do you think is really funny?
Ricky Gervais and Larry David. Those guys are my heroes. I like the original "SNL" cast-John Belushi, Dan Aykroyd, Chevy Chase, Bill Murray. I was watching "So You Think You Can Dance Canada?" when I was in Toronto because that was pretty funny.
What comedies have influenced you?
Probably "Seinfeld" more than anything. [It's] my favorite show of all time. I don't think anything tops it. I've never related to a character more than George Costanza and his parents. Because every conversation I've had with my mom ends with someone yelling. Not yelling at each other but on the other end of the line I hear people screaming, just like George's parents.
Web Exclusives:
Is Michael Cera uncomfortable in real life?
No [laughs] but he is a woman. He is a beautiful black woman.
Do you see yourself more as a writer or as an actor?
Probably more as a writer. More as a DJ than anything really [laughs].
Read what Chronicle contributing writer David Orlikoff thought about the film in his review.