Fashion students going green for Chicago runways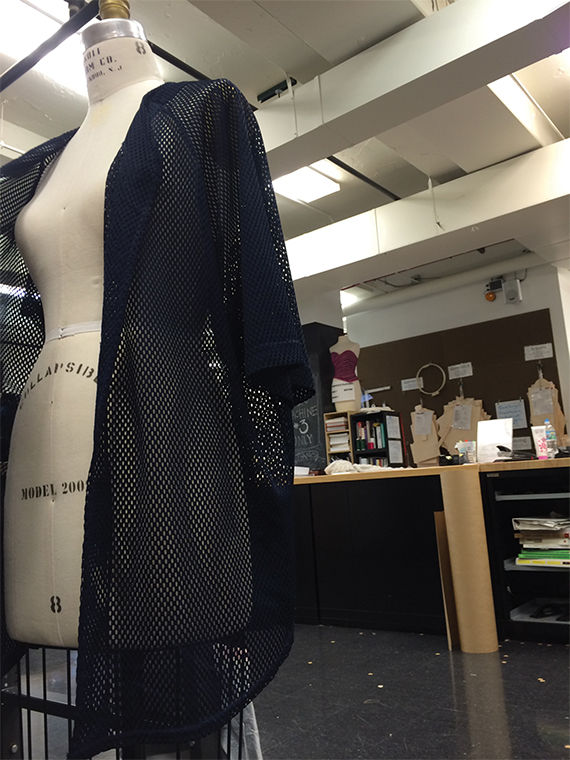 Using second-hand clothing and recycled leather from airplane seats, 12 students from Columbia's Fashion Studies Department will create upcycled apparel to be showcased in two fashion shows this fall.
Elizabeth Shorrock, an assistant professor in the Fashion Studies Department and project manager, said Green Festival, a sustainability and green living event, contacted her in September to collaborate on a fashion show at the company's annual event in Chicago. Students will partner with Saver's, a second-hand clothing chain, to create new looks out of recycled clothing and showcase them Oct. 24–26 at Green Festival at Navy Pier. Shorrock said she was also invited to participate in LuvSeat, a Southwest Airlines initiative that upcycles leather from used airplane seats.
Now the students are using resources from both Saver's and Southwest Airlines to create upcycled garments that will be showcased in the Green Festival event and the annual Airports Going Green conference in Chicago on Nov. 3–5, according to Shorrock.
Shorrock said each student will produce two to three garments. Although there are no specific guidelines for the designers, Shorrock said using the recycled materials will be a challenge.
"A clean canvas is easier to work with than working with something that's already got restrictions, with seams, certain buttons, snaps and material in it," Shorrock said. "So that makes it a little bit harder,  but they are doing a really great job."
Shorrock said designing eco-friendly garments gives students an opportunity to consider their own material consumption and waste. She said students become better designers when they identify how recycled articles of clothing can be used.
"We have so much waste in this world," Shorrock said. "Why buy new stuff if you can buy something that already exists out there? My students are doing that, but they are putting their own signature on it."
Rachel Barry, specialist in community affairs and grassroots at Southwest Airlines, said Columbia is the first college Southwest has collaborated with on the LuvSeat initiative. She said 43 acres of leather have been taken from aircrafts and a portion of it has been donated to the college.
"This is a great opportunity for the students to show the value of upcycling and the fact that you can take something that would have just become waste and turn it into something new and beautiful," Barry said.
Jax Sirotiak, a senior fashion studies major and a designer working on the project, said she became involved because she has an interest in creating eco-friendly clothing and wants to cut down on waste. She said though many of the garments the group is making will be made from the donated leather, other items will include fur, wool and embroidery.
Sirotiak said the garments she is working on include a raincoat and a dress she made from recycled plastic recovered from the ocean. The group's collection does not have a unified theme, but her pieces embody crisp and clean classic looks with a modern twist, she said.
Because it is often difficult for college students to purchase more expensive clothing, Sirotiak said the fashion show is a way to show students they can wear second-hand clothing and use recycled materials to enhance such garments.
"It's a great way to show other people what we can do," Sirotiak said. "The main point of this is to show our ideas and all the different aspects you can go into."
Anna Ramirez, a senior fashion studies major, said she got involved after she heard about the project from friends. Ramirez said she is currently working on a corset using deconstructed denim and jersey mesh to give her garments an edgy hip-hop look.
She said using second-hand clothing from stores like Saver's helps prevent ongoing waste because it can be broken down and be upcycled into something more stylish.
"If you go to Saver's, you see all of these piles of clothes," Ramirez said. "A lot of the time, there is stuff that sits there for years until somebody decides to throw it away. It's better to recreate something that could still be salvaged."
Ramirez said she hopes to see many different types of garments  in the shows because student designers have various options with the surplus of materials from Saver's and Southwest.
"There are so many things at Saver's that can be turned into something really cool and something that is unexpected," Ramirez said. "I'm excited to see the variety of different looks."