DEI series explores roots of 'white people'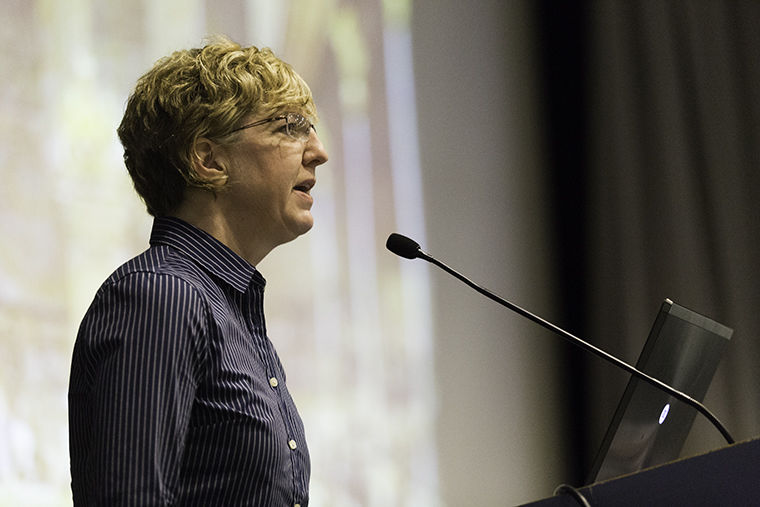 The origin of  the term "white people" and its impact on American history was the subject of a Feb. 13 campus seminar led by a notable expert on critical race theory.
The seminar, titled "Going Back to Go Forward," held at Stage Two in the 618 S. Michigan Ave. Building, was the second installment of Columbia's Diversity, Equity & Inclusion series. Jacqueline Battalora, who also led the first DEI program last semester, is a sociology and criminal justice professor at Saint Xavier University and the author a book about race inequality, "Birth of a White Nation." 
The event was co-sponsored by the Columbia College Assembly and the Office of the Provost. The third program in the series is planned for March 13 and two others have been scheduled later in the Spring semester.
"You have to name a problem  before you can start to fix it," President and CEO Kwang-Wu Kim told The Chronicle. "That's really what these kinds of lectures are about, to make sure people can understand how embedded in the structures in which we operate racism is in this country."
The lecture was attended primarily by faculty and staff members—including Kim and Senior Vice President and Provost Stan Wearden, who introduced Battalora—with only a few students in the audience. Diana Vallera, member of the Columbia College Assembly and adjunct professor in the Photography Department, said few students attended because the seminar was scheduled during class times, and promotion by professors could have been stronger.
Battalora's lecture covered a series of laws enacted in the 1600s that segregated white from non-white people, birthing institutional racism. Battalora said the laws were created following a large retaliation of black and white indentured servants in 1676 who fought landholders imposing harsh punishments, known as Bacon's Rebellion. 
To ensure another rebellion would not occur again, Virginia lawmakers created laws uplifting whites and taking rights away from non-white people, thus dividing the working class majority.
"You don't even need me to say white superiority is institutionalized: it's blatantly obvious," Battalora said. "Once we've shared this information; it is not hard to talk about white privilege."
Vallera said it was important for the college community to have the opportunity to learn the history and laws that created white privilege, so everyone can apply that knowledge to institutional racism today.
 "[Columbia College Assembly] agreed as a group it would be important to bring in speakers who can bring some of that historical framework and then we're looking forward to keep expanding on that into gender and other areas as well," Vallera said.
Battalora said Columbia's community of artists should take this understanding and translate it into their crafts to make it more accessible to the public.
"[This information] can create a bridge to talk because it helps to create a shared foundation of knowledge that we can build on to advance lots of current day political interests," Battalora said. "What, in my experience, so often happens without a shared history is that people deploy and draw upon stereotypes. In the present, rooting things in historical fact really helps to challenge that."