First Interactive Arts and Media chair dies at 66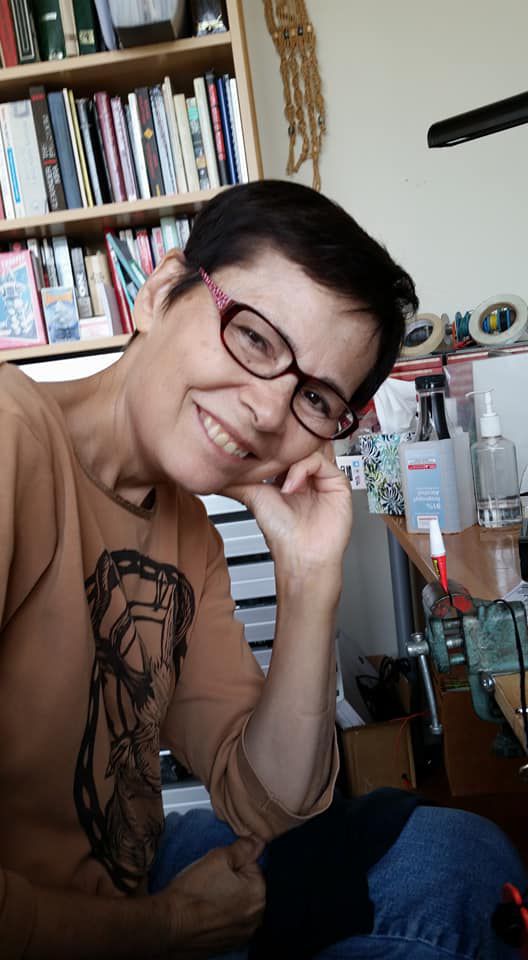 Annette Barbier, the first chair of the college's Interactive Arts and Media Department, passed away June 5 at the age of 66.
A multimedia artist known for integrating new technologies into her work, Barbier was selected in 2005 to be chair of Columbia's newly formed IAM Department, which was created by merging the college's former Interactive Multimedia and Academic Computing departments. She continued in her position until 2012, when she became a professor in the Interdisciplinary Arts program. She left the college in 2015.
Barbier was granted professor emerita status in 2016 for her leadership and service at the college and her artistic achievements, Senior Vice President and Provost Stan Wearden said in a June 14 statement. Emeritus status is given to professors retiring from the college after at least seven years of service who "made significant contributions to the culture of their times, in keeping with the College's overall mission," according to the college's faculty manual.
Barbier's work received numerous grants and both national and international acclaim, including awards from the Chicago Artists Coalition, the International Digital Media Arts Association and the Prairie Center of the Arts in Peoria, IL.
Barbier is survived by her husband Drew Browning; daughter, Celine Browning; son-in-law, Aleksy; and sister, Joyce.
Celine Browning said she would describe her mother as an "insightful, critical, kind and incredibly energetic" person who was always working on a new project.
"The studio was her favorite place to be," Browning said. "For her, being an artist was a way of life, not a pastime. She became an artist because art was her way of interfacing with the world around her. Through art, she could explore and communicate ideas effectively and poetically."
Tom Dowd, associate dean of the School of Media Arts and associate professor in the IAM Department, said Barbier hired him in 2007 after he had been teaching part-time in the Television Department since 1996. He was sad to hear of Barbier's passing, adding that she was always able to find an artistic angle in anything.
"She was an artist to the core and that really defined a great detail about how she looked at life and thought about people and her and everybody else's place in the world [and] how it should all be connecting together," Dowd said. "She was always very conscious and very cognizant of all of that and very perceptive and always thinking levels beyond what was originally in front of her."
Janell Baxter, associate chair and associate professor in the IAM Department, said she was a part of the search committee that selected Barbier as the chair.
"When Annette joined, she spearheaded our department through a really complicated transition," Baxter said. "We were merging two departments that had fundamentally diverse cultures, so she had to get to know each of these two departments and the faculty within them and lead us through this merging and formation of one new identity."
Baxter said Barbier's art was innovative because it included technologies as they emerged, setting a precedent for how they could be used artistically.
"Her work wasn't tied to a specific medium or technology, it just sort of used what was happening around us," Baxter said. "That flexibility was really impressive."
Baxter added that the most memorable aspect about Barbier was her advocacy for faculty and staff at the college, particularly after the department was formed.
"She had this real strength about her in terms of advocating for our department because when all of these things were being formed, a lot of other departments around the college were taking notice and asking us to collaborate," Baxter said. "We are a very small department so it was a very difficult challenge to balance all of this. That was something I learned from her, how to be this quiet, confident strength and advocate for faculty and staff."
Leo Selvaggio, a 2014 interdisciplinary arts alumnus and former student and mentee of Barbier's, said Barbier was dedicated to her role as a professor and always showed support for her students. He said Barbier once gave him a job as her studio assistant after he graduated where he was more able to experience her work, some of which she also showcased at a gallery he ran when he was looking for participants.
"There's such a barrier between students and professors and for good reason, but when you're at the graduate level the way I was, you want more from your professors, you want them not to just invest in you but you want to invest in them," Selvaggio said. "You want to work on their projects with them because they're living the lives that you one day want for yourself. She wholeheartedly embraced that without any boundaries or barriers."
Dowd said Barbier's work taught him to see things from a different perspective and also reminisced about the last time he saw her two months ago.
"That last time I saw her, I stepped out of an office [and] I saw her coming down the hallway and I just immediately smiled because she was that kind of a person," Dowd said.