Students seek degrees: too cool for school
Chicago gave Antarctica a run for its money last week for title of Coldest Place on Earth. Temperatures Jan. 30 dropped to minus 23 degrees, breaking the previous record of minus 15 set in 1966. In comparison, the record for lowest temperatures at Antarctica's Signy Research Station is around minus 38 degrees.
Columbia closed Jan. 30 and 31 due to the low temperatures. The college took steps to check classroom temperatures when it reopened Friday to maintain building systems and temperatures, according to a Feb. 1 email statement from Facilities, Operations and Engineering.
Although Columbia was closed, many were not able to hibernate the cold away with a blanket or a cup of hot chocolate.
Senior multimedia journalism major Ria Dockerty had to go to work Wednesday morning at Colectivo Coffee in Lincoln Park.
"I walked outside, and my hands went numb within the first 30 seconds," she said. "I only had to be at work from 9 a.m.–3 p.m., but the point is that I shouldn't have had to be there at all."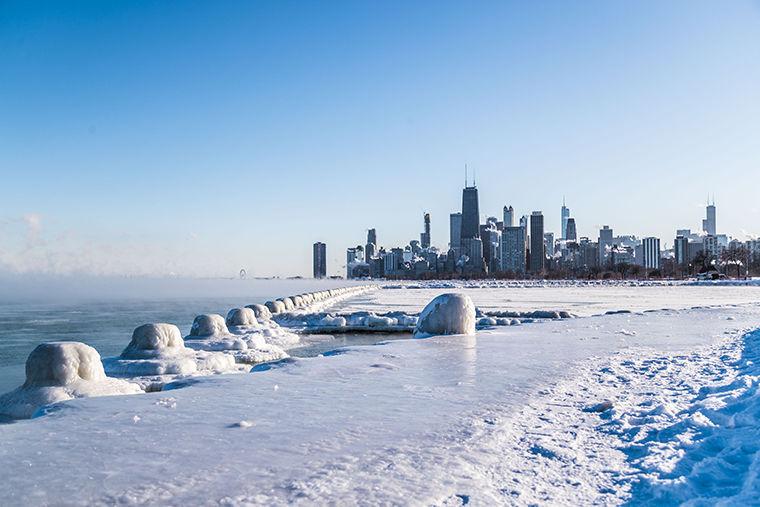 Senior biophysics major at Loyola University Chicago Adrianna Diviero works at the Halas Recreation Center on campus as an outdoor experience facilitator. Although she was off during the Polar Vortex, some of her co-workers still had to go in.

"There should have been some kind of alternative form of transportation if they were going to keep the building open, just for the workers, … to prevent people from going out in the cold because they need [to] work," Diviero said.
A polar vortex is a large area of low pressure and cold air surrounding both of the Earth's poles, according to Summer Diab, a 2017 broadcast journalism alumna who was most recently working as a weather anchor for WEAU 13 NEWS in Wisconsin.
The term "vortex" refers to the counterclockwise flow of air that keeps colder air near the Poles. During the winter in the Northern Hemisphere, the Polar Vortex will expand, sending cold air south, according to Diab, who is in her second semester of meteorology school at Mississippi State University.
"There was a huge arctic air mass in the Upper Midwest, and that's why we were feeling all of that frigid air," Diab said.
Homeless shelters welcomed people in from the bitter temperatures, and Chicago Park District designated park field houses as warming centers, as it was possible for frostbite to develop within 30 minutes or less.
Pacific Garden Mission, 1458 S. Canal St., is the largest shelter in the city. It implemented its extreme weather plan to provide clothing, food and shelter to men, women and children last week, according to Vice President of Operations Perry Cunningham.
"We had to make sure we had enough sleeping gear ready for them and that we had enough food for them to eat," Cunningham said. "We also prepared extra packages with clothing [for them]."
Diab added that the drastic increase in temperature after the Polar Vortex should also be considered. The temperature on Friday was around 40 degrees, nearly a 70-degree difference from Wednesday.
"Your body is going to take a toll," Diab said. "People with weaker immune systems will probably get a cold or a flu because jumping from 40 below to 40 [degrees] really messes with someone's body."
Don't worry, Chicago; as of Feb. 4, there are only 136 days until summer.
Citizens all across Chicago braved the extreme cold January 30th and 31st of 2019. Frequency TV teamed up with the Columbia Chronicle to document the stories from the cold in 360º video.