3 brothers, 2 lovebirds and a van show millennials aren't the only adventure seekers living the van life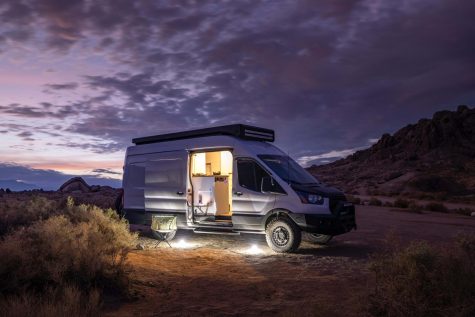 Editor's note: This article is from the Communication Department's award-winning Echo magazine.
When you hear "van life," the image that enters your mind is probably a 20-something sporting a Fjällräven backpack, holding their puppy and posing outside their mobile home parked in front of the mountains – it's the kind of image you'd expect to see on Instagram's explore page.
But three brothers – Karl, Simon and Marcin Gluc – have discovered through their van conversion company, Van Life Chicago, that millennials aren't the only adventure seekers left. Instead of cashing in on a vacation home for retirement, people in their later years are buying vans and packing their bags for a great American road trip.
Namely, Doug Cigliana and his wife, Christina. They're 57 and 65 years old and spent last year living out their self-proclaimed "road warrior year," where trips consisted of driving as far as possible to reach their destination in only a couple of days before returning back home to their Milwaukee condo. The Ciglianas' road warrior mentality parks them at truck stops to sleep and wakes them to 18-wheelers' engines turning on.
"You have this vision of this person going and camping on a cliff overlooking the ocean," Doug says. "That hasn't really happened yet."
Doug and Christina have talked about buying a vehicle to travel in since they met in 2011 on an overnight rafting trip on the Colorado River. Doug planned to meet up with his friends on the second night of the trip and asked his friend, Scott, to leave him a "ducky" — a one-person raft — to paddle down to the campsite with. 
"[Scott] calls me up and goes, 'Doug, would you mind if someone went with you?' I said, 'I don't care,' and it was her," Doug says. "We've been together ever since."
After six years of marriage and one year of the coronavirus pandemic, the couple felt it was time to finally fulfill one of their dreams. "We never lost sight of the fact that we wanted to have a travel van," Christina says. "There's a lot in the United States to see." 
While camping with friends in Utah, the Ciglianas faced especially brutal sand winds. "We were walking around with our ski goggles on in July just to keep the sand out of our eyes," Doug says. "On that trip as we're sitting around, trying to keep out of the sand, we're all like, 'OK, it's time. We're all going to get campers and vans.'"
A drive to Des Moines, Iowa, and a 30-minute test drive in a small RV proved incompatible with the Ciglianas. Luckily, Christina stumbled upon one of the Gluc brothers' converted vans while scrolling through Facebook Marketplace.
Karl stopped by Milwaukee to give the Ciglianas a van tour, and they liked the brothers' craftsmanship. The Glucs told the Ciglianas that if they found, purchased and brought their own van to them, they would build it out.
In January 2021, the Ciglianas drove to a small dealership in Detroit and purchased a 21-foot Ram Promaster 3500 (previously an Amazon delivery van). In February, they became the very first customers of Van Life Chicago and named their van Scooby Blue.
"We saw during COVID that the whole van life scene kind of exploded," Karl says. "So, we were like, 'Oh, let's try to build our own initial prototype.'" 
The Gluc brothers were miniature handymen growing up; they helped their father renovate kitchens, bathrooms and floors, paint, fix utilities and tinker with all kinds of broken electronics, which created a hive of knowledge among them in electrical engineering and home remodeling at a young age.
Their work was cut out for them. With backgrounds in design and engineering, they got to work on creating a van based around their lifestyles: adventure and exploration. The brothers took turns testing out the first van on trips — Karl took it out west to Colorado, Utah and Arizona; and Simon took it to the Outer Banks.
"We built the first van, and we loved it so much," Simon says. "We were like, 'This is literally the coolest thing ever. Everybody needs to do this.' And then that's kind of how we decided to go full force and quit our jobs and not look back." 
Karl ditched his corporate job as an electrical engineer for ComEd, Simon traded in slot machine designing for van interiors and Marcin applied his business management expertise to handle the back end of the business.
Their biggest challenge: keeping up with demand. Each custom build requires a focused month of labor and can include a kitchen, queen-sized bed, sink, refrigerators, cabinets, passenger seats, a workstation desk, toilet, external shower, hot water — whatever you need or dare to ask for — allowing you to live your life in a van the same way you would at home.
The ease of travel and minimal preparation is part of the beauty of the van to Christina. On Mother's Day last year, the Ciglianas decided to spontaneously bring Doug's 89-year-old mother out in the van. They cooked her a pancake breakfast on the shore of Lake Michigan with the doors open toward the water.
"It's not like an RV, where you have to spend days prepping it," Christina says. "There are a few things you have to do beforehand, but it's pretty easy to get up and go."
Van life is all about freedom, adventure and memories, and through VLC, the Gluc brothers make accessing that triad possible while traveling.
So far, the Cigliana pair has seven trips and 14,000 miles under their belt with Scooby Blue. They've been to Baton Rouge for an LSU football game, Door County, Connecticut, Colorado and the National Civil Rights Museum in Memphis. With Christina's retirement on the horizon, Doug hopes that she can take some trips on her own while he continues to work. 
Van Life Chicago is different from other van conversion businesses, Doug says. Instead of just receiving a van and never hearing from the company again, Karl has video chatted with the Ciglianas a few times to help while they were having problems on the road.
Doug and Christina still visit the Gluc brothers at VLC now and then, and when they do, Doug is sure to bring them craft beer, and Christina, being from Louisiana, brings a pot of gumbo. For now, Scooby Blue is parked a mile down the street from the Ciglianas' condo until they can take their next trip — but they still carve out time to "just go sit in it."
You can read the entire 2022 issue of Echo, as well as previous issues, on our website.