Enrollment continues to decline, retention up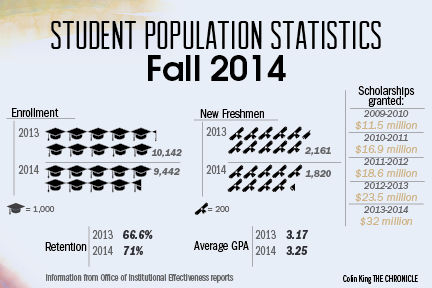 For the fifth consecutive year, Columbia experienced a decline in enrollment, resulting in a $6.3 million loss in revenue this year.
The college has a Fall 2014 enrollment of 9,442, a 6.9 percent decrease from last year's fall enrollment of 10,142. Despite the drop, the college saw its retention rate rise to 71 percent, a 6.6 percent increase compared to last year, according to a Sept. 17 report from the Office of Institutional Effectiveness. The administration is crediting the increase to more selective admissions throughout the last two years and an increase in scholarship aid for incoming students.
Stan Wearden, senior vice president and provost, said a factor that influenced the decline was the college's decision to be more selective in the admission process. The average GPA of incoming freshmen was 3.17 for the Fall 2013 semester and increased to 3.25 this year. He said although the college did not drastically redefine the process, the changes still impacted enrollment. Higher-performing students will have a better experience if they are surrounded by  students of the same caliber, Wearden said.
Murphy Monroe, the assistant vice president for Enrollment Management in the Undergraduate Admissions Office, said the college had an 89 percent acceptance rate, a departure from its open admissions policy of years past. He said this is the first year the college formally invited students to submit portfolios and that this is the most academically prepared class the college has ever admitted. He added that the process includes examining a student's entire academic record and experience, as well as a required essay, recommendation letters and standardized test results.
"[The Admissions Office] is ultimately looking to make an evaluation that the students we admit will have a strong likelihood of being able to step into our first year core curriculum and be successful," Monroe said.
A decline in the number of students transferring to the college this year also contributed to low enrollment, Wearden said.
Wearden said he anticipates that enrollment will begin increasing again by the Fall 2015 semester because the college plans to increase its applicant pool by strategically targeting prospective students. He said the administration is in the process of interviewing search firms that will identify high school students who are strong candidates and that the college will work more closely with high school counselors.
"If we can keep the retention rate [high], that alone is going to increase our enrollment over time," Wearden said. "The other variable is incoming freshmen, but the key is to bring in prepared students who are more likely to stay here."
President and CEO Kwang-Wu Kim said he estimates the ideal enrollment for Columbia to be between 10,000–11,000 students, not including potential online expansion. Kim also credited the retention increase to the college selectively admitting students who are prepared for Columbia's curriculum in the last two years, adding that this is a reason to continue selective admission.
"In the recent history of our school, we were a completely open admissions institution, and that meant that anyone who completed an application was admitted," Kim said. "We really moved away from that, and we're getting to the point where that ongoing development is having a positive impact on retention."
According to the reports, the college gave more than $32 million in scholarship funds to incoming freshmen this year, an $8.5 million increase from last year. Despite the increase in scholarship aid, Kim said tuition will continue to increase because of such issues as the current state of the economy and increasing costs of healthcare for college employees. He also said the scholarships given to incoming freshmen this year are part of an enrollment  strategy to attract more students to the college.
"Increasingly, there is a basic expectation coming from families that the scholarship offer is just necessary before a student will make a commitment to go to an institution," Kim said. "It's very difficult to get students if you're not willing to put some kind of scholarship offer on the table, and that's just the reality of that we're all facing right now."
Michelle Gates, chief financial officer and vice president of Business Affairs, said in a Sept. 25 emailed statement that the college has mitigated the revenue loss through several expense reductions that target personnel expenses, operating expenses, non-class-related activities and planned capital improvements.
The School of Media Arts proportionally lost fewer students than the School of Liberal Arts & Sciences and the School of Fine & Performing Arts, according to the enrollment reports. While the Cinema Art + Science Department remains the college's largest department with 1,558 students, the Journalism and Photography departments lost the highest percentage of students this year-—20.6 percent.
Robin Bargar, dean of the School of Media Arts, said the Cinema Art + Science Department has always been the largest department at the college because it is nationally ranked as one of the best film programs in the country by media sources such as The Hollywood Reporter. In addition to its high rankings, he said the number of successful alumni from the department are evidence to prospective students that they too can be successful in the program, which influences them to enroll.
Bargar said the school plans to use this same tactic in increasing enrollment for the Journalism Department, as well as showcasing current students who are practicing the profession.
"We're trying to show that we're really giving students the opportunity to learn in an environment that models what they really will do in the real world," Bargar said. "If students can see they have these learning opportunities [and] they are just like the opportunities they will have in the real world, then they'll identify with that."
Bargar said although he cannot accurately predict when enrollment in the School of Media Arts will begin to recover, he is confident that such losses will begin to slow and if there are any next fall, they will be less drastic than this year's.
"I really have to be confident," Bargar said. "I think the whole college is working at it in a much more organized, concentrated way than ever before."
Len Strazewski, interim chair of the Journalism Department, said because there is a cultural understanding that there are fewer job opportunities in journalism, it could account for the significant decrease in the department's enrollment. He said the department is currently researching industry trends and reasons for why students may be choosing not to study journalism. In addition to the research, Strazewski said the department plans to emphasize the significant department alums.
"We have a tremendous collection of alumni who are very successful and are great role models for our existing students," Strazewski said.
The School of Fine & Performing Arts has seen losses similar to those in Media Arts, but Business & Entrepreneurship is a department that is actually flourishing—it had a 2.4 percent enrollment increase this year.
Philippe Ravanas, chair of the Business & Entrepreneurship Department, said this increase is the result of efforts the department has made throughout the last five years, including the reassessment of classes, improved student evaluations and the refining of programs that would best prepare students for their careers.
"All of this contributed to a positive dynamic in a difficult environment," Ravanas said. "We have presented a very ambitious expansion plan from a curricular standpoint to keep on innovating both in traditional format and online to [create] a new platform for growth."
Ravanas said his department will continue to improve the curriculum, which is a tactic other departments and schools can use to get enrollment numbers up.
Because falling enrollment is a college-wide issue, Kim said he is encouraging each school dean and department chair to address their particular department accordingly.
"I just want the community to know that this is my top priority," Kim said. "Even though it's a little bit frustrating, I'm encouraged because I'm so positive about the value of the institution."