Sticking to the plan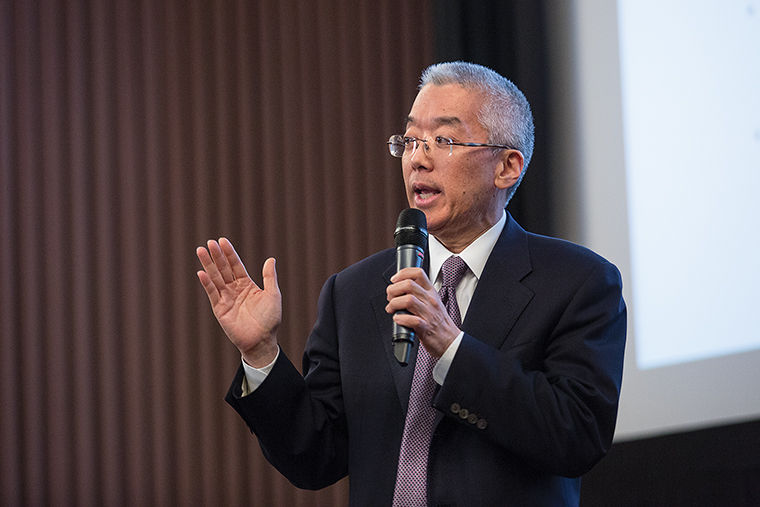 By Campus Reporter
February 1, 2016
Senior college administrators reported to faculty and staff about the progress made during the first year of the Strategic Plan's implementation at the initial Town Hall meeting of the Spring 2016 Semester, held on Jan.29.
President and CEO Kwang-Wu Kim and Senior Vice President and Provost Stan Wearden discussed the plan's initiatives, including the revision and creation of major and minor curricula, followed by a brief Q&A session at Film Row Cinema in the 1104 S. Wabash Ave. Building.
Wearden focused the discussion on the overall student experience including issues of academic quality.
"Having a Strategic Plan doesn't mean things were badly broken here," Wearden said. "It just means we're trying to be systemic and systematic in the ways we think about where we're going. It means we're trying to move ourselves together in the same direction."
Objectives outlined in year one of the plan include revising college curricula to provide all students  with the same introductory skills. A draft of the revised common core is scheduled for completion and faculty review on May 15, 2016.
Wearden discussed the ongoing revision of the first-semester freshman program, known as "Big Chicago," to be completed by the Fall 2016 Semester and the creation of a new undergraduate major that would appeal to more students to increase enrollment and retention.
"We also need to work on the actual academic quality and that's where my efforts have been primarily this year and where many of you have been engaged as well," Wearden said. 
Kim noted the college's branding initiative was making headway, adding he will be leading the Diversity, Equity and Inclusion Committee created on Jan.28.
Wearden noted the benefits to be realized from the plan's implementation of a professional advising model, a faculty-led student mentoring program and a career center that would centralize and coordinate all student internship opportunities.
For a brief 10 minutes following the presentation, faculty and staff were invited to ask Kim and Wearden questions regarding the Strategic Plan. One questioner was Cat Bromels, print service manager in the Design Department.
Bromels expressed discontent about union members' salaries, which have been the subject of collective bargaining for almost three years. 
When Bromels reflected on the remarks made during the Q&A session, which evoked applause from those present, they told The Chronicle: "I want to know how [Kim] expects us to build a unified community when so many have so little hope on campus about being able to afford groceries." 
Kim responded by saying he was once in that position when he made $30,000 at the beginning of his career, but acknowledged the need to address salaries and look at compensation to reward faculty and staff.   
Matt Doherty, a lecturer in the Design Department, said he was thankful for the presentation because it allowed college community members to be involved in the Strategic Planning process.
"This is an amazing opportunity, and I'm really thankful," Doherty said.
Kim said the feedback was welcomed, noting the importance of  periodic reports on progress made toward the Strategic Plan's goals.
"You have to make the information available so that people who are interested have access," Kim said. "This is about access. You can't force people to be interested, but you have to provide the information."