Renegades, SPB host first Big Mouth event
By Assistant Campus Editor
September 8, 2014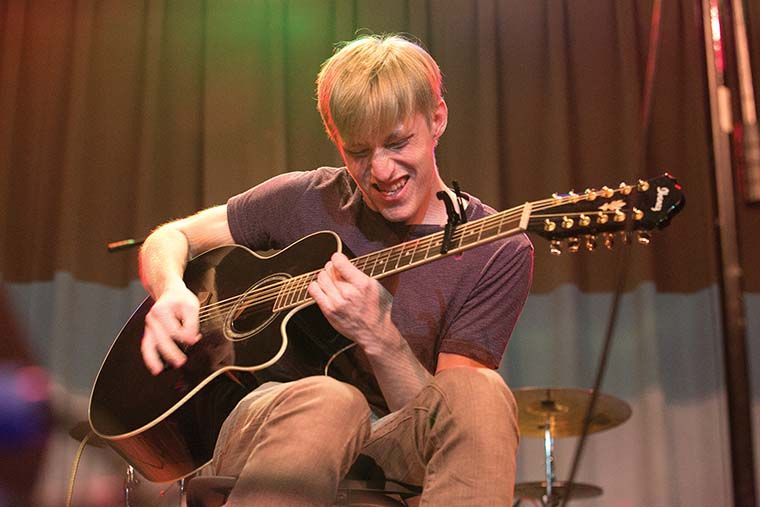 Dozens of students lined the hallway outside of the 618 S. Michigan Ave. building's Stage Two on Sept. 4 as they waited to see if they would be one of 12 students chosen to perform at the first Big Mouth of the Fall 2014 semester.
Big Mouth, an open mic series held throughout the academic year, drew more than 100 students of all years and majors. Typically hosted by the Student Programming Board, this year the SPB teamed up with the Renegades, Columbia's student athletic organization, to put on the popular show.
Kari Sommers, assistant dean of Student Life, said the combination of the SPB and student athletic association was a great way to foster collaboration and networking opportunities for students.
"There are a variety of ways for students to get involved outside of the classroom to reinforce the learning inside of the classroom," Sommers said.
The two organizations working together on an event required many students to get involved and work together, implementing what they learn in class along with teaching themselves how to build connections outside of their classes.
"That kind of partnership, a kind of unexpected partnership, like the SPB and [the Renegades], are where students learn how to collaborate and partner across a variety of diverse disciplines and organizations," Sommers said. "[The teamwork] is an awesome example of the kinds of things that happen when you're involved in student organizations. You really learn how to collaborate."
The network that a student can build at an event such as Big Mouth is huge, she said. Students practice their craft and get feedback from a live audience of peers, which gives them exposure, Sommers added.
Jessica Davis, a junior business + entrepreneurship major and vice president of the SPB, said this was the first time the SPB has teamed up with the Renegades for any type of event or fundraiser.
"[The SPB] thought of it like a beneficial relationship," Davis said. "[The Renegades] get to promote their club and help us put on an event like Big Mouth."
Michael Sempek, a junior television major and president of the Renegades, said he saw the two clubs working together as a way to increase the organization's profile on campus and to promote it.
"For [the Renegades and the Student Athletic Association], I would like to see more recognition," Sempek said. "This is the biggest thing we've done."
The 12 acts varied from comedy routines and poetry readings to musical talents. The lineup included The Dorm, Clay Hurlbut, Attack the Sound, Tom Fertsch, Only Children Anonymous, Delta, Glo Chitwood, Tatiana Hazel, Full Effect, Toby, Ota Berga and Jayson Acevedo. The night ended with a final performance from musical group Oby.
Clay Hurlbut, a sophomore interdisciplinary major, performed a comedy routine for his first appearance ever at Big Mouth. He was the only spoken comedy routine in the show and he said he said he worked up the courage by pep-talking himself before the show.
"Everyone deep down thinks they're funny, but to try it out for the first time is good and I thought it was alright," he said. "Before I go on stage, I tell myself that I'm the greatest of all time. I want to change the world. That's my overall life, not goal; that's just what I'm going to do."