Professor's book delves into 'Endless Caverns'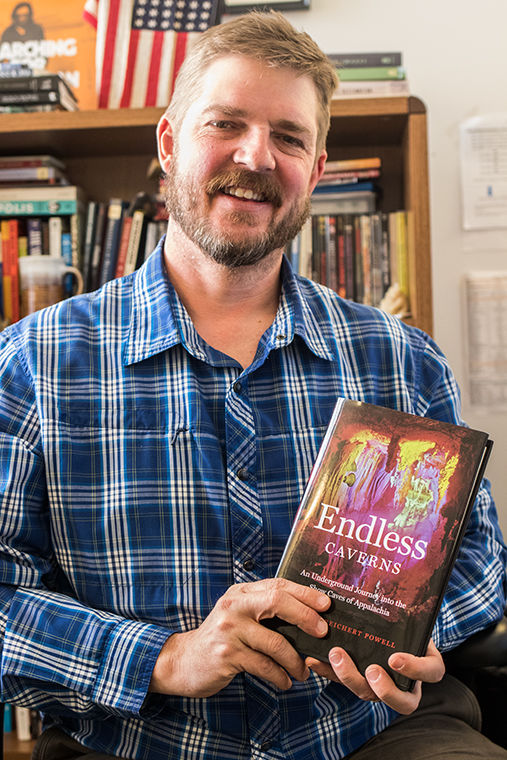 English and Creative Writing Department professor Douglas Reichert Powell is releasing his second book, "Endless Caverns: An Underground Journey into the Show Caves of Appalachia."
The book takes a look at the various caves converted into tourist attractions in the Southern Appalachian valley, which cuts through several states, including parts of Alabama, Georgia, Tennessee, Virginia, West Virginia and Maryland.
It is set for release April 23 and follows his 2007 work, "Critical Regionalism: Connecting Politics and Culture in the Political Landscape," which seeks to place regionalism in a different light. Both of which were published by the University of North Carolina Press.
Reichert Powell said he usually writes about regional America and its effect on individuals, which led him to write about the Appalachian caverns. He also is from Johnson, Tennessee.
"I got to thinking, what is the most place-specific form of culture that I can think of? I was making a list of things that I thought I might write about and trying to sort of focus them on the Appalachian region where I already had some expertise," Reichert Powell said.
The book focuses on about 36 tourist-related caverns, called show caves, in the Appalachian Valley, with the first originating in Virginia in 1807, he said.
Reichert Powell said he was struck by the complexity of show caverns and the dearth of cultural scholarship about them prior to his own.
"The more I thought about it, the more I felt this involves all kinds of artistic work of lighting and identifying these shapes in the cave and it involves just an incredible amount of physical labor of building pathways and hand railings and trying to make things safe and accessible for average people to take a walking tour," Reichert Powell said. "Plus as someone who thinks about region, then I realized I've got each one of these things is literally unique."
Mark Simpson-Vos, editorial director at UNC Press, was the editor for "Endless Caverns" and said the book took about six years to complete.
"This is a terrific book. It's one that I enjoy personally, but the thing I love about this the most is the way that [Reichert Powell] uses travel to places that we think we know something about, and then uses that travel and experience to surprise us with [what] we haven't thought about," Simpson-Vos said.
Reichert Powell said it was challenging and time-consuming to put the book together because he worked on researching and writing during the summer as opposed to working on the book year-round.
"There's been so much discussion in the last year with the election, and with this idea of 'Trump country and the back woods. That's not what I see going on there," Reichert Powell said. "I see this continually renewing effort to make something crazy, magical and fascinating out of the bedrock of the place. There is more to the cultural resources of the mountain region than just opioid addiction and economic despair."
Chair of the English and Creative Writing Department Kenneth Daley said he is proud of Reichert Powell's newest work, especially because it is his second release. He added that the book speaks to the knowledge and ability the author is able to bring to his students in the classroom.
"The work he does [with] his research, he brings into the class and engages students in issues of place and landscape," Daley said.
The knowledge and experience he got from Columbia helped him to finish the book, Reichert Powell said.
"I wanted to make sure it's clear that this is such a Columbia kind of project," he said. "I don't think I would have been able to do this same kind of project—at least with the same kind of support and enthusiasm behind me—if I would've been anywhere else."