Working on Womanhood with Mayor's support, expands programs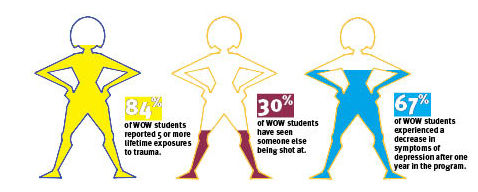 Sheree Blakemore always looks forward to witnessing the growth of young women and hearing about their dreams and goals. 
"I have been in circles with girls where someone in their community or school was murdered," said Blakemore, a supervisor for  the mentorship program Working on Womanhood. "To have a place where we can support one another and talk through that traumatic situation is so important." 
Five hundred more students in eighth through 10th grade will be able to work with WOW starting this fall, according to a Feb. 23 press release from Mayor Rahm Emanuel. Youth Guidance, an agency that provides school-based programs for adolescents, will facilitate the program, which  will reach 1,500 young, at-risk women.
Blakemore said the trusting relationship between counselors and individual students is a vital component of the program because it creates a safe space for young women to communicate with each other. The students eventually work in "circles of trust," in which they learn core values such as self-awareness, healthy relationships, visionary goal-setting, emotional intelligence and leadership, she added.
Chicago Police Department Superintendent Eddie Johnson told The Chronicle Feb. 28 that many problems in the most dangerous neighborhoods in the city stem from a lack of mentorship programs for at-risk adolescents.
"We need to do a better job of showing them a better way of life," Johnson said. "When these kids have no hope, that is when they are willing to pick up a gun and use it." 
According to Jannie Kirby, Youth Guidance director of marketing and communications, WOW has operated for five years and is currently in 20 CPS schools. It pairs students—many of whom grow up with daily exposure to poverty, violence and trauma—with continuously trained  Youth Guidance Clinicians working directly on school campuses. 
"We have to build up a hedge of support around our young women so  obstacles and traumas don't become barriers for their success in school or in life," Kirby said. 
WOW's expansion comes after the Youth Guidance Research and Evaluation Department showed evidence-based progress from the program, Kirby noted. The agency conducted various tests on students who entered the program in fall 2014 and found more than 70 percent of the young women showed symptoms related to post-traumatic stress disorder and symptoms of depression.
At the end of the school year in spring 2015, those same participants were tested, and 67% of those who showed an indication of depression when school began experienced a decrease in levels of depression after one year in the program, according to Kirby. 
Blakemore said many other schools have requested access to both WOW and  Becoming a Man, a mentoring program that encompasses the same 22 communities that was also recently expanded, as announced Oct. 3, 2016.
"[Emanuel] believes in this work, and we have proved positive that it is making a difference in the lives of students," Kirby said.