Another year, no budget: No MAP grants could again affect college enrollment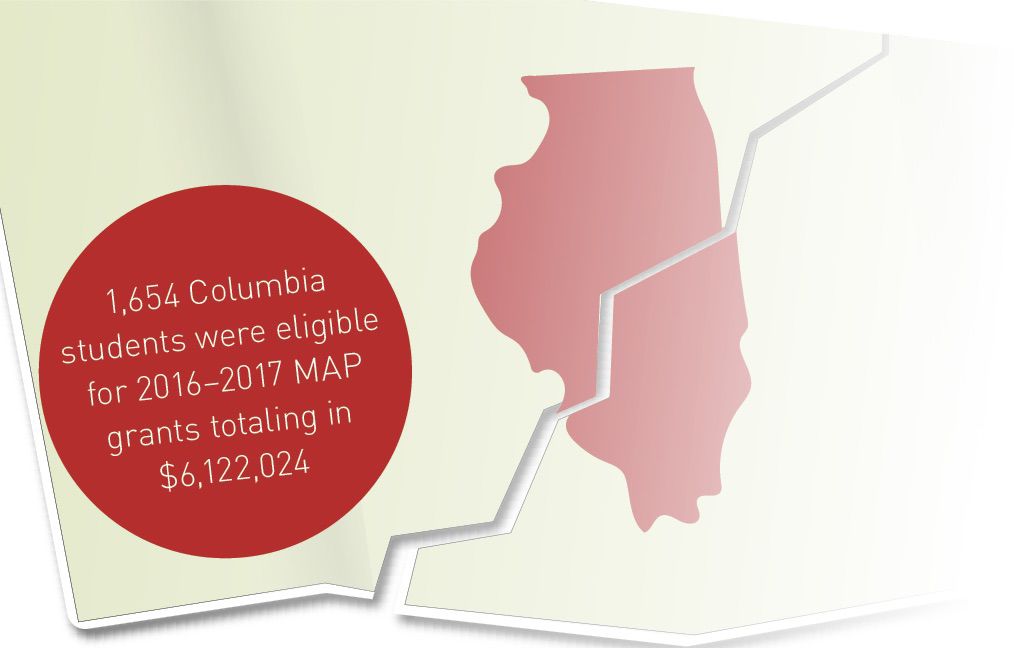 As class registration approaches, students face uncertainties regarding whether or not they will receive their Monetary Award Program grants for the 2017–2018 academic year. The state's ongoing budget impasse has left Illinois students without the need-based grants since July 2015.
Stephanie Hernandez, a junior business and entrepreneurship major, is one of many students who has received her award letter from the college's Financial Aid Office offering an estimated amount of MAP grant funding, but students will only receive the grants if the state funds them.
Hernandez said she received the grants up until this academic year, when the college announced it would not be funding student MAP grants for the 2016–2017 academic year as it did the previous academic year to make up for the state, as reported April 4, 2016, by The Chronicle.
Several colleges, like Governors State University, decided to fund MAP grants for students when the funding for the grants from the state did not come through, as reported April 4, 2016.
Hernandez said the lack of MAP grant funding caused her to take out extra loans to keep up with both her school and rent payments.
"How I pay my rent is [through] refunds. I asked for the right amount including the MAP grant, so when I got my refund, mostly what was supposed to be for my rent basically went to school because the MAP grant didn't kick in," Hernandez said. "I started freaking out because I was like, 'I need to pay rent and I can't do it any other way.' I ended up having to ask for more plus loans, which luckily I was able to do."
College spokeswoman Anjali Julka said in a March 30 email that 1,645 students were eligible for $6,122,024 in MAP grants this academic year, adding that it is too early to know the total number of students who qualify for next year.
If the state budget is not passed, students will be responsible for paying the amount that would have otherwise been covered by a MAP grant, according to Student Financial Service's website.
In a March 27 emailed statement that the college's News Office sent to The Chronicle, Assistant Vice President of Student Financial Services Cynthia Grunden said in the event that students have to pay those amounts, SFS would help them identify options for financing their education.
Grunden was not available for an interview as of press time.
Hernandez said although she is worried about not receiving the grant, she does not plan on leaving the college and is prepared to use other funding methods for next year, such as more loans and scholarships.
"[MAP] really did help and now that I don't know if I'm going to get it for sure, it's definitely scary," Hernandez said.
Applying for additional loans may not be an option for some students, according to Jennifer Delaney, assistant professor of Higher Education at the University of Illinois at Urbana-Champaign. She added that it is likely that colleges in the state, including Columbia, could expect to see enrollment declines because of students' lack of funds. This would add to Columbia's consistently declining enrollment.
"MAP grants are highly targeted for low-income students, and most students who receive MAP are also Pell [grant] eligible, so they're maxing out what is available at the federal level [and] they're likely maxing out loans," Delaney said. "Any uncertainty and cuts about MAP grants can impact that portion of the student population in terms of their ability to enroll and also ability to persist and graduate."
Grunden was not available to answer questions specific to how the ongoing budget stalemate could affect Columbia's enrollment.
Mary Feeney, an associate professor at Arizona State University and previous associate professor at the University of Illinois at Chicago, conducted a 2010 study on the impacts and outcomes of MAP grant funding for Illinois students, as well as the allocation of funding.
Feeney's research concluded that students who turned in their Free Application for Federal Student Aid sooner were more likely to receive MAP grants, which she said places additional limits on students who most need the funding.
Feeney agreed that colleges could see a loss of students but could try to resolve the issue by providing more need-based funding programs. She added that this would be just a short-term solution if the budget impasse continues.
"[Colleges] can solve issues year by year, but they can't create this long-term program that the state can," Feeney said. "Illinois has budget problems across the board that the state is going to have to sort out."
Hernandez said she does not see the state's budget issues ending any time soon, adding that it will reflect badly on the state if the grants are not funded.
"That just shows that our representatives really don't care about us and our education, and therefore our futures," Hernandez said.
Anne Lee Ackermann, a 17-yearold from Bartlett, Illinois who is slated to attend Columbia in the fall, said she also qualifies for MAP grant funding, which would ease the burden of paying for college.
"College tuition is a lot of money and something that I definitely can't pay out of pocket," Ackermann said. "I will have to steer more toward loans, but having the MAP grant will definitely ease that burden."
The lack of funding sends a negative message to students, Ackermann said, adding she hopes the budget issues can be resolved soon.
"Investing in students' futures should be the top priority," Ackermann said. "It's just a shame that they're lagging on that and putting our education on hold because a lot of my friends are waiting on this MAP grant to see what college they would choose."
Ackermann said not receiving MAP grants would not deter her from attending Columbia because she likes the college's programs and resources.
"I knew that Columbia was the right college for me," Ackermann said. "Having [the MAP grant] would help, but I don't think I would leave."
Delaney said the impasse has caused unpredictability for students, and it would take a lot of work for the impasse to be resolved.
"We've unfortunately gotten into a cycle where MAP has become very political, so instead of students having predictability, every year we're in a political fight to fund the program," Delaney said.
"It's really hard for academics to predict the future. Something would need to change in the political or economic landscape for us to be in a different state of affairs."