College honors former President Warrick Carter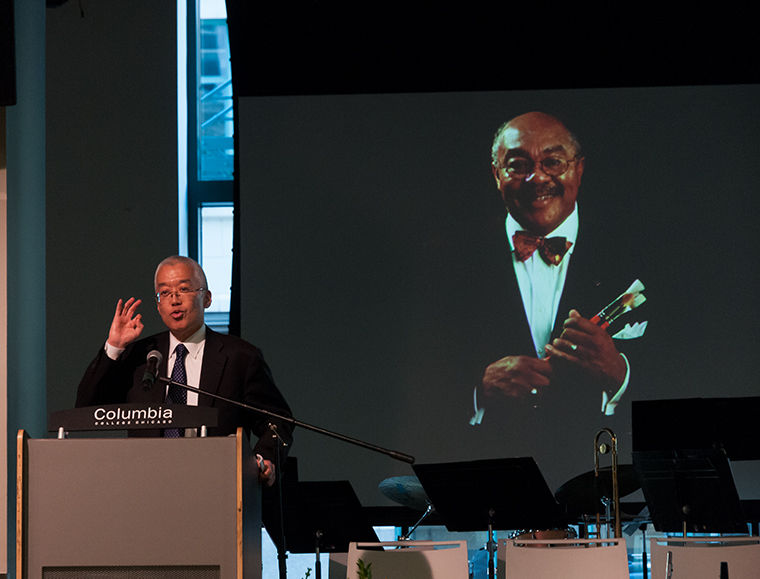 A memorial service celebrating the life of former Columbia President Warrick Carter was held Oct. 16 for the Columbia community.
The memorial, followed by a reception, was held at the Conaway Center, 1104 S. Wabash Ave. Carter served as the college's president from 2000 to 2013 and led the college's expansion that transformed it from a commuter school to a residential campus. Carter, an accomplished musician, also performed at the International Jazz Festival in Montreux, Switzerland, and served as provost of Academic Affairs at Berklee College of Music in Boston before coming to Columbia. He passed away July 15 at the age of 75, as reported July 17 by The Chronicle.
The Conaway Center, filled with flowers and pictures of Carter throughout his life, was packed with administrators, faculty and Carter's family members.
During the hour-long memorial service, members of Carter's family and former Columbia administrators spoke about his effect on their lives and his legacy.
President and CEO Kwang-Wu Kim began the memorial by speaking about Carter's impact on Columbia in reshaping the campus and how the school can honor his legacy.
"The best way we can honor his legacy is to continue the work he started," Kim said, "continuing to push and build and insist that this college take its rightful place among the great, creative institutes in this country and in the world."
Orlanda Carter, Warrick Carter's brother, made a speech about how his brother touched his life and the type of person Warrick Carter was to everyone who knew him.
"To our family, Warrick was humble, loving, fun, giving and a sharp dresser," Orlanda Carter said. "We knew he was gifted and talented, but he never bragged or talked about his accomplishments. Warrick was the person you met and never forgot because of the way he made you feel."
Other speakers included Mark Kelly, commissioner of the Chicago Department of Cultural Affairs and Special Events and former vice president of Student Success; Eric Winston, former vice president for Institutional Advancement; Allen Turner, former Board of Trustees chair; and Matthew Shenoda, dean of Academic Diversity, Equity and Inclusion.
Warrick Carter's daughter, Keisha Carter Noel, spoke of her father's influence when she was growing up.
"He's in our hearts, and in our minds, and I must say it has been difficult to enjoy the sunlight," Noel said, "but the warmth of the sun, I know, is from him shining on my life."