Holdstein steps down as dean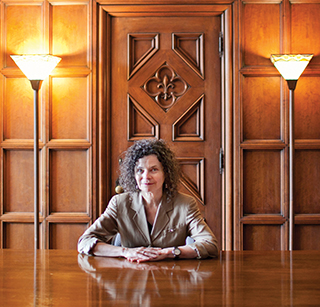 After seven years as dean of the School of Liberal Arts & Sciences, Deborah Hold
stein will step down on July 1.
Suzanne Blum-Malley, associate professor in the English Department, will take over as interim dean while the college searches for a permanent replacement, according to Louise Love, Columbia's interim provost and vice president of Academic Affairs.
After Holdstein takes a sabbatical during the 2014–2015 academic year, she will return to teach as a full-time professor in the
English Department. Holdstein said she was originally hired to serve a three-year term in 2007 but continued for a second three-year term and one additional year.
"[Holdstein is] very, very dedicated [and] she's a great advocate for her department," Love said.
Blum-Malley was chosen to serve as interim dean of the School of Liberal Arts & Sciences because of her role as a team leader in the prioritization process, a plan created by the college's administrators to restructure Columbia's departments, Love said.
After the college appoints a new provost, he or she will choose a dean to replace Holdstein, Love said. Holdstein named several of her biggest accomplishments as dean as helping to establish Columbia's honors program, creating the new Arts and Materials Conservation major and launching the Dean's Lecture series.
"With my colleagues, I think we've brought the school of Liberal Arts [& Sciences] to additional prominence," Holdstein said. "I'm very proud of the work we've done. I've always loved Columbia College."
Holdstein said Columbia's mission is what initially attracted her to the college and is part of why she has remained with the college as long as she has.
When she returns to Columbia, Holdstein said she intends to teach Film as Literature and writing & rhetoric courses.
Neil Pagano, associate dean of the School of Liberal Arts & Sciences, described Holdstein as an outstanding dean who is willing to help students.
"She'll get phone calls from her students or parents of students with problems that don't directly involve departments in her school, but she treats every one of those as a top priority," Pagano said.
Among Holdstein's contributions to the college, Pagano said she helped create the Education Department, formerly known as the Department of Educational Studies and the Early Childhood Education program.
Education departments.
Holdstein also advocated for building modern labs and learning studios for students as well as forming the Science & Mathematics Department, which was formerly two departments known as the Science Institute and the Science & Mathematics Department, he said.
Andrew Whatley, assistant dean of the school of liberal arts and sciences, and associate director of the honors program, said Holdstein has been a mentor to him since he came to Columbia two years ago.
Whatley said he will miss the cheer Holdstein brings the office.
"I've relied on her guidance in all the things I do and the projects I pursue," Whatley said. "There's always been a bit of levity that Dean Holdstein's presence injects into the proceedings … I'll certainly miss that."
Blum-Malley, who's been at Columbia for nearly 20 years, said after beginning her duties as dean she will facilitate collaborations between the School of Liberal Arts & Sciences and other departments. She said the college encourages collaboration across departments, but she sees opportunities for improvement.
Blum-Malley said she will continue Holdstein's efforts, and she is currently working on the search for permanent chair of the Creative Writing Department.
"It's just a matter of continuing the good work of the Liberal Arts & Sciences has started, that Deborah has started and taking a look at new directions," Blum-Malley said.
Update 1/29/2014 Correction: Andrew Whatley was incorrectly identified as assistant to the dean and part-time faculty member. His correct title is, Assistant Dean, School of Liberal Arts and Sciences, and Associate Director of the Honors Program.