Students 'Ride the Battle' for hope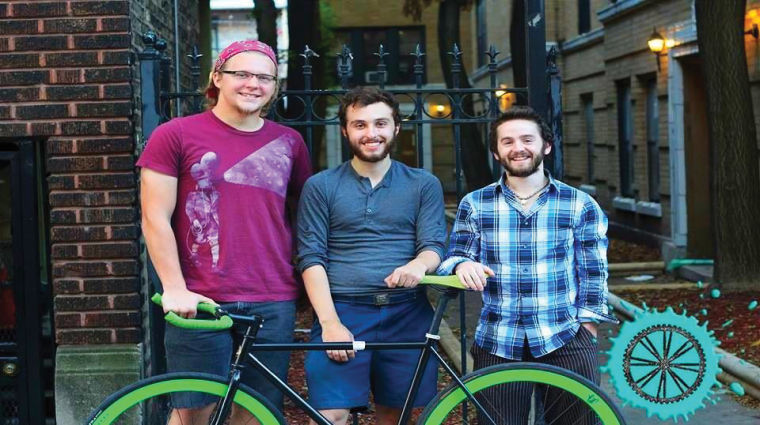 After driving cross-country in 2012 to inspire cancer patients, one Columbia student is at it again. But this time, instead of going in a car or van, he is traveling on two wheels.
In the summer of 2012, Evan Bartlett, senior cinema art + science major, and two of his friends drove their car from Chicago to Los Angeles and interviewed cancer survivors and patients for in a web series called "Discovering the Beating Path," as reported April 30, 2012 by The Chronicle.
This summer, Bartlett and Tim Jacks, senior cinema art + science major, and Zack Cieslak, cinema art + science alumnus, will film 15 cancer patients and survivors in a cross-country bike tour Chicago to Los Angeles.
Bartlett plans to turn the trip into another web series titled "Ride the Battle." To fund the project, he launched a Kickstarter April 18 to raise $5,000. The campaign deadline is May 18, the day Bartlett and Jacks graduate as of 4 p.m. on April 25, he had raised $860.
The trip is scheduled to last from June 1 until Sept. 15 and entails 5,000 miles of round-trip biking using mostly route 66. Bartlett and his teammates said they plan to ride for 10 hours a day, five days a week to achieve their goal of 60–80 miles a day.
Bartlett was diagnosed with leukemia at 14 weeks old but has been cancer-free for 21 years. However, the treatment he received as a baby stunted his growth and left him with a learning disability that landed him in special education classes until the eighth grade, when he argued his way out, he said.
"All these limitations kept building up until eighth grade, and it became so overwhelming and I just kept asking myself, 'Why me?'" Bartlett said. "I decided I wanted to do something where if people are questioning their cancer, they can Google the cancer name and our videos will show up."
Bartlett said he wants to continue meeting cancer patients and survivors because it allows them to see the ups and down of cancer. Bartlett said he and his team will be taking their hosts on a "boundless" adventure ranging from hiking to skydiving while staying at the patients' and survivors' homes.
Jacks, the director of the web series, met Bartlett during a documentary class at Columbia. Jacks said he originally wanted to bike the trip, while Bartlett wanted to train hop. Jacks said both his mother and grandmother battled cancer, which made taking up Bartlett's offer and traveling across the country by bike more meaningful for him.
"At the time, Bartlett didn't know both my mom and grandmother battled cancer," Jacks said. "I immediately agreed to do it. We often talk about it being destiny."
Jacks, a city bike messenger who bikes about 30 miles a day, recently underwent knee surgery but said he would be ready to ride by mid-May to direct the web series.
"Ride the Battle" has teamed up with sponsor BeWelcome.org, a website that finds places for travelers to stay. Couch surfing is not a new concept to Bartlett, who said he frequently stays with strangers on his trips.
"We are taking people on activities that they might not be comfortable with, and if we can't do it ourselves, what type of example are we setting?" Bartlett said.
The team has arranged to stay with cancer survivors and patients through BeWelcome, none of whom they have previously met. Emily-Kate Niskey, a cancer survivor who founded My Vigor Lifestyle, a committee that supports individuals with breast cancer in Las Vegas, said she let Bartlett stay at her home in 2012 and record an episode about her.
"He was very curious and very inspiring," Niskey said. "Although we didn't go on a boundless activity, I'm glad we met."