Enrollment decline continues, college awaits stability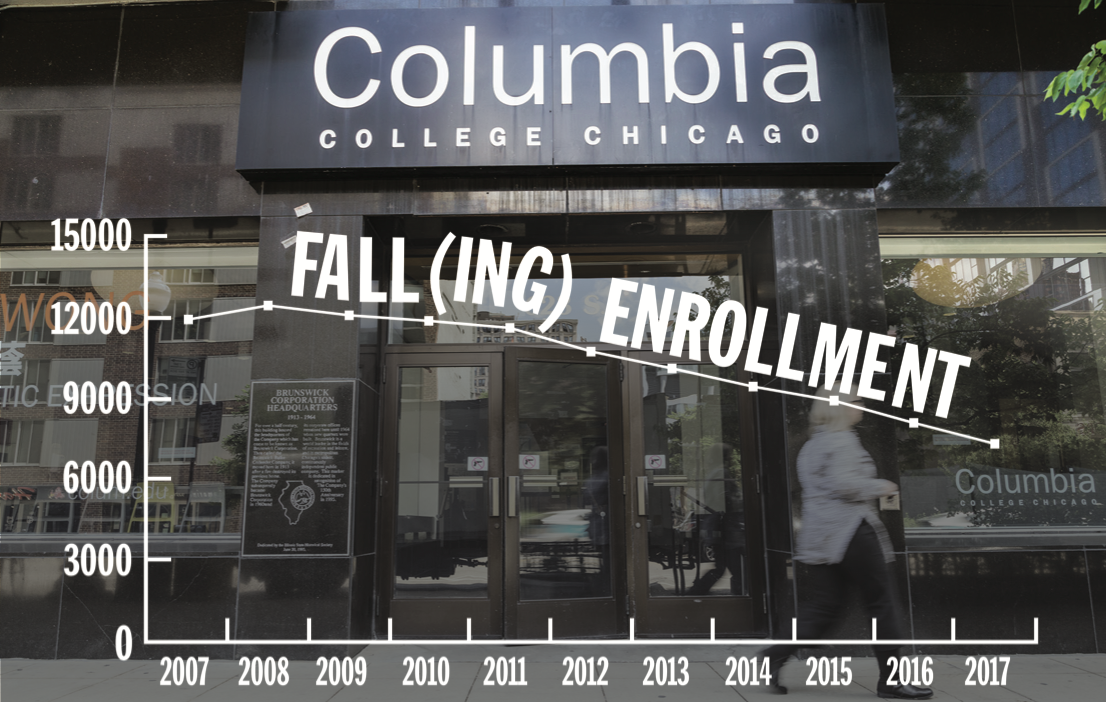 Columbia's fall 2017 enrollment fell 10 percent from last fall, marking the ninth consecutive year of declining numbers.
The 7,312 students enrolled this fall, including both graduate and undergraduate programs, is 808 fewer than fall 2016's 8,120 student enrollment, according to the college's Fall 2017 Enrollment Report.
The drop was almost exactly what college administration predicted it would be last year, Senior Vice President and Provost Stan Wearden said. The college's budget, which was updated in spring 2017, did not require large adjustments because of this prediction, he noted.
Wearden said throughout the school year he will be working with various college deans and chairs to begin developing a timeline of enrollment stabilization.
"We're trying to map out, given our current resources, our space, faculty, staff, [and] the number of students we can effectively educate here," Wearden said. "And if we think we can grow some programs, what resources do we need in order to grow them? We are really looking for a number of students that makes sense for us, that is sustainable for us as a college."
Wearden said the college's Strategic Plan—established in 2015—was in part  created because of its enrollment trends. Although it is only two years in, several goals have already been reached, including  revamped admissions and enrollment strategies, increased connections with community colleges and creation of the Office of Global Education, he noted.
"The things we are implementing are designed to improve the quality of the institution, which is already a great institution, and also to turn this enrollment picture around," Wearden said. "We are seeing evidence that that is beginning to happen although we are only two years into plan implementation."
Jeff Meece, associate vice president of Enrollment Management, said evidence that the college's enrollment is getting closer to stabilizing can be found in the lower percentage of enrollment drops among freshman and an increase in transfer students.
Freshman enrollment fell by 112 from 1,555 in fall 2016 to 1,443 in fall 2017. It fell by 250 from fall 2015 to fall 2016—1,805 to 1,555—and dropped by 15 students from fall 2014 to fall 2015—from 1,820 to 1,805, according to the report.
Full-time transfer students rose from 614 in 2016 to 671 in 2017, while part-time transfer students were halved from 64 to 32. International student enrollment also increased to 384 from 344, and international student enrollment more than doubled from 129 in 2008, the report stated.
"[Because of] the work we have been doing in admissions, in particular with reorganization and redefining scope and job, we have started to see some of these indicators over the last spring term and that same progress continues," Meece said.
The School of the Fine and Performing Arts lost 11.2 percent of enrollment from 2016 to 2017, losing 436 students. Enrollment for The School of Liberal Arts and Sciences dropped 13.4 percent, losing 68 of 508 students. The School of Media Arts lost the least at 7.5 percent, or 239 students fewer than the 3,169 students it had last year. Students not majoring in a specific department also dropped by 39, a 16 percent loss, according to the report.
Out of the college's 19 undergraduate programs, 11 lost at least 10 percent of the students they had last year. Of those 11, five lost more than 20 percent. Departments that reported sizable drops from 2016 include the Art and Art History Department, 35 lost out of 139; the Education Department, 10 out of 41; and the Radio Department, 16 out of 68. The Science and Math Department is also down to six students, three fewer than its previous nine, according to the report.
President and CEO Kwang-Wu Kim's Chief of Staff Laurent Pernot said although the college's enrollment is important because it affects finances, it is not the only indicator of institutional health. Graduation rates, which rose from 41 percent to 44 percent over the past year, also play an important role in interpreting the college's standing.
Pernot added that there are fixed costs associated with maintaining the college, like heating buildings, and smaller enrollment can mean less spending and more creative means of utilizing resources.
"While people have had to be creative [with the budget] and it is often a difficult exercise, it is often a good exercise because you end up being forced to look at new ways of doing things that you may not have explored," Pernot said. "When things stay the same, you end up doing the same thing."
---
Update 10/17/2017 at 10:50 a.m.: The drop in freshman enrollment was previously incorrectly reported as 122 students. The correct drop in freshman enrollment is 112 students. The Chronicle regrets this error.