Director, 'wrestler' of indie films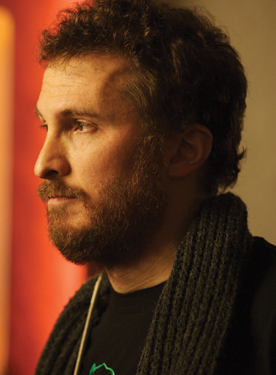 Ten years after his first major box-office release, Darren Aronofsky has decided to traverse new ground with a different style of film.
After writing and directing his first three major films—Pi (1998), Requiem for a Dream (2000) and The Fountain (2006)—Aronofsky hired a writer for his newest film, The Wrestler, to be released Dec. 17.
For his new film, Aronofsky brings in Mickey Rourke for the lead as Randy "The Ram" Robinson. Bruce Springsteen also volunteered to write a song for the film, encapsulating the movie. Shot with documentary-style cinematography, the film follows an aging professional wrestler who embarks on a new chapter in his life after finding out he has heart problems.
The Chronicle sat down with Aronofsky at the James Hotel, 55 E. Ontario St., to talk about his desire to work with Mickey Rourke and how The Wrestler differs from his previous films.
The Chronicle: What inspired you to make a film about professional wrestling?
There are so many boxing movies, but no one's ever [taken] a real look at a wrestler. The thing about wrestling is, yeah, everyone says it's fake and it's silly. But hopefully what this film shows is, yeah, it's scripted, but if you're a 250-pound guy jumping off the top rope—even if you try and protect yourself—you're going to wake up the next day not feeling so good. They are true athletes, these guys. Most of them, by the time they are 40 or 50, can barely walk.
Were the wrestlers in the film, other than Rourke, professionals?
Everyone was. Go to YouTube and check out Necro Butcher. He's this underground cult American hero. If you think the violence in the movie is intense, [you've] got to see what the Necro Butcher brings.
After writing your other movies, how was it hiring a writer for 'The Wrestler'?
I actually did conceive The Wrestler at the beginning. It was my idea, and I worked with a producer to develop ideas. Then we hired a writer to write the screenplay. It was a different type of collaboration because you get another artist involved, and they end up bringing in a different level to the film.
'The Wrestler' was shot with a style and subject very different from your previous films. Are you done with the previous types of films you have made?
You never know. I just wanted to try something very different. I really wanted to reinvent myself, and I just wanted to try to be re-inspired in a different way. I think it's important, as someone who's working in the arts, to keep challenging yourself and trying new things—at least that's what Madonna tells us.
Your films seem to focus on tragedies. Is that something you've been drawn to all your life?
I'm not sure that The Wrestler is really a tragedy. It's kind of got some glory in there, and he's happy. But I have no idea why I'm attracted to those stories; it's just what comes out. I'm not conscious of it.
How do your films reflect some aspects of your life?
I think you would definitely have to identify with the lead character on some level. But the reality is I could make a story about a 5-year-old girl, and the only way I could make it good is by understanding what she's going through. The only way to do that is by putting my own experience [in] there.
What made you choose Mickey Rourke for the lead role in 'The Wrestler'?
I was a big fan of his early work, and he's just a great actor. He just threw it all away [when he turned from acting to boxing in the '90s]. And then it was clear he wanted to come back. Hopefully, a whole new generation will discover him again.
What was it like working with Mickey Rourke?
It was tough. He definitely likes to get his way. I think those battles led to good creative solutions. He's kind of a 14-year-old stuck in a 50-year-old body. He can get testy at times, but ultimately, deep down inside, he wants to do good work.
What advice would you give to the next generation of filmmakers?
It's a really tough job, and it's tougher now than when I started because there's a lot more people that want to do it. The thing I always say is, if you're going to deal with all the pain, then you better be telling a story you're very passionate about. Don't try to play to the middle. Tell the story that only you can tell, and then do the work.
See the film nominated for best feature by both Independent Spirit Awards and Gotham Independent Film Awards in select theaters Dec. 17.