New organization creates community for black women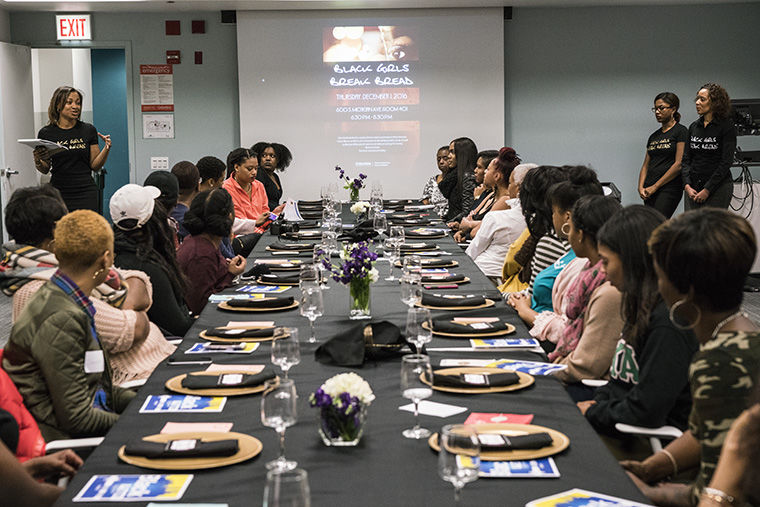 Young black women came together and spoke openly about their experiences at Columbia Dec. 1 through the Black Girls Break Bread, a city-wide organization created with help from a Columbia alumna and staff member.
Black Girls Break Bread was launched in October by sisters Jazzy Davenport, a 2010 journalism alumna; her sister Jessica Davenport-Williams, senior financial analyst of the Office of Budget and Reporting; and Khadija Warfield, coordinator of YoungLives, a nonprofit organization that provides resources to young mothers. The group was created to empower black women across Chicago, according  to Davenport-Williams.
Davenport, a former Chronicle managing editor, said when she was a Columbia student, it was not uncommon for her to be not just the only black woman in her class but the only woman in general. She added that she never had a black woman as a professor in any of her journalism classes.
"As a journalism major, I was a minority in my career path," Davenport said. "It just would have given a space for me to identify with people who look like me and to understand [how it feels] being a minority in a space such as Columbia."
The three founders developed the idea for the group after they recognized that very few Chicago colleges offer a safe space or opportunity for black women to speak about the issues they face every day, according to Warfield.
Lindsey Wright, junior creative writing major, said she attended the Dec. 1 event because it was difficult to find other black women on campus to connect with.
"I'm in the Creative Writing Department and I feel like there are not too many [black women]," Wright said. "I always end up in class and I'm either one of two, or I'm one black woman in the entire class."
Wright added that in her three and a half years attending Columbia, she had a single black female professor—in a black feminist literature course.
Unlike the Black Student Union and the Barbershop Series events, the BGBB organization will be the first group to host an event at Columbia specifically for black women, according to Davenport-Williams. She said she approached Kimberly Weatherly, director of the Office of Multicultural Affairs, to inquire             about collaborating.
"A lot of students have been yearning for this, and for us to be able to give back and allow them to have that experience is priceless for us," Davenport-Williams said.
On Dec. 1, the BGBB provided a complementary meal and eyebrow threading to attendees. The three founders moderated an informal group discussion about a variety of topics involving womanhood and race. On Dec. 10, BGBB will also be hosting an off-campus event open to the public, and the group plans to host public events quarterly moving forward.
"One of the things I want the women in the room to know, of any age, is that you have a voice and that it is important for you to know that you have a voice and to use that voice and to understand the power of your voice," Davenport-Williams said.