DACA debacle: A Dreamer's nightmare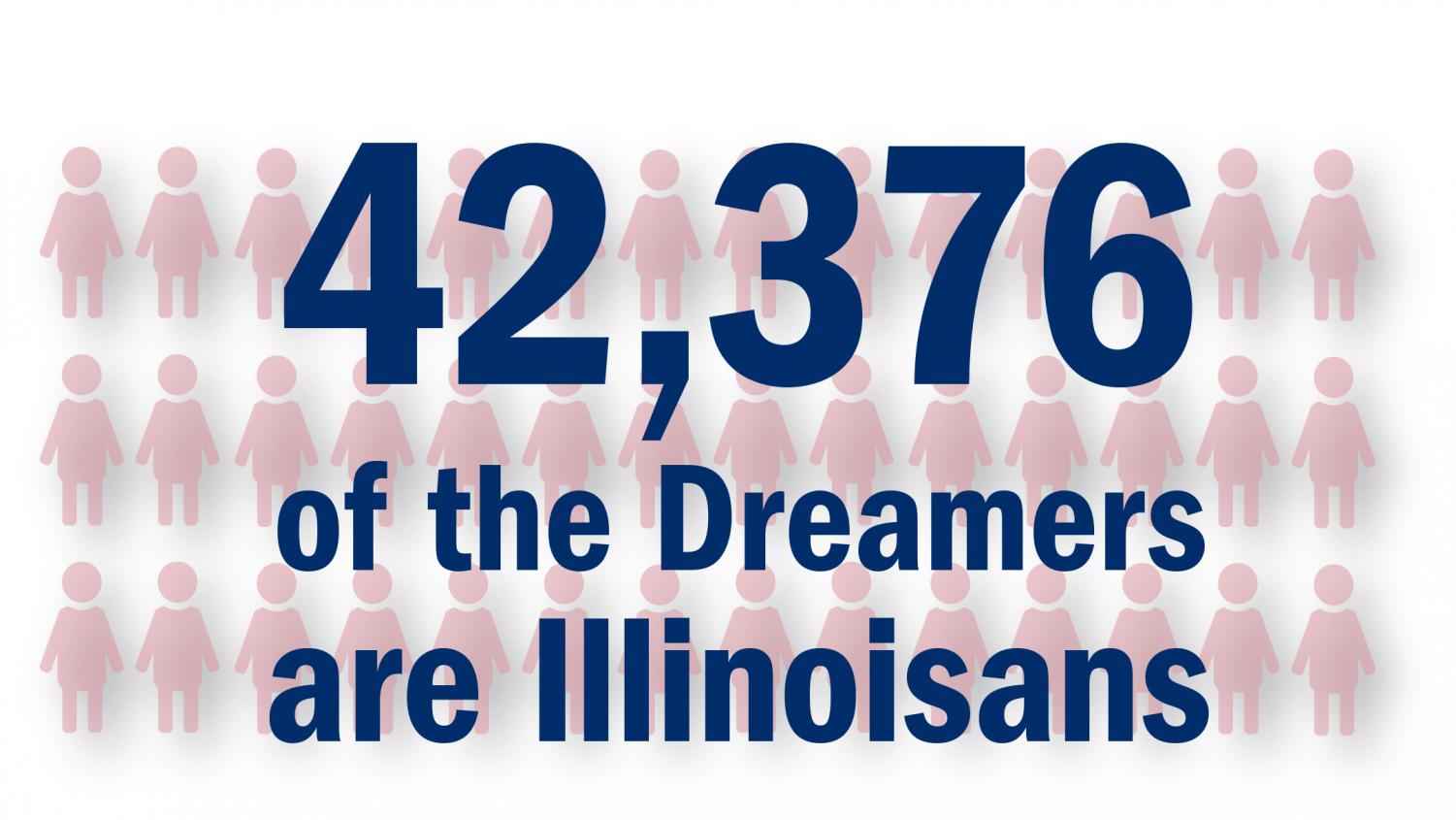 Nearly 800,000 undocumented immigrants who came to the United States as children are facing an uncertain future as President Donald Trump and his administration end an Obama-era program that gave those individuals protection from immediate deportation. The end of the Deferred Action for Childhood Arrivals program would affect 42,376 Illinoisans.
The program, enacted in June 2012 by former President Barack Obama, gave undocumented immigrants brought here before the age of 16, referred to as Dreamers, the ability to work, study and obtain driver's licenses if their applications were approved.
The rollback will take effect March 5, 2018, giving Congress time to pass legislation. DACA participants whose permits expire before that date are allowed to apply for two-year renewals by Oct. 5. However, those whose permits expire after the end date are ineligible for renewals, according to U.S. Citizenship and Immigration Services.
Chicagoans in the program can go to the National Immigration Justice Center, 208 S. LaSalle St., which will be holding DACA renewal clinics and individual appointments until the deadline, according to the center's website.
Julián Lazalde, civic engagement manager for the Latino Policy Forum—a Chicago-based organization that strives to improve immigration policies for the Latino community—said Trump ending DACA was not a surprise.
"Because [Trump] didn't sign [DACA] out in that first week [in the White House], it gave some people a little bit of hope that he may have seen the light on this issue," Lazalde said. "He gave somewhat conflicting statements over the last six months regarding [DACA recipients]."
Illinois has the third highest population of approved DACA applicants, trailing California with 222,795 and Texas with 124,300, according to the U.S. Citizenship and Immigration Services. If the program is eliminated—and an alternative does not come to fruition—Illinois' economy could be hit with a $2.3 billion spending power loss and $55 million in local and state tax revenue, according to a Sept. 6 press release from Illinois Attorney General Lisa Madigan.
There is a misconception that ending DACA will provide 800,000 U.S. citizens with employment, Lazalde said, but it is not a "one-for-one deal." Rescinding the program will have ramifications not only for the nation's economy but its higher educational institutions.
Currently, 45 percent of DACA recipients are enrolled in school, of whom 72 percent are pursuing a bachelor's degree or higher. Among those who are currently in school, 94 percent said because of DACA, "[they] pursued educational opportunities that [they] previously could not," according to an Aug. 28 Center for American Progress poll.
In light of the Trump administration's controversial announcement, universities nationwide have expressed support for DACA recipients. Faculty members from Harvard University, Tufts University and Babson College were arrested for blocking a street Sept. 7 while protesting against the announcement in Cambridge, Massachusetts. The University of California, which has about 4,000 DACA beneficiaries on its campus, filed a lawsuit against the Trump administration to stop the program from ending, while universities in Iowa assured their support for those affected by the program.
The nation seems to overwhelmingly agree, as 84 percent of Democrats, 74 percent of independents and 69 percent of Republicans think DACA recipients should be allowed to stay in the country, according to a Sept. 5 poll from POLITICO and Morning Consult.
Following the Trump administration's Sept. 5 announcement, President and CEO Kwang-Wu Kim sent a collegewide email expressing the college's continued commitment to diversity and inclusion. Senior Vice President and Provost Stan Wearden and Vice President of Student Affairs Sharon Wilson-Taylor also sent an email Sept. 8 outlining information and resources for DACA recipients. Previously, Kim announced in a Dec. 7, 2016, email to the college community that he joined 435 other academic leaders in signing a petition to support DACA's continuation.
"President Trump's decision is unjust and punitive toward those who have done nothing wrong," the Sept. 8 email stated. "That's why our focus must be on assisting all members of our community through this period of uncertainty, and providing students affected by this decision with as much information and support as possible."
Rogelio Becerra-Ramirez, coordinator of Student Diversity and Inclusion, said colleges and universities nationwide would be at a disadvantage if DACA ended.
"There's always an extreme advantage to having students that bring a different outlook [and] perspective to the college," Becerra-Ramirez said. "We learn the most when we learn from people that see things differently and are different than us."
Becerra-Ramirez said he has not received any communication from students concerned for the program's possible end but did contact several faculty members searching for an official count on the number of DACA recipients attending the college. However, he learned that the college does not keep track of that information.
College spokeswoman Anjali Julka said in a Sept. 8 email to The Chronicle that the college does not require students to provide documentation about their immigration status, so it does not maintain any data on students' participation in the DACA program. The college continues to support all students, regardless of citizenship or country of origin, she added.
Obama asked Congress several times throughout his first term to pass a comprehensive pathway to citizenship. But immigration reform repeatedly failed on Capitol Hill, including Sen. Dick Durbin's, D-IL, DREAM Act, which has been circling Congress since 2001.
Lazalde said he is optimistic that Congress will actively vote on immigration reform such as Durbin's DREAM Act. However, because lawmakers will get pressure from both liberal and conservative constituents, he is unsure whether it will succeed.
Heloísa Carramate, a junior communication major and president of the International Students Organization, said while she is happy that both Chicago and Columbia are showing support for DACA and defiance of Trump, the presidential administration's unpredictability makes it hard to know what is coming next.
"[Trump] keeps going back and forth and from what he said during the campaign and then what he's doing now, it makes it even more scary because we don't really know what direction we're going so there's no way to know what's coming next," Carramate said.
Senate Democratic Leader Chuck Schumer and House Democratic Leader Nancy Pelosi announced they reached an agreement with Trump Sept. 13 to enshrine protections for DACA recipients while also providing funding for stronger border security. However, Trump denied in a Sept. 14 tweet a deal was made.
Becerra-Ramirez said that while he also sees unpredictability in the administration's decisions, he does think it will be able to come to a final agreement that benefits everyone.
"Anything is possible based on what we've seen thus far," Becerra-Ramirez said. "I really think Trump has more to gain by going forward with DACA than not going forward. Both sides are able to get at least some of what they want out of this deal."
Education about the program and popular misconceptions is a crucial part of realizing the importance of the DACA program, Becerra-Ramirez said.
"You hear people talk about DACA being amnesty or offering a path for citizenship or DACA allowing criminals to stay here in the country and if you know anything about DACA, you understand that if you have any kind of criminal background and if you don't plan on attending school or having a job it's extremely easy to lose your DACA privileges," Becerra-Ramirez said. "It's important to get that information out and the most efficient way to do that is by having those that are misinformed or perhaps they are informed about it but they are lobbying for a different message for whatever it is, to change their rhetoric."