Counseling Services concerns continue for students during colder weather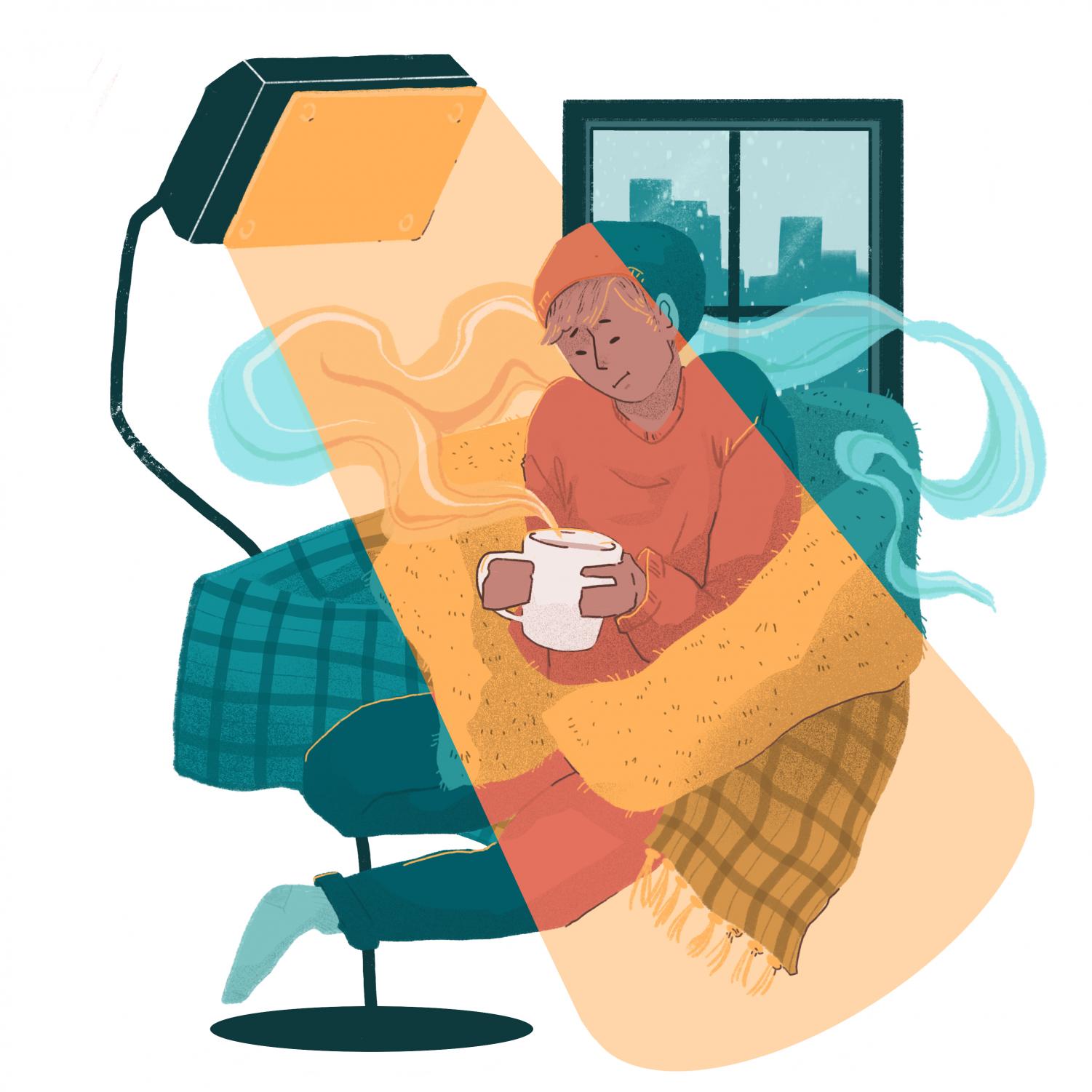 When sophomore interdisciplinary documentary major Maple Sullivan came to Columbia in Fall 2017, the transition to a big school full of new people was hard. After her first semester, things only got more difficult, and between the dropping temperatures and the gray skies of a Chicago winter, her depression started to worsen. 
"The winter was really rough for me last year," said Sullivan, originally from New Jersey. "It's pretty rough this year, too. You spend so much time trying to avoid the outdoors, which is a big thing for me… I love being outdoors. Being forcibly cut off by the cold [is hard for me]."
Seasonal Affective Disorder is a type of depression most likely to appear during someone's late teens or early 20s, especially in young people who have recently moved from a warmer climate to a colder one, according to a 2010 study done by the Bates College Health Center. 
When her depression got especially bad last winter, Sullivan said she attended two appointments with Columbia's Counseling Services before she was told she needed to start seeing an outside therapist. 
"They gave me referrals and helped me with that," Sullivan said. "But it felt pretty obvious the school wasn't really equipped to handle mental health problems that were semi-serious or serious." 
Sullivan eventually started going to intensive outpatient care, which required her to attend 10 hours of therapy a week on top of classes and a part-time job. She received little support from the college during this time and had to contact professors individually to try to get accommodations for her schedule and mental health struggles, Sullivan said.
S.A.D. is not considered a unique diagnosis, but rather, a type of major depression that recurs during specific times of the year, typically between December and February, according to a 2015 article written by Sherri Melrose, a professor of Health Disciplines at Athabasca University in Alberta, Canada.
Joyce Marter, founder of local therapist group Urban Balance, explained that decreased sunlight, lower temperatures and the drop-off after the social buzz of the holidays can make people feel isolated and unmotivated, particularly college students. 
"I wish [Columbia] offered help with getting extensions because, legally, depression is a disability, so you are entitled to help," Sullivan said. "I wish they explained that and helped you through that process of getting doctor's notes." 
The Services for Students with Disabilities (SSD) office coordinates accomodations for students with physical, psychological and learning disabilities. Students may register with SSD to receive support.
Senior musical theatre major Chloe Adamo also sees a shift in her depression, depending on how gloomy it is outside. 
"It makes it harder to get out of bed," Adamo said. "If the sun wasn't rising, I was just going to stay in bed." 
Her sophomore year, Adamo said she attended one appointment with Counseling Services before she was told to seek outside help. Although someone from the college emailed her professors explaining her situation, she still felt frustrated with the lack of resources Columbia provided. 
The Chronicle previously reported on students' criticism of the college's Counseling Services in a May 7, 2018, article.  
Associate Dean of Student Health and Support Beverly Anderson said in a Jan. 15 email to The Chronicle that she advises students to attend a weekly group counseling session offered by Counseling Services. According to Counseling Services' website, students might receive a recommendation to attend an individual therapy session or be directed to outside resources after a group session. 
Karen Cloyd, one of five staff therapists in the Counseling Services Office, said students are limited to 12 individual sessions through Counseling Services per academic year.  Based on therapist availability and each students' personal needs, they may be referred to an outside therapist before students are able to take advantage of all 12 possible sessions. 
Cloyd added that due to limited time and availability, the earlier in the semester a student is able to ask for help, the more likely they are to receive the support they need. 
"It's a frustrating time for students when they're experiencing emotional distress and crisis," Cloyd said. "The sooner you reach out, the sooner we can help people get connected to [support]." 
According to Marter, regular exercise and intentional socialization can help the isolation often associated with depression. She also advises being mindful of substance use, taking vitamin D supplements or using sun lamps designed to help those with S.A.D.  The Columbia Library has therapy lamps available for students to rent for free. 
Typical academic year schedules can make college students especially susceptible to S.A.D., Marter said.
"[In] the fall, people are just getting started, so there's some momentum," she said. "[In] the spring, there's some excitement that you're almost done. But in the thick of it, in the winter, it can feel like you're in a rut… and it can be exhausting."