Baudelaire on stage from the grave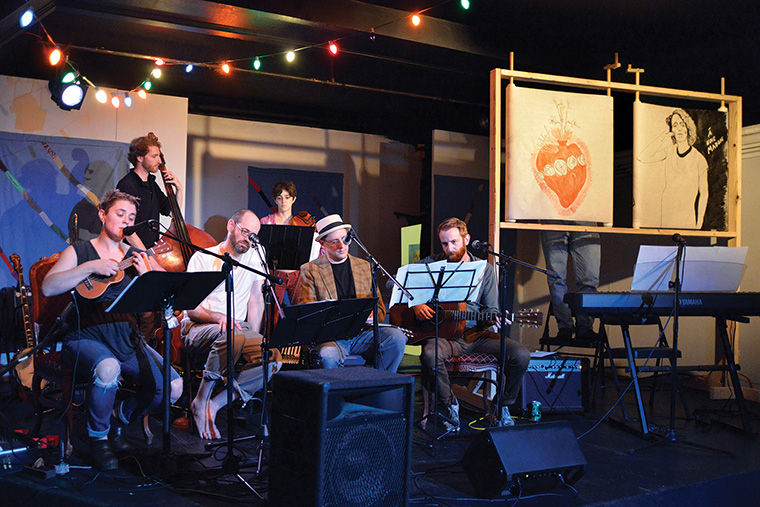 By Assistant Arts & Culture Editor
October 20, 2014
Episode seven of Theater Oobleck's ongoing performance series, Baudelaire in a Box, titled "The King of Rain," opened Oct. 15 at The Charnel House, 3421 W. Fullerton Ave. The new installment takes it one step closer to its goal of completing 18th-century French poet Charles Baudelaire's "Les Fleurs du mal" in time for the bicentennial of his birth.
Baudelaire in a Box is a form of cantastoria, an ancient style of street theater, and is the brainchild of illustrator Dave Buchen and composer Chris Schoen. The pair began performing poems from Baudelaire's work in 2010 and have progressed to perform episode seven with hopes of finishing the work by 2021, according to Buchen.
Buchen said the idea for Baudelaire in a Box was born after he read one of Baudelaire's poems. He said he reached out to Schoen for help transforming the poem into song for a friend's upcoming birthday.
"The first Baudelaire we did was purely by chance," Buchen said. "I was reading some Baudelaire, and I came across this one poem, and as I was reading I was like, 'Oh this is a waltz,' because you could sing it."
Schoen said he and Buchen debuted their series at the first Banners and Cranks Festival in Chicago in 2010 . Since then, Schoen has translated most of the poems and composed most of the music for the show, Schoen said.
"I wrote the music for the first few shows on my own, bringing in a couple other performers to help flesh it out [but] I'd told Dave from the start I wasn't sure I could do all 128 poems," Schoen said in an emailed statement. "Since then, I've been involved directly in about half the shows [and] as of the current show, I've done 22 poems, which I think is around a third of the total."
Cantastoria as a form of theater is about 1,000 years old and began in India, Buchen said. As it traveled, it took on different forms. In Europe, the performers would have a banner with the paintings on it and would sing a song, an easy way to do street theater, he said. 
"The version that we're doing in this show isn't very good for street theater because it's paintings on paper that are rolled on cranks," Buchen said. "It's an illustrated version of the songs."
Emmy Bean, a composer and performer in "The King of Rain," said the use of cantastoria provides a different form of theater for audiences, but it is actually quite similar to the entertainment that today's audiences know and love.
"It's a very unusual kind of performance, but it's pretty simple," Bean said. "When you come in and sit down as an audience member, it's almost like any other concert or play on stage. The setup is the scroll pre-wound and ready to go, and the performers are introduced and begin the set of songs. Dave just turns the crank and the pictures go by. It's kind of like the slowest movie ever."
Bean said the poems adapted for this episode of Baudelaire in a Box were chosen by the musicians who perform them but without a particular theme assigned to them as a guideline.
"In this episode, there are 15 poems," Bean said. "[We] were assigned to translate a set poems. Those were based on our own preference. There was no stated theme necessarily, but a theme emerged from the ones that we chose."
Buchen said the theme that presented itself for "The King of Rain" fits in very well with the overall feeling of Baudelaire's work. 
"A lot of [Baudelaire's] poems are kind of whiny, kind of like, 'Life is so horrible and miserable,'" Buchen said. "Some people kind of look at Baudelaire as the change in how poetry is written and poetry is read. His poems are much more about daily life, petty complaints, longing, breakups, addiction, so they're not noble, and he doesn't mean to be noble by any means."