Educational technology startups find ways to improve CPS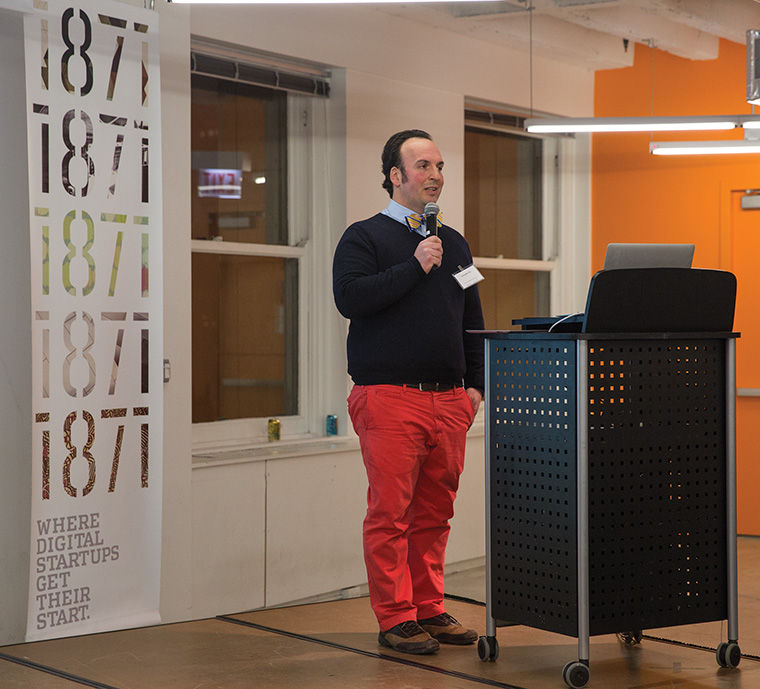 By Metro Reporter
March 2, 2015
With education being a major issue in Chicago's current political firestorm, politicians, residents and civic organizations are seeking new solutions to age-old problems. 
An event called "Game Changers in Education," held on Feb. 25, brought entrepreneurs and educators together to tackle long-standing issues through technology. 
More than 225 people attended the event, held on the 12th floor of the Merchandise Mart, 222 W. Merchandise Mart Plaza, in the 1871 office spaces. 
During the program, presenters had three minutes to talk about their company and present ideas for improving education. After the speeches, attendees had the opportunity to talk one-on-one with each speaker. 
LEAP Innovations CEO Phyllis Lockett opened the event and said  educational technology is a $2 billion enterprise nationwide.
George Kacan, vice president of marketing at CannonDesign, a Chicago-based design firm, said he attended the program to stay informed on what educators and entrepreneurs are doing because their work fuels his own in the way he designs schools and universities. 
He said all aspects of education—from the way classrooms are designed to the way curriculum is taught—need to be custom-designed for student learning because one method of learning will not be a perfect fit for everyone. All students have different educational needs, he said. 
Kacan spoke about how his niece, who has autism, is unable to be get a quality education because most schools do not have teaching methods that address her needs. He said he is glad Christopher Flint, one of the guest speakers, founded Infiniteach, a digital learning platform designed to meet the needs of children with autism. 
Lockett said technology does not solve all educational problems, but it provides solutions for many difficulties educators face, including low attendance and poor test scores. 
"Our schools are facing a lot of challenges, as you know, but what we think technology can do is help provide tools and resources to teachers and students that they don't have right now," Lockett said. 
By using technology to engage students, Steve McWade, a fifth-grade teacher at Spencer Elementary Technology Academy, said he appreciates the opportunities  technology offers for his teaching.
"[Students] become curious again, and then they become intrinsically motivated," McWade said. "I think a lot of kids are not always intrinsically, [but] are extrinsically motivated. If we can make that shift from extrinsic to intrinsic, then it becomes more important to them. They test better and take ownership of their learning." 
McWade is a recipient of a one-to-one iPad grant from Apple that allowed him to purchase tablets for his students. McWade said there are countless grants available for teachers to supplement the funding available to them to implement technology into their classrooms.
"Technology helps [principals and teachers] be much more efficient in the classroom," Lockett said. "It's freeing them up so they can go deeper with kids and have more time to collaborate on personal development and help better navigate the different learning experiences for every  single student."
Eileen Murphy, CEO and founder of an online reading and writing literacy program called ThinkCERCA, said she thinks educators and school boards are enthusiastic about using technology but lack the funding to implement it. 
"There's a big disparity in schools," McWade said. "You may have one school that has quite a bit of resources, opposed to another school that may not have ample resources as well."
Mark Achler, managing director for Math Venture Partners, an investment firm, said educational startups should not be discouraged by the lack of funding available in school systems. He said the education industry is a profitable business venture. 
"The ability that technology allows us to reach…millions of students. That's really exciting from a financial perspective," Achler said.