Featured artist: JC Joson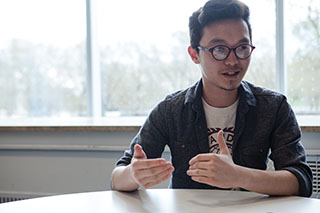 John Christopher "JC" Joson, a junior business & entrepreneurship major, traveled from San Diego to enroll in Columbia without knowing what he wanted his major to be.
After taking a J-term class called "BIGArt," in which Columbia students help teach art to Chicago Public Schools students, he hosted a benefit concert and found his passion for event planning.
Joson produced two concerts in 2013, each of which 300 people attended. The gigs landed him a role as production assistant in the office of Student Engagement, which helps produce Columbia events such as Manifest and Convocation.
For the second consecutive year, Joson put on a benefit concert called Dear Music Love Music  on Oct. 24, 2013, a student-run project that partners with the Playing for Change Foundation, a nonprofit that helps fund art classes in Chicago. He has also branded concerts such as LOMA, which features Chicago musicians Nick Astro and whysowhite.
The Chronicle spoke with Joson about LOMA, music and art concerts and his goals.
THE CHRONICLE: What does LOMA stand for?
JC JOSON: LOMA is a startup idea for a music and arts festival. I'm from San Diego from an area called Point Loma. I named it after that, but Point Loma also has a history and is where California was first discovered. [The name] is a metaphor that this may be the next big music festival, aside from Coachella, of course. It's kind of like Dear Music Love Music, but instead, I get to make money off of it and work with more Chicago artists and the music industry here.
CC: How did you come up with the concept for LOMA?
JJ: Colin DeKuiper, creative liaison for the Portfolio Center, knew I was doing Dear Music Love Music and they were partnering with Homeroom Chicago, which is a nonprofit organization here that works with anything dealing with the arts. They love collaboration and wanted me to work with Columbia and their students. He referred me to this mentorship program and I applied for it. There are three mentors, one for music, film and photography. I applied to be Matt Baron's music mentee. LOMA was pretty much Matt Baron, Homeroom Chicago and myself working on a project that features music [and] anything art–related. Since I was getting into events management, I decided to feature a couple shows with them. The more it developed and the more I worked on it throughout the semester, it just turned into LOMA fest. LOMA fest is my brand for my events, and I'd call it something else than "Produced by JC." But since then I have worked with venues in Chicago such as Schubas, Lincoln Hall and the Subterranean.
CC: What inspired the Dear Music Love Music project?
JJ: It's a nonprofit student–run project I created with Center for Community Arts Partnerships. I took a class called "BIGArt" and my passion for starting art-related events started from there. That's where I got into the education side of this. For my "Entertainment Marketing" final, I decided to do an event. I wasn't into producing events yet, so I just chose to do one. Since I had this previous relationship with CCAP, I chose to do this benefit concert with their help. I chose to benefit an organization called Playing for Change Foundation and I featured Columbia bands. It kind of just started there. The summer before this happened, I spoke to CCAP and I told them I wanted to start my own project that supports their music programs.
CC: How long did it take you to produce the event?
JJ: It took me a while. Aside from the final project, it was my first time producing an event on my own, so I asked a few friends to try to help me out. I worked on it all summer to try to book a space here at Columbia. Since I [expected] this project to be a lot bigger than my class project, which had 100 people, we ended up having 300 people attend. It was a whole night of free music from Columbia's bands.