President Kim discusses goals, challenges for upcoming year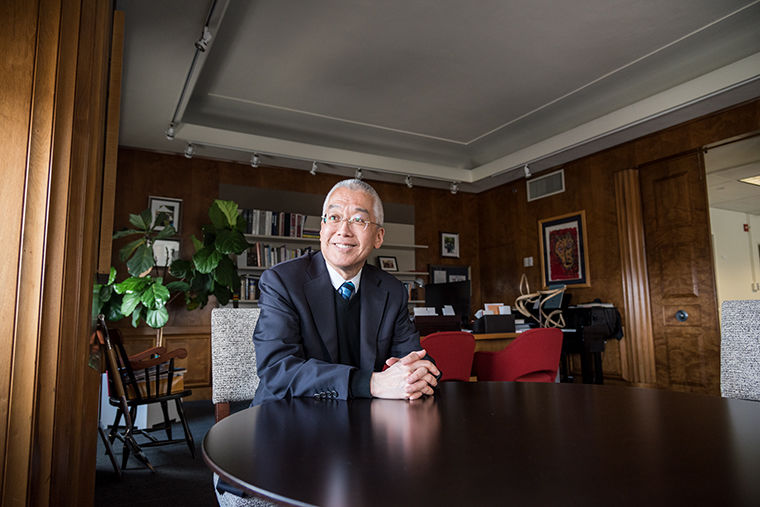 President and CEO Kwang-Wu Kim has big plans for Columbia's 2018-2019 academic year, including increased security measures, continued construction of the student center and beginning the search for a new provost.
Kim discussed these goals, along with some of the challenges he sees for the college, during a Sept. 5 interview with The Chronicle.
What are some goals you hope to accomplish this year?
One of the big things is the search for a new provost. There's a lot of hope and expectation from faculty on the next leader. This is also the year that we're looking at areas of strategic growth for the college. What are the programs we feel have the [growth] capacity and where the world clearly has an interest? We're thinking about how we're going to position the college to start growing again. We have a brand new VP for Enrollment Management, Michael Joseph, so [we're] helping him get up to speed as quickly as possible with his whole staff, so we can improve admissions and enrollment, because that's a core area of focus right now.
We're asking a lot of questions right now about the nature of our security presence on campus. What do we want? If you look at other universities and colleges in the city, some actually formed a police force on their campus. We're more on the less formal end. I'm pleased that students responded well to these changes with ID checks. Students realize we're just trying to make the buildings safer for them. The place where there will be a jump in terms of security will be the new student center, because we're building it from the ground up. That will be card-swipe access, and then we're going to look at that building and see if there are lessons we can apply to the rest of our campus.
What updates do you have on the student center?
We're still targeting a late spring opening. The big delay we had was almost six months underground. There were all these challenges with the site. The glass that we're using, there's a little bit of conversation with the manufacturer that they're a little off their schedule. That's what we're trying to resolve right now. I continue to believe this is going to be a transformative thing for our students, because it will give the student body a home. It will be a place where a lot of the collaboration that's happening—but struggling to find a space—is suddenly going to be housed altogether.
Can you share more details about the provost search?
We're working with Isaacson, Miller, which is a big executive search firm we've done many searches with, including the search that brought me here. I'm co-chairing the committee with Raquel Monroe, who last year was the president of the Faculty Senate. The total number of committee members is 19, including the president of SGA representing the student body. We had one preliminary meeting over the summer to discuss everyone's thinking about the position of provost. The people from Isaacson, Miller were on campus last week. They had sessions with faculty, staff [and] student leaders to get additional input.
The next meeting is this month to finalize the job description, so that'll get posted in September. The schedule is a couple meetings with the firm this semester to finalize a pool of semi-finalists, semi-finals interviews off-site in January, and in the spring, hopefully, an appointment. We will be bringing finalists to campus to do a multi-day presentation and interaction with the community.
What challenges do you anticipate for this academic year?
My single biggest challenge is keeping people excited about the institution in the future. What we have to keep reminding ourselves is this institution has at its core an incredible value because of the students we serve and the kind of education we provide. What I'm trying to do this year is to make sure people remember we're heading in this direction—because this is what our students need—and then show enough success so that people say, "This is exciting. I came here, because I wanted to be here, and I see we're making progress." Except for the elite institutions, we're all struggling with the fact that there's fewer students than there used to be, and there's more skepticism about whether there's a real value in higher education at all.
I want to be much more present to our faculty; I want to make sure they're hearing from me [about] where I think the college is moving. There's the ongoing challenge of staying in close contact with the city. Someone just asked me whether it'd be smart to make sure the key gubernatorial candidates feel positively about Columbia. We're doing a lot of that. We're trying to make sure people understand the importance of Columbia to the city.