'$15 gets people above the poverty line': What a minimum wage increase could mean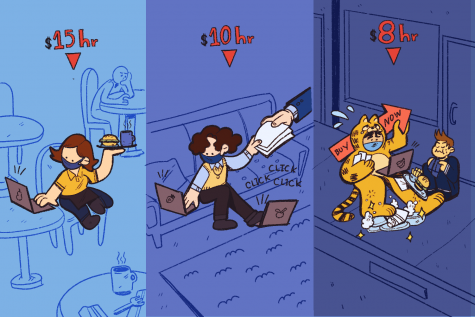 For some, an extra dollar an hour may not seem like a lot, but for sophomore acting major Audrey Busbee, the increase would mean she could put more than $20 from each paycheck into savings.
"I do consider myself living paycheck-to-paycheck solely because the amount I make in a month is just enough to cover my payment plan," Busbee said. "So if I missed a paycheck, that would put me down a good amount."
President Joe Biden recently proposed a COVID-19 stimulus package that includes a plan for a $15 an hour federal minimum wage. This would be an increase from the current federal minimum wage of $7.25 an hour.
On Friday, Feb. 5, Senate Democrats voted to pass a budget resolution, a step toward approving the package. But GOP senators, led by Sen. Joni Ernst (R-Iowa), initially blocked the resolution due to the $15 minimum wage increase. Budget Chairman and Sen. Bernie Sanders (I-Vt.) supported Ernst's amendment in removing the increase.
Sanders said the plan, outlined in the Raise the Wage Act, would gradually raise the minimum wage over the next five years and that he will do everything in his power to get it passed, according to CNBC. The increase, which is part of the budget reconciliation bill, would need unanimous support from all 50 Democratic senators in order to pass. Currently, it does not have all votes needed to pass.
The debate over the federal minimum wage has been ongoing, and the minimum wage has not seen an increase since 2009. Many states, such as Illinois, have increased minimum wage on their own. Illinois raised the amount to $11 as of Jan.1, 2021, and Chicago has seen it increase to $13.50 for small employers and $14 for large employers as of July.
Busbee currently makes $14 an hour in Chicago at a retail job.
"It seems like a small amount, an extra dollar, but when the summer comes or when school ends, I plan on working full time," Busbee said. "So [if] you add a dollar for all the extra hours I'm going to be working already over the summer, that will make a huge difference for me because that would be more money to pay for school essentially."
Peter Cimbalo, a student at the College of Lake County, said an increased minimum wage could mean a change in his living arrangements.
"If I could, I would definitely live on my own," Cimbalo said. "And if there was a $15 minimum wage, there's definitely a possibility that I could."
Cimbalo attended Columbia last semester but decided to transfer to the College of Lake County for the spring semester because of his classes being entirely online. Cimbalo makes the state's minimum wage of $11, plus tips as a waiter, and like many young adults, lives with his parents.
According to the U.S Bureau of Labor Statistics, workers under the age of 25 make up two-fifths of workers making minimum wage, despite being only one-fifth of the hourly workforce.
"No one in America should work 40 hours a week making below the poverty line," Biden said in a Jan. 22 speech. "Fifteen dollars gets people above the poverty line."
Rojhat Avsar, associate professor of economics in the Humanities, History and Social Sciences Department, said an increase in federal minimum wage would initiate more spending, which helps the economy get into a "virtuous cycle," as economies are driven by spending.
"Economies usually go into crises if people are reluctant to spend or they can't because they lost their jobs or they think they may lose their jobs. … The higher minimum wage certainly gives a segment of the population a greater disposable income to spare," Avsar said.
He said there is no significant proof that an increased minimum wage could lead to increased unemployment.
"It's possible some individuals certainly see their hours cut here and there, but the overall impact on the unemployment problem will be negligible at best," Avsar said.
Testing the effect of an increased minimum wage is difficult for economists until it is actually put in place, and Avsar said the effect of a wage increase can depend on how competitive the economy or a particular market is.
According to a study done by Purdue University in 2015, increasing the minimum wage could lead to a product price increase of 4.3%. For example, if the current price of a Big Mac is $3.99, then under an increased minimum wage it would go up by about 17 cents.
"If you choose to double your price and if your competitor does not, then you lose that significant ground," Asvar said. "They expect some of these higher costs, a minimum wage to be passed on the prices—that's true—but it's never going to be a hundred percent."