Chicago students Bike2Campus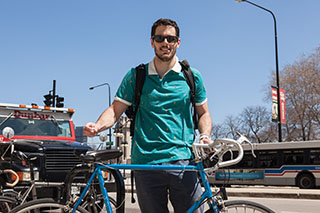 College students across the Chicagoland area rolled out their bikes to celebrate the city's first Bike2Campus week.
From April 21–25, the Chicago Network of Sustainability in Higher Education offered incentives to local colleges and universities to encourage students to bike.
Institutions participating in the competition include Columbia, City Colleges of Chicago, the University of Chicago,the University of Illinois at Chicago, the Illinois Institute of Technology, the School of the Art Institute of Chicago and Loyola, Roosevelt, Dominican and Northwestern universities.
Students logged how many bike trips they took on the Bike2Campus website, and the student with the most trips will win a four-year DIVVY membership. Students at Columbia, Loyola or Dominican could also win a Kent Shogun Stone Harbor Cruiser 26-inch bike. The winners of the event will be announced April 28.
Free DIVVY day passes and free Chipotle burrito coupons were also handed out at the events courtesy of eFollett, which runs Columbia's campus bookstore.
In addition to riding their bikes to campus, students participated in various events throughout the week, which culminated with the Critical Mass Bike Ride on April 25, a monthly community event in which thousands of cyclists take to the streets to promote eco-friendly transportation.
The Bike Group, a subgroup of CNSHE, planned the competition to push collegiate sustainability and student health, said John Wawrzaszek, Columbia's sustainability manager and member of the Bike Group.
"[Biking] is accessible anywhere in the city, and it's fun, so that totally ties into the sustainability mission in terms of looking toward reducing carbon emissions, being healthy and doing things that are environmentally friendly, but [also] helpful for yourself too," Wawrzaszek said.
According to a 2012 study conducted by Columbia's Office of Campus Environment, approximately 3 percent of Columbia students bike to campus. Wawrzaszek said he hopes that the  Bike2 Campus week will encourage college bikers and provide an incentive for other students who do not usually use their bikes.
Wawrzaszek said weather conditions may have prevented students from participating, but he hopes Columbia can put up big numbers against competing colleges and universities.
Elena Maans, administrative assistant and sustainability coordinator at Dominican University and the university's CNSHE representative, said Dominican students embraced Bike2Campus week. Maans said the competition took six months to plan because of the planning involved to secure the  sponsorships and prizes from Chipotle and DIVVY.
 "It was great talking to someone who is excited about the event and wanted to participate in an event that you planned," Maans said. "[The turnout] was a shocker."
Bailey Wallace, a senior fiction writing major at Columbia, said she has been riding her bike to campus for three years and currently rides to the South Loop from Wicker Park. She said she enjoys biking because it can be faster than the train.
"[Bike2Campus] week is a great opportunity and chance [for] cyclists to make the city aware that they're there."
Students used the hashtag #bike2campus to share images of their Chicago biking adventures on Instagram and Facebook.