Discontinued programs may lead to faculty firing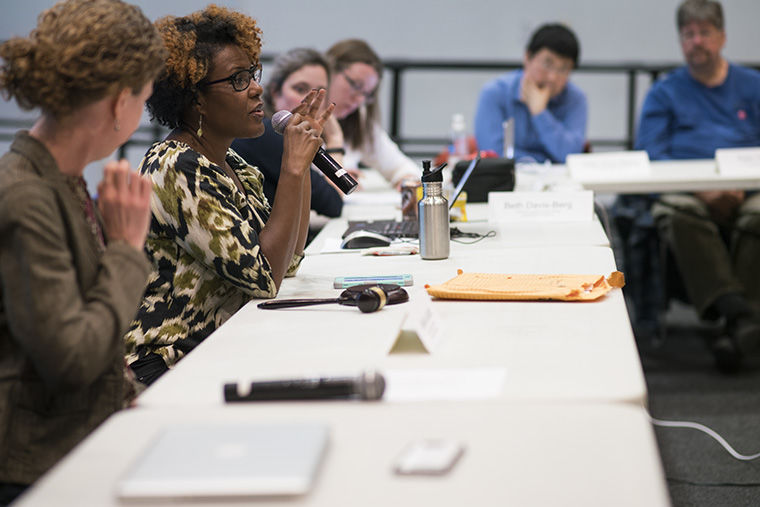 Faculty Senate will soon send the Board of Trustees its response to the administration's proposal to discontinue education and creative arts therapies programs and terminate the programs' tenured faculty.
Raquel Monroe, Faculty Senate president and associate professor in the Dance Department, discussed a draft report from  President and CEO Kwang-Wu Kim and Senior Vice President and Provost Stan Wearden during the March 9 senate meeting.
The report recommends discontinuing the BA in early childhood education and three creative arts therapies programs, including the MA in dance movement therapy and counseling, the alternate route in dance movement therapy, and the graduate Laban certificate in movement analysis.
The report also said the college could not place the program's tenured faculty in other departments but did not explain the decision.
The college's tenure policy requires a discontinuation report to include "any economically and academically reasonable measures" to retain tenured faculty.
In a March 16 email to senate members, Monroe included the reports and said the senate's Executive Committee is seeking feedback on the programs' discontinuation and termination of tenured faculty. The Executive Committee is awaiting a response from Wearden on why it was decided to terminate faculty as opposed to placing them in other departments.
According to the Institutional Effectiveness Office, there were four tenured faculty in creative arts therapies and three tenured faculty in education for fall 2017.
Monroe encouraged faculty to send their comments on the report by April 6. The Executive Committee will include feedback in its final response to be sent by April 17, according to Monroe's March 28 email statement to The Chronicle. The Board of Trustees will review the report and responses May 5 and vote accordingly, according to the March 16 email.
"We are deeply concerned by the implications this process sets forth as precedence for the termination of programs and tenured faculty, particularly in the absence of a discontinuance policy," Monroe said in the statement.
Wearden said a discontinuance policy is part of the college's Statement of Policy on Academic Freedom, Faculty Status, Tenure and Due Process, amended most recently in May 2017 and additional policies need to be in keeping with that document.
According to the policy, the Board of Trustees can direct the president to close an academic program and terminate its tenured faculty without cause.
Kim and Wearden said in the reports to the senate that the programs no longer fit the college and have struggled to establish long-term programmatic and fiscal health due to declining enrollment and revenue with high costs.
Wearden said his action was guided by the college's mission statement, enrollment trends and financial measures that examine the programs' financial health, which he included in his advisory report.
The report shows both programs' declining enrollment since 2013. The education program had a total of 92 students in fall 2013 compared to 31 in fall 2017. While creative arts therapies increased from 67 to 80 students between FA13 and FA14, enrollment dropped to 48 in FA17.
Tables in the report comparing the programs' revenue to their costs of instruction show program deficits in fiscal years 2016 and 2017.
"It's our responsibility to take a look at our whole array of programs and see, are there some we should stop offering so we have resources to devote to new things we'd like to begin?" Wearden said.
Offering the programs until the last enrolled student graduates, known as a "teach-out," was recommended in the advisory reports, including a one-year teach-out of creative arts therapies and a two-year teach-out of education.
Kim stated in his report draft that the recommendation to terminate faculty in the programs stems from Wearden's decision to not place faculty in other departments.
Wearden said he has been in conversation with school deans and department chairs about the changes for several months to discuss the possibilities for tenured faculty but have not been able to find a solution other than termination.
"Part of it also has to do with the fact that the board requested this review because the two programs are in serious financial trouble," Wearden said. "Continuing to support those salaries just continues that financial issue especially if there's no logical place to place those faculty."
Keith Kostecka, associate professor in the Science and Mathematics Department and chair of Faculty Senate's Financial Affairs Committee, said he is strongly against the faculty terminations.
Kostecka said it is possible for creative arts therapies faculty to be placed in other Dance Department programs while faculty in the education program can be placed elsewhere within the Humanities, History and Social Sciences Department.
A discontinuance policy is necessary before a program is discontinued, Kostecka said, and the decisions made by college administration negatively affect faculty morale.
"I can't understand the reason or rationale for why the administration did this," Kostecka said. "This is another specific instance that is going a long way to completely destroy faculty morale at our school, if it hasn't already been completely destroyed at this time."
HHSS Department Chair Erin McCarthy—the department in which education is housed—declined to comment on the drafted reports in a March 26 email to The Chronicle. But she said conversations between her and School of Liberal Arts and Sciences Dean Steven Corey have involved a commitment to "explore all avenues for alternative placement" for the tenured faculty once the teach-out is fully completed.
Susan Imus, director of creative arts therapies and former chair of the former Creative Arts Therapies Department, said she is saddened by the discontinuance of the programs and disagrees with the idea that the creative arts therapies programs do not fit the college. The program's discontinuance may have a negative impact on the greater Chicago community, Imus added.
The creative arts therapies programs have 30 internships and have a reach of almost 46,000 thousand clients in Chicagoland. The program is also the graduate program with the second-highest enrollment at the college and has an 86 percent employment rate among alumni, according to Imus.
The programs have received a great amount of support from students, alumni and professionals, Imus said.
"It'll be a huge loss for the students, colleagues and current faculty in the study of the arts for health and well-being," Imus said. "We are artists who have applied the use of our art form to help other people in the world."
Wearden acknowledged the program's success and national reputation. But he described the creative arts therapies programs as having more of a health science focus rather than an artistic one. Both education and creative arts therapies would be better suited at colleges with departments or schools dedicated to the programs, Wearden added.
Wearden said the college will continue to examine whether faculty can be placed in other departments, adding that the decision to terminate faculty is being made as humanely as possible. Following the teach-outs, terminated faculty would receive one year of salaries and benefits.
"I'm confident they'll find teaching positions at other institutions that have similar programs," Wearden said. "I've also encouraged both departments to inquire of other institutions whether they would like to absorb the programs where they might be a better fit."
Wearden also said these such decisions made by the college, while difficult, are in Columbia's best interests.
"It's difficult for our faculty to be in this position, but our policy is as kind and humane as can be," Wearden said. "It's difficult, but in the end, we have to act in the best interest of the college as a whole and the best interest of our students present and future."