College appoints new executive director of Career Initiatives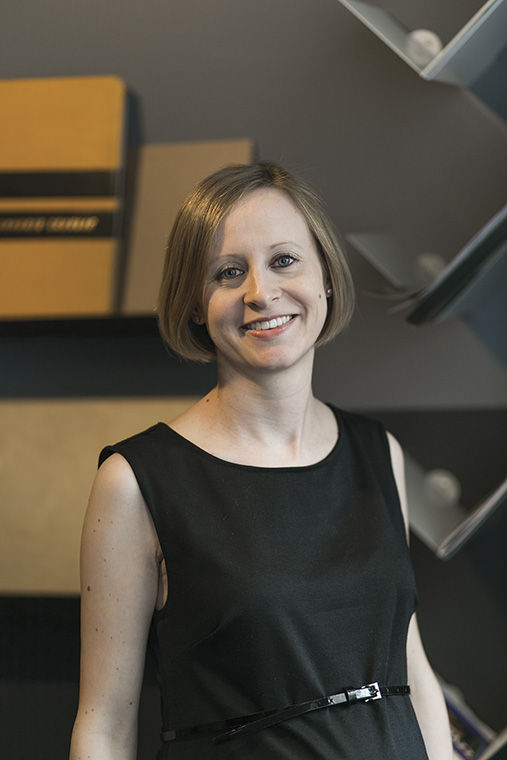 The Portfolio Center and the Office of Student Employment will work more closely together this fall semester after the appointment of Christie Andersen Asif as the college's new executive director of Career Initiatives.
A committee of faculty, staff and administrators selected Andersen Asif to fill the position after a national search. Andersen Asif, who has worked in the Portfolio Center for the last six years, began her career as an internship coordinator and career counselor at Lake Forest College in Lake Forest, Illinois. She said she has several plans geared toward improving  both the Portfolio Center and Office of Student Employment and that she is excited for her new role.
Andersen Asif will oversee the Portfolio Center, a facility open to all undergraduate and graduate students that helps them prepare  resumes, polish their portfolios, perfect their interviewing skills, assist them with internships and advise them on their professional futures. The Office of Student Employment, the other program Andersen Asif will oversee in her new role, assists students in coordinating school and employment on campus.
"[The role is] an umbrella for the two offices involved," Andersen Asif said. "It's something meant to encompass the complexity of career support and development at Columbia College."
Andersen Asif said she intends to focus on moving the discussion of career development into the classroom. The goal is to get students to start thinking about their futures earlier in their education and feel less intimidated about discussing what they want to do and how they want to go about it, she said.
"It's about creating more of a conversation around career outcomes and looking at intersections with the entire Columbia experience," Andersen Asif said. "[The staff and I] hope these pieces can be integrated into classes so what students can get from the Portfolio Center is much more in-depth."
Andersen Asif cited resumes as a primary focus of the Portfolio Center, saying that she wants to take a more dynamic approach to creating resumes and show students what to do with them, how to get them posted online and make them less generic. She said the Portfolio Center is assessing how to improve and add to its current programs.
"There are a lot of programs that we offer or that we want to continue and build on," Andersen Asif said. "We want to grow [the programs] and especially company visits."
She said she would also like to expand opportunities for undergraduate and graduate students to connect and network with different types of professionals in their desired industries.
The vision Andersen Asif has for her new role is exactly why she was hired, according to Laurence Minsky, an associate professor of advertising and public relations and a member of the search committee.
"Christie blew [the committee] away by her compelling vision for career initiatives," Minsky said. "This is such an important position for the future of Columbia and the future of the students."
Minsky said he thinks the Portfolio Center and the Office of Student Employment are some of the most important resources offered to students on campus.
"[The Portfolio Center is perfect for] everything from recruiting students to helping with graduation and beyond. It can help them figure out what they want to do, find employment while they are on campus and take a closer look at their future career," said Minsky.
Bill Friedman, assistant dean of Student Development and another member of the search committee, also spoke highly of Andersen Asif, her outlook on the program and the Portfolio Center itself.
"I've worked with Christie for five or six years now, and I knew she was this shining light over here in the corner that nobody ever saw," Friedman said. "She applied just like everybody else, and the [hiring committee] decided she was right for the job and to move us to the next step."