Students critical of Counseling Services following campus assaults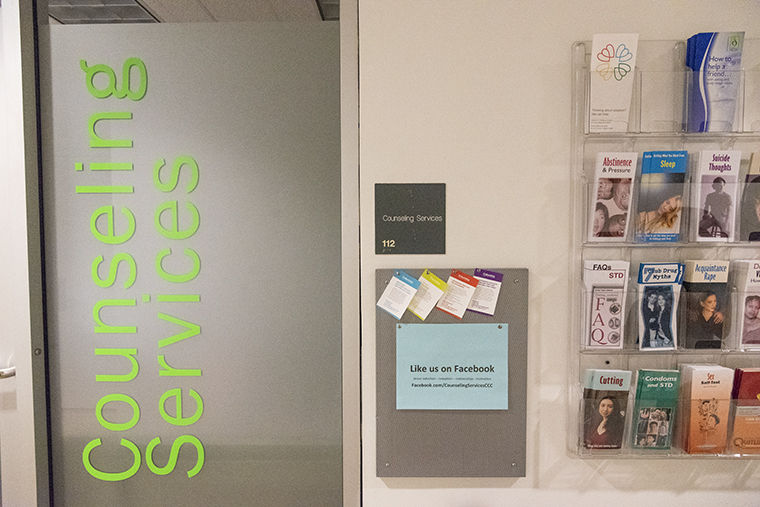 Two students who reported sexual assault to the college's Title IX and Counseling Service Offices in 2016 say, years later, they are still feeling the effects of those complaints and the school's failure to satisfactorily help them.
Business and entrepreneurship alumna Madeline Whittemore said she was sexually assaulted in December 2015 in her Plymouth Court dorm room. On Feb. 1, 2016, she reported the incident to the college's Title IX Office, and in June 2016, the office found her complaint credible. The man who she alleged attacked her was suspended for the 2016–2017 academic year.
In January 2017, Whittemore and Columbia were sued in federal court for defamation by the man whom the school had suspended. The lawsuit was dismissed in October, amended and dismissed again in January 2018. In April, the plaintiff dropped his claims against Whittemore but is appealing Columbia's dismissal from the case to the U.S. Court of Appeals for the Seventh Circuit.
Whittemore, who dropped out of Columbia in spring 2017 and now lives in Maine, said the experience has been devastating and frustrating. 
Whittemore said Columbia's handling of the situation contributes to the anxiety, depression and other mental health issues  she experiences. 
Before the incident, Whittemore said she was attending individual therapy sessions for treatment of anxiety and depression. After the incident, she said she did not feel safe asking anyone from the college for help because she feared her medical records could be released and used in the federal lawsuit against her. 
Eric Rosenberg, an Ohio-based attorney who is representing the plaintiff in the lawsuit against Columbia and Whittemore said he has zero tolerance for sexual assault and has empathy for all parties involved in such cases.
He said he will tell his clients to seek off-campus services counseling because  college counselors can be biased.
They rarely receive an open ear from people in their counseling on college campuses," Rosenberg said. "I'm aware of at least two people who have committed suicide after being accused of sexual assault, so I advise the accused students to seek counseling from an individual outside of campus environment."
Counseling services at the college offer 12 free individual, couple and group therapy sessions for currently enrolled students. Therapists are also available for workshops and presentations on various mental health issues, according to the college's website.
"If the counseling services could go more in depth, then maybe I would have stayed [at Columbia] or maybe this whole thing wouldn't have been as traumatic," Whittemore said. 
Director of Equity Issues and Title IX Coordinator Rabia Khan Harvey said students can be assured confidentiality at any point while in their reporting and counseling relationship. 
Khan Harvey said communication between the counseling center and the Title IX Office is constant, and each incident is treated individually. She added that there have been numerous changes in the Title IX Office since October 2016. 
"We were able to dedicate two full-time staff members just to manage the Title IX cases," Khan Harvey said. "As far as following our policies and our procedures, that has maintained [a] consistent practice. [When] we get a report, we have notice and then  we have a duty to respond." 
Programming and training to handle cases involving sexual assault have increased, she noted. 
"Our policy hasn't changed much, but we review it annually to make sure that it is updated with federal and state law regulations," Khan Harvey said. 
Whittemore said she felt she received little empathy or sympathy from the Title IX Office. 
The office did not help her find a therapist or any resources available off campus to help her after being assaulted, Whittemore said. 
She said she also felt a suspension was  an inadequate form of punishment.
"I wanted to feel like I had justice. I wanted to feel safe on campus," Whittemore said. "I didn't feel safe with this guy being at the school at all. I wanted my power back." 
Another student said it took weeks to see a therapist after her attack—a complaint Associate Dean of Student Health and Support Beverly Anderson called "hard to believe." 
Senior advertising major Trisha Miller alleged she was raped while staying in the college's former 777 S. State St. dorm during spring break 2016 and said she found the care she received unhelpful. 
The college has five staff therapists available on campus. In order to make an appointment, a student must first schedule a 15-minute phone consultation. Based upon the consultation, students will be offered a variety of services, ranging from another intake call to an outside referral, according to the website.
The Chronicle's request for elaboration from Counseling Services was not granted at time of press.
Miller said she, too, attended multiple individual therapy sessions following the alleged assault. 
She said she felt the care she received was superficial.
"From the beginning, [the therapist] didn't want me to talk about my experience. [The] only goal with me being there was to get me out to somewhere else," Miller said. 
Miller said the therapist cared more about her academics than her health and said she should not drop out of school or talk about the incident because it would distract her from upcoming final exams and other class projects. 
"I was not there, but it does not sound like something one of our therapists would say," Anderson said in response during the interview.
After attending three sessions, Miller stopped attending Columbia's counseling services, she said. 
"At the time, I didn't have money to go see [an outside] counselor and I didn't want to tell my parents about what had happened, so I didn't know how to go about this entire process finding help," Miller said. "I thought Columbia would be a free counseling center that could help me [without an outside referral]." 
Miller decided to talk to her then "Introduction to Advertising" professor, Associate Professor in the Communication Department Shanita Akintonde on April 5, 2016, about the incident. 
Akintonde persuaded Miller not to  drop out of Columbia and to find counseling off campus, Miller said. 
Akintonde declined to comment.
On the evening of April 5, 2016, Miller said five resident assistants approached her in her dorm room, questioned her and informed her that then-Dean of Students Sharon Wilson-Taylor, current-vice president of Student Affairs, was requesting to meet with her the following day. 
Miller said Wilson-Taylor did not assist her in finding resources to help her at the meeting , but her office recommended free counseling in Schaumberg, Illinois, which is almost an hour and a half train ride away from Miller's on-campus housing.
Vice President of Strategic Communications and External Relations Mark Rosati responded to The Chronicle's request for comment from Wilson-Taylor in a May 1 email statement saying, "It is our policy that every member of our community must refrain from any form of sexual violence, harassment, or discrimination. Allegations of such conduct are taken very seriously by the institution and investigated by the appropriate college officials."
He added that the college could not comment on any specific student allegations due to student privacy laws.
"That is disheartening to hear, if in fact that was her experience," Anderson said. "That has not been a typical response, and as the Title IX coordinator, I have always made an effort to specifically get a student help as soon as possible and I would more or less, based on the incident, try to get a counselor that would be a good match for that particular student."
Miller said she received academic leniency after the Title IX Office emailed her professors; although, she thought the email was going to be from the Dean of Students. Miller shared a copy of the April 29, 2016, email with The Chronicle. 
"[Because] Title IX sent it … it kind of told every professor I had what had happened to me indirectly," Miller said. 
The email stated she "had a personal issue that she has been trying to address."
"When I saw it, I was like, 'All my professors know I was raped,'" she said. 
Anderson said emails to professors regarding academic leniency at that time should have been sent from the Dean of Students' Office. 
Miller said, after that meeting, she stopped trying to find resources and support from Columbia. After being hospitalized in August 2017 for two weeks, Miller said she was diagnosed with bipolar disorder and anxiety. While hospitalized, she opened up about surviving sexual assault and received resources to help her cope. 
"My college experience has been tainted," Miller said. "I am so far removed from this school now from how they treated me. I hear other stories, and it furthers the resentment that I have toward everybody who handled this." 
Anderson said she wants students to give Title IX and counseling services feedback when they feel as if their needs are not met. 
"We can only change or do something if we know about it," Anderson said. "That is the way we can do better at our jobs but we have to know about it." 
Miller said she wished she had had a better experience with
Columbia's counseling services and hopes it improves for future students coming to campus. 
"I don't want to say that I've given up trying to talk to the school. I'm graduating. I know it's going to be an ongoing problem," she said. "There's so much frustration and resentment that they weren't there when I needed them most."