Former President Warrick Carter dies at 75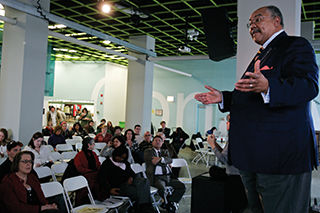 Former president of Columbia Warrick L. Carter passed away July 15.
Carter, who joined Columbia in 2000, served as president until his retirement in 2013. He is attributed for numerous developments at the college, including expanding the college's campus, increasing student enrollment and establishing various programs, according to a July 17 collegewide statement from President and CEO Kwang-Wu Kim.
Under Carter's leadership, Columbia's annual Manifest Urban Arts Festival and Shop Columbia were launched, and the college partnered with local institutions to construct the University Center, 525 S. State St. He also spearheaded the creation of several new programs, including the college's Semester in LA program and helped oversee the construction of the college's Media Production Center, 1600 S. State St., according to college archive records.
Kim, who was appointed president following Carter's retirement, said in his statement that Carter's contributions to the college were significant during his time here, adding that a memorial service is being planned for the fall once students return to campus.
"Dr. Carter was a thoughtful administrator who understood deeply the importance of education," Kim said. "Not just for artists, but for all students who view the world through a creative lens. He challenged the institution to respond to the way education was rapidly changing, and in so doing, he opened a path for Columbia to continue to evolve as it has always done so well over its 127-year history."
Story developments to come.
____________________________________________________
Updated 5:15 p.m., July 25 
Joan Hammel, an '86 television alumna, worked with Carter from 2008–2016, during which she was Columbia Alumni Association & Network president and Board of Trustees member. Hammel said she was sad to hear of Carter's passing, adding that she would describe him as an elder statesman who she would remember for his great listening skills.
"He would really ask pointed questions about whatever the topic was and really sit and listen to them and then make his decision," Hammel said. "I spent a lot of time with him in very public forums and then more quiet forums. The thing I will remember most about him is his warm, gentle spirit."
Hammel said she appreciates Carter's various accomplishments during his time at the college, including creating the Media Production Center, improving alumni relations and bringing together a diverse Board of Trustees.
"I always felt that Dr. Carter had the best interest of Columbia at heart," Hammel said. "There were many different groups pulling at him, which sometimes were at odds with one another. I would watch him take in all of the information, ask additional questions, and then make what he felt was the best decision for the school. We shared a love of music, a love for Columbia and a commitment for doing what was best for the overall community of the school."
Michael Anderson, who served as associate vice president for Institutional Advancement from 2009-2014, said he worked closely with Carter to fundraise for the college and that Carter was a caring person whose primary focus was always students. He added that what he would remember most about Carter was his personality and his love for music.
"He was a musician at heart," Anderson said. "On those rare occasions when he would get behind a set of drums and play with a band, those were rare moments for him— stepping out of his presidential persona and being a musician and he always had that musician sensibility about him."
Eric Winston, who served as vice president for Institutional Advancement from 2005-2013, had been close friends with Carter since 1969. He said Carter's achievements made the college well known throughout the community, including the expansion of Columbia's campus.
"He helped to organize the institution and set the institution up in such a way that helped to achieve all the other great things that were achieved under his administration," Winston said. "Making Columbia the largest land owner south of Van Buren, that in itself was a big achievement. When you stepped south of Van Buren, you were essentially on Columbia's campus because we had everything around there."
Winston emphasized Carter's achievements as a major player in the college's history, ultimately establishing a legacy.
"He was a big figure in the life and history of Columbia College Chicago. The way he carried himself was very presidential and he was a great asset to the college and those who were there when he was there will remember him as such," Winston said. "He was a person who you just thought was going to be around for a long time. But it just shows you how short life can be. You have to live for today and not for tomorrow because you don't know if you're going to be around tomorrow."
A memorial service for Carter is set to be held Oct. 14 at Holy Name Cathedral, 730 N. Wabash Ave.