New student group fights for media reform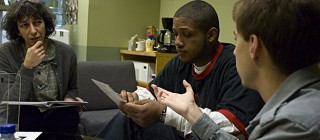 As the presidential campaign comes to a close in November, frustrations of how the election has been covered by the media reached a boiling point for some Columbia students.
Students for Media Reform at Columbia College, a newly formed student group, is taking action. The group aims to educate and empower students about media issues and politics and inspire them to get involved.
"The group hopes to make students more aware of how having a democratic media affects them as artists," said Joan McGrath, the group's staff adviser.
The idea for SMRCC was conceived last spring and started to take form when a handful of students, including group president Kevin Gosztola, traveled to Minnesota in early June to attend the National Conference for Media Reform. Presented by the nonprofit organization Free Press, the conference featured speeches, workshops and panels involving many powerful voices in the media reform movement.
Because the event happens every 18 months, Gosztola said he wanted to host a similar event in Chicago before January 2010.
As media reform affects many areas of communication, the group tries to involve students in all majors with different backgrounds. Members of the group also have different majors, some studying radio arts and others concentrating on film and video.
SMRCC hopes to bring awareness about media issues to Columbia by inspiring students to speak up and get involved.
"We want more of what's being done from real people, rather than what the core organization thinks they should be doing," Gosztola said. "We don't want it to be from the top down, we want it to be from the bottom up. We want to show people what they can do by being their own media."
Citizen media allows ordinary people to play a role in shaping the landscape of social debate and political issues through the use of blogs and online journals. SMRCC aims to inform people about the potential for citizen media to affect change.
"Creativity has been slashed to fit into ClearChannel [Communications]," McGrath said, referring to the one of the largest owners of radio stations in the country. "Media reform affects all of our students."
The activism covers a wide range of issues including Internet neutrality, public access media, censorship, consolidation and ownership.
Many media reform groups, such as Free Press, claim that a healthy, diverse media system is a cornerstone of American democracy. They said it is essential, especially as the election draws closer, that the country has a fair, open and diverse discourse about social issues and candidates, as mentioned on FreePress.net.
"Our media is in disarray," Derick Anderson, the vice president of SMRCC, said. "The average person is not getting high-quality and unbiased news from their media. Most TV and radio stations are not serving in the public interest."
The group has been hosting weekly film screenings aimed to get students thinking. Three politically oriented documentaries have already been shown, including Iran Is Not The Problem, Free For All and American Blackout. The last one in the series, An Unreasonable Man, about Ralph Nader and third-party candidates, will be shown Oct. 27 in the Hokin Lecture Hall at the Wabash Campus Building, 623 S. Wabash Ave., at 6 p.m.
Besides film screenings, on Nov. 4, the group will team up with members of the American Civil Liberties Union to host an election party to watch the votes roll in and discuss news coverage. The time and location are yet to be announced.
After the election, SMRCC plans on hosting open discussions about various topics not being covered by the mainstream media. Some possible topics include Internet neutrality, the arrests of journalists covering the RNC and election fraud.
Weekly meetings are held every Wednesday at 5 p.m. in the Doc Center, at the 1104 Center, 1104 S. Wabash Ave.
For more information about Students for Media Reform, visit the group's website on Facebook.com.