Queer &: where identities intersect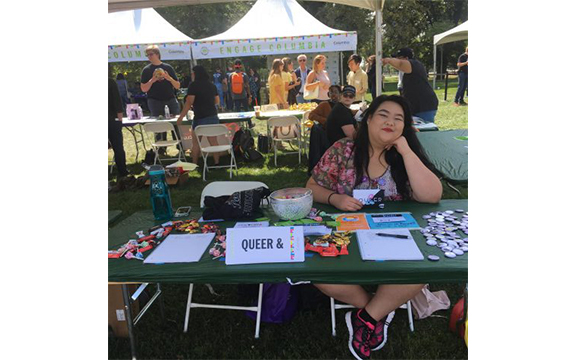 A new student organization called Queer & plans to provide a safe space for minority students who identify as queer.
Joyce Guo, Queer & executive director and sophomore English and creative writing major, said she wanted to create a place for people like her with intersecting identities to visit and be comfortable and accepted.
"I wanted a place where I could talk about my racial identity hand-in-hand with my queer identity because they're both equally important to me," said Guo, who is Chinese. "It's not like I'm one first over the other."
Jay Goebel, the organization's creative director and sophomore design major, said there were previously groups within the college for racial and queer identities, but not one for both, which led to the group's formation.
"We wanted to make a space accessible to every part of someone's identity," Goebel said.
Guo said the meetings include open discussions regarding specific themes of racial intersectionality, depending on the week. If someone in the group belongs to an intersection, they have the opportunity to speak about it themselves, she added.
Topics have already included intersectionalities for queer people with Southeast Asian heritage, and the group plans to collaborate with Latino Alliance to include queer and Latinos she added.
Jude Valentin, Queer & associate representative  and senior theatre major, said the group is also open to non-queer students because it is important to educate others about intersecting communities' struggles.
"We do have people who aren't in these intersections coming to our [organization]," Valentin said. "We're opening their eyes to something they didn't really know before; we're also creating a place of solidarity for the rest of us."
Guo said Columbia does not provide the inclusion that it projects, and there are still issues regarding tolerance on campus. Professors have been misgendering students, which was a strong reason to form the group, she added.
"Columbia likes telling themselves and everyone else that they're a tolerant and inclusive campus, but I don't think that their actions carry through with on their words," Guo said. "They're making promises they can't keep, and I would like for Columbia to try harder to serve its students."
Rogelio Becerra-Ramirez, coordinator of Student Diversity & Support and faculty adviser of Queer &, said he is excited to see where its first year running will take the group.
"I want them to be able to get the word out about what it is they do [and] their wish for their student organization [with] the kind of programming or conversations that they want to have around the LGBTQIA community," Becerra-Ramirez said. "I want them to keep growing and [then become] a staple student organization here at Columbia."