Grammy Award-winning musician brings funk, soul to campus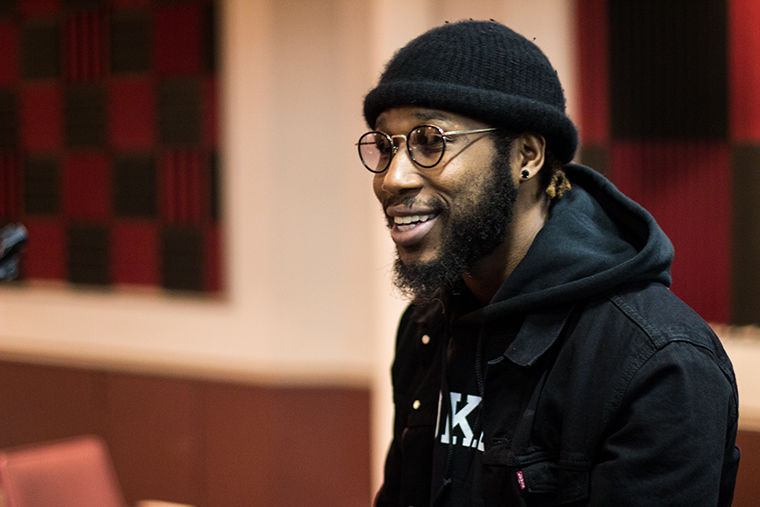 Cory Henry grew up in Brooklyn, New York, with his mother, a musical director of a local church. He started banging pots and pans in his kitchen at a young age and eventually started to match notes to the music his mother played.
Now, Henry is a three-time Grammy Award-winning jazz organist and pianist, gospel musician and music producer.
Henry spent March 5–9 on campus for the college's Artist in Residency program for the second year in a row.
Creative director and producer Joe Cerqua manages the Music Department's visiting artist program, which arranges for artists to spend a week on campus teaching master classes, rehearsing with students and recording with other student ensembles.
Henry participated in the department's first Deep Dish Music Festival March 9, starting at 8 a.m. in the Music Center, 1014 S. Michigan Ave. High school bands and music teachers had the chance to workshop with Henry while experiencing Columbia's quality teaching, said Associate Professor of Instruction in the Music Department Gary Yerkins in a Feb. 27 email interview with The Chronicle.
Yerkins said Columbia is fortunate to have a musician such as Henry work with students because he represents a cutting edge in many areas of contemporary music the department focuses on, including the melding of R&B, Rock, Gospel, Fusion and high-level improvisation.
Henry said he has been looking forward to being on campus and working with students.
"I'm excited for the recording band because we created some music last year [and] wrote a song that really stuck with me. I'm excited to create new music with them," Henry said. "I am also happy and cannot wait to work with the gospel choir."
It is helpful for student artists to work with Henry because of how he manages his career, Cerqua said, noting Henry booked all his tour dates and started his band, The Funk Apostles, himself.
"It's really important for the students to see somebody who has been incredibly successful at a young age [and] who is doing it himself," Cerqua said. "[Henry] will work with well over 100 of our students."
A career in the music industry can be scary, Henry said, because of the risk of facing an audience. But that should not deter music students from doing what they love and creating the music they love, he added.
"If you can share information that will help somebody get to their next goal, they'll never forget you," Henry said. "Playing music is great. Helping somebody else is greater. That's why I'm here."