MSI to be 'Where the Wild Things Are'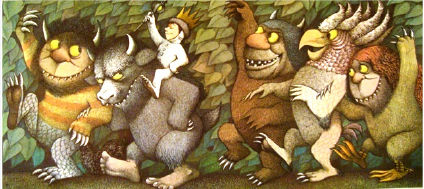 By Arts & Culture Reporter
November 7, 2016
The Museum of Science and Industry may have a fairy castle, a submarine and a coal mine, but it will gain its "wildest" exhibit later this month. 
Traveling exhibit "Where the Wild Things Are: The Work of Maurice Sendak" will open at the Museum of Science and Industry, 5700 S. Lake Shore Drive, Nov. 10 and run through Feb. 20, 2017. 
The showcase features 50 original works from Sendak, the acclaimed children's book author and illustrator, and has been curated for the 50th anniversary celebration of the seminal "Where the Wild Things Are." Following Sendak's death in 2012, 50 people who were touched by his life and works will present the art.
Jeff Buonomo, MSI's manager of special exhibitions, acknowledged that a children's book art exhibit may seem like a strange fit for a science museum, but he said it falls in line with the museum's mission statement.
"Hopefully, [people] will [be] inspired when they see some of [Sendak's] work and learn a little bit more about what inspired him," Buonomo said.
Sendak is best known for "Where the Wild Things Are," about a boy named Max who creates his own fantasy world after throwing a tantrum, only to overcome it and return to reality just in time for dinner.
The book has proven highly influential since its 1963 release. It spawned an animated short film, opera rendition and live-action movie adaptation and has sold more than 19 million copies worldwide, according to the Los Angeles Times's review of the 2009 film.
Ciara Sillman, a fan of the book, said she enjoys the complex nature of the story that goes beyond what a typical children's story touches on. 
Sendak's work focused on children's mastery of negative emotions such as anger, fear and jealousy, according to a 1981 New York Times article. 
"As a child, that's how I felt a lot of the time," Sillman said. "I felt like I was isolated from most of my peers because I was very smart and very quiet."
Tina Jens, an adjunct professor in the Creative Writing department, said Sendak was one of the first children's book authors to tackle negative emotions.
"[Sendak] was grumpy—insulting this and insulting that," Jens said. "He's Max. You can see him in his creation."
Sendak's grumpiness stemmed from his "terrible" childhood, Jens said. This led him to avoid sugarcoating the truth for kids in his work, she added.
The art in Sendak's books is "above and beyond" that of a typical children's book, Jens said. Buonomo echoed this sentiment.
"His attention to detail in illustrations was remarkable," Buonomo said. "He understood how kids read and what they appreciated in books, which is what led him to be so popular still to this day."
Visitors will be able to view "Where the Wild Things Are" on a screen and zoom in to see the fine details in the art, and they can also take a photo in a replica of Max's boat set against a night sky from the book, Buonomo said.
"You'll feel like you're in the story," he said, describing ambient elements such as background music, walls mimicking the appearance of trees and mood lighting.
The exhibit will still appeal to those who only know Sendak as the author of "Where the Wild Things Are," Buonomo said.
"['Where the Wild Things Are' is a book] I've always gone back to," Sillman said. "No matter how old I get; it's still relevant, and I find it to be a beautiful story."