Nashville's Moon Taxi rides through thriving Music City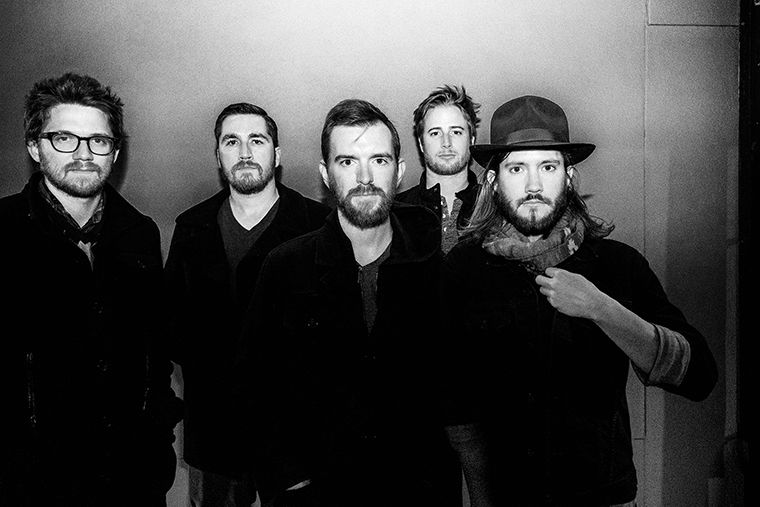 By Arts & Culture Reporter
March 2, 2015
Throughout the last several years, Nashville, Tennessee, has become one of the most prolific rock scenes in the U.S. 
With musicians like Jack White and The Black Keys migrating to the "Music City" in the last decade, Nashville has transformed from the Honky Tonk capital of America to a leader in today's rock music. Tennessee-native band Moon Taxi has been there since the revival began.
After vocalist Trevor Terndrup, guitarist Spencer Thomson, keyboardist Wes Bailey, bassist Tommy Putnam and drummer Tyler Ritter formed the band in 2006 at Belmont University in Nashville, Moon Taxi grew into one of the most talked about bands in town. It has played the Bonnaroo stage and soldout shows across the country since releasing its debut album, Melodica, in 2007. 
The Chronicle asked Ritter about the band's rise to becoming hometown heroes, working in the Nashville music scene and what is in store for the future.  
THE CHRONICLE: How has the band's rise in popularity in the last few years affected the band?
TYLER RITTER: We really appreciate the overwhelming fan support that we have.  It's been an incredible journey traveling the country playing for five to 10 people sometimes and now consistently playing to 800–1,000. 
What have been some of the band's musical influences?
TR: All five of us have very different and unique backgrounds when it comes to who influenced who or what musical heroes we each had. Everyone came from a home where our parents were music fans, so needless to say there is a big classic rock influence in a lot of our ideas. For me, it was all about the drumming greats and the bands that they were part of: John Bonham, Neil Peart, Keith Moon, Danny Carey, Steve Gadd. I could go on forever.  
What do you think of the current Nashville music scene? 
TR: I love it. The music scene has grown so much in the past 10 years that I've lived in Nashville. There's a great sense of camaraderie among this ever-growing rock scene, but with a nice, healthy dose of competition thrown in there. Everyone wants to succeed, but you get excited when you see your buddy's band kicking ass as well.  The competitive nature of Nashville—especially when we were starting out—was and still is a major driving force for us to do what we do at the highest level and quality possible.
Nashville radio stations seem to treat you guys like hometown heroes. How would you say the band has been received outside of Tennessee?
TR: Everyone at Lightning 100 [radio station] has been a champion of the band for the past several years, and we even went to Belmont [University] with a few of the [DJs]. I wouldn't call us hometown heroes, but we love the fact that we get to call Nashville home. I can't imagine us starting out anywhere else with the same end result. We started out playing in Nashville at a little joint called Windows On The Cumberland—may it rest in peace—once a month or so, and then hitting up college towns that were anywhere from an hour to three hours away. We would just do these short, two- or three-day loops for the weekend. The reactions of our Nashville fans versus other markets are all overwhelmingly positive, but Nashville knows how to throw down.  
What would you say was the band's first big break?
TR: Our Bonnaroo set in 2012 definitely shot us into the eyes of so many more people. I don't think we're a band that's had a "break" yet, or will ever have whatever a "break" is. We've been doing this for so long that we can see this gradual ascent over the years, and after Bonnaroo, that rise just started to go up faster and steeper.
How would you describe your genre?
TR: We never really thought of ourselves as a "jam band" in the beginning, but we were.  There's still a lot of psych elements in our tunes, and definitely moments of shred, but we have some incredible songwriters in this band, and that's become the focus—writing great songs that people can connect with. We're a rock band that can bust out some crazy jams when we want to.
Is there a sense of community among Nashville's rising bands?
TR: It's definitely a community, 100 percent. We all know so many of these guys, some from the Belmont days, but mostly from hanging out around town. I love going to shows when we're at home, whether or not I know anyone in the band that I'm seeing. Every now and then I find myself at a show or a particular bar, and it's almost like a reunion of sorts because everyone just happens to be off the road at the same time. That maybe happens two or three times a year, but it's fun to catch up with buddies that are out there touring and trade stories.
What's can fans expect to hear next from Moon Taxi?
TR: The next record is in the works, and we've been playing three of the new songs at shows recently. The fan reactions have been overwhelmingly awesome, so we are super pumped to get this record rolling. We're also very excited to be working with producer and engineer Jacquire King on this next one. Whatever we wind up calling this next record, I think it'll be our best to date.