Fashion student's designs mix dessert with powerful women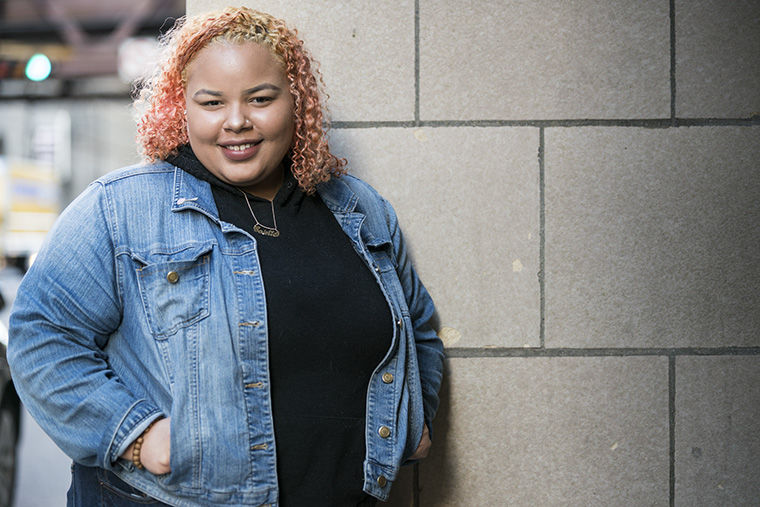 After hearing the news in April 2016 that historic abolitionist Harriet Tubman would be replacing former President Andrew Jackson on the $20 bill, senior fashion studies major Colette Green started thinking about what that bill would look like.
Also drawing from personal inspirations, Green created a design that would eventually be printed on T-shirts for her brand Mixed Sprinkles.
"Think of a sweet candy-land fantasy meets the streets of Chicago," Green said, explaining her new line. "Each piece is created to be worn by males and females that want clothing that is fun, fresh and fits their lifestyle."
The design features Tubman on pink, black or white T-shirts with an ice cream tattoo on Tubman's face. The idea for the tattoo, Green said, came from hip-hop artist Gucci Mane's similar tattoo.
To promote the brand's T-shirts, which will be introduced at her April 29 pop-up shop at Lil Epic Design, 2412 W. North Ave., Green and other models participated in a photoshoot in February to show off the tees and celebrate Black History Month.
Although Mixed Sprinkles was originally Green's social media handle, the name has a deeper meaning. The brand's name describes her ethnicity—as well as her lifelong affinity for ice cream. She said it is her dream to one day sell her clothing from an ice cream truck.
"When I see people eat ice cream, it's always a happy moment," she said. "The 'Mixed' part comes from being black and white, and 'Sprinkles' just comes from being the best topping."
Green said she tends to design clothes that feature powerful women like Tubman, typically drawing her inspiration from unusual places.
"[Harriet Tubman] led hundreds of slaves down the underground railroad, and that's something that needs to be acknowledged," she said. "She has the biggest legacy to me."
Christian Cook, Mixed Sprinkles' public relations and marketing director and junior public relations major, said it was important for her to help let people know about the brand.
"I [thought], 'We should have a pop-up shop, we should get a social media page going to actually get your brand and product out there,'" Cook said.
One of the pop-up show's models, Asante' Willis, a sophomore mathematics and computer science major at Harold Washington College and Green's friend, said he agreed to model for Mixed Sprinkles because he liked the idea of Tubman being on the $20 bill and thought the design tells a story in a simple way.
"Harriet Tubman is inspiring because, as black people, it's really hard now to step up but with Harriet Tubman, she stepped up when it was even harder," Willis said. "It's like that light in the dark at the tunnel. She made fun in a serious story."
The brand has a consumer-minded focus and reflects values she has set in place, Green said.
"I have core values for my brand, which is fearless, fun and spontaneous because I feel that's what my brand exudes when you wear my clothing," she said. "That's what I want my customer to feel when they wear the clothing."